Nicole Harris was elected chairman of the Maryland Republican Party on December 10, 2022.
Her husband is Maryland Congressman Andy Harris.
This is a story about Nicole Harris' husband's May 2020 telephone call with the late Matt Adams and Mr. Harris working to have Adams removed as third vice chairman of the Maryland Republican Party.
Even two years ago, the Maryland Republican Party was a shit show.
But now Dirk Haire is gone.
You won't have Mr. Haire to kick around anymore!
What will Nicole Harris do to pick up the pieces and rebuild a party decimated by devastating midterm losses?
Nicole Harris Is The Reason Why Andy Harris Screamed & Cursed At The Late Matt Adams
In May 2020, Andy Harris picked up his cell phone and called Matt Adams, then-third vice-chairman of the Maryland Republican Party.
The congressman was enraged over a blog post that Matt Adams wrote that mentioned Nicole Harris, his wife.
Adams referenced a congressional ethics investigation that revolved around Andy Harris' campaign that involved questionable campaign finance reports.
And here's where the fun begins:
"Get this," Adams told A Miner Detail, "weasel Andy Harris calls me and curses at me. He claimed he would take me down. Threats now?"
Do you want the backstory?
Well, here it is.
Maryland Republican politics are brutal; there's so much internal conflict.
The intra-party battle begins and ends on whether center-right Republicans (e.g., Larry Hogan) are conservative enough for the kook wing that currently dominates primaries (e.g., Marjorie Taylor Greene and Dan Cox).
The kook wing wins primaries in Maryland, but the Larry Hogan wing wins general elections.
The kook wing of the Republican Party (Maryland) believes selling crazy wholesale will convince enough general-election voters to come over to their side.
Well, it won't, not in Maryland.
Okay, back to the premise of the story.
Andy Harris and Matt Adams didn't like one another – although they did like one another at some point.
You should also know a few things about Matt Adams before reading any further:
Matt Adams never backed down from a political fight.
Matt Adams was willing to say the things that others were too afraid to say aloud.
He was fiercely loyal to his political allies, regardless of their party status.
You either loved or hated Matt.
Matt always brought the receipts when doing political battles.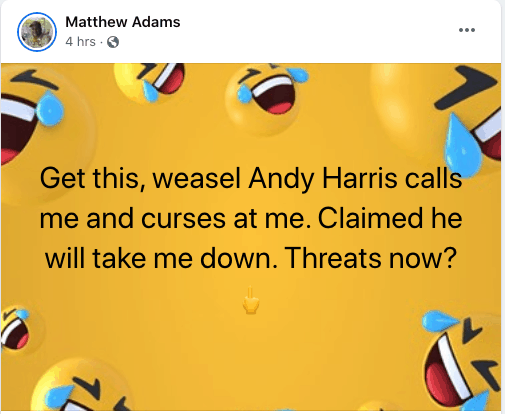 Andy Harris Calls Matthew Adams a Fucking Asshole 
Mr. Adams spilled the beans with A Miner Detail about his May 2020 phone call with Andy Harris.
"Andy Harris called me at 3:26 and 3:27 pm [May 2020]," Adams said.
"I missed his call and tried calling him back."
"As I was calling Harris back, he called me from a different number. I picked up, and he started screaming and shouting at me."
Why would a United States congressman scream and curse at one of his constituents?
Good question, no?
Andrew Harris was irate with Matt Adams because Adams mentioned his wife, Nicole Beus Harris, in his blog post.
Adams once wrote a blog called "Fight for Maryland."
The "Fight for Maryland" blog is no longer an active web domain.
(You'll understand why later.)
Andy Harris felt he had to respond to Adams.
So he picked up the phone and called Matt and cursed him out, Matt shared at the time.
"You're a fucking asshole," Andy Harris shouted at Matt Adams in a now-infamous phone call in 2020.
At least that's what Matt Adams told A Miner Detail.
"He just railed on me."
"He [Andy Harris] was so belligerent that I could hardly keep up with him. He just kept screaming at me."
Adams said the congressman hung up on him about a minute into their phone call.
Before hanging up the phone, Adams said Harris threatened him.
"I'm going to fucking take you down," Andy Harris reportedly shouted back at Adams.
And that was the end of the phone call.
But Harris wasn't the only user of foul language during their now-infamous phone call.
"I told that mother fucker to kiss my ass!" Adams said.
Is Nicole Harris Ethically Compromised? 
Matt Adams wasn't the first to raise questions over Andy Harris paying Nicole Harris from his congressional campaign account.
So why was Harris furious with Matt Adams?
Because Andy Harris believes that fellow Republicans shouldn't attack one another.
And Andy Harris knew Matt knew things.
But Andy Harris and Nicole Harris worship Donald Trump, the king of political attacks.
For context, Adams published the following to his blog in 2020:
"With no other remedy at hand, the state party contracted with Indy's Services, and Andy Harris for Congress made donations as needed to fund her position — always supplying a little extra for the state party's troubles.
This financial quid-pro-quo was run through the MDGOP Federal Account, and Indy's Services was paid from the same."
It wasn't as if Matt Adams pulled the allegations about Andy and Nicole Harris from thin air.
This was real – and it's why Andy Harris reacted as he did; Adams hit a sensitive spot.
Who Is Nicole Harris? 
Well, now, she's chair of the Maryland Republican Party.
Whatever happened there…
Before that, the minor details about her professional career and upbringing are hazy.
Nicole Harris and Rep. Andy Harris were married in July 2017.
Mr. Harris was formally married to Sylvia "Cookie" Harris for 30 years.
In August 2014, Cookie Harris died suddenly.
Andy Harris began dating Nicole Harris (Beus was her name at the time) a few months after his wife died.
Nicole Harris was a Republican political consultant and fundraiser when she and Andy Harris began dating.
Maryland State Democratic Party Files Ethics Complaint Against Andy Harris In 2017
In October 2017, The Washington Post wrote a story about Nicole Harris working for her husband's congressional campaign.
Nicole Harris was paid more than $26,000 in 2017 by the Harris campaign.
But the Maryland Democratic Party (and Matthew Adams) believed the Harris campaign had violated congressional ethics policy.
The Maryland Democratic Party filed an ethics complaint against Andy Harris with the U.S. Office of Congressional Ethics.
The state Democratic Party argued that Andy Harris "may have violated ethics rules requiring members to report the sources of spousal income and assets."
"It appears Andy Harris paid his wife thousands of dollars from his campaign, then tried to hide it from government ethics regulators," former Maryland Democratic Party Chairwoman Kathleen Matthews said.
So what's the truth?
Rep. Andy Harris' congressional campaign told the Post the campaign finance omission was a "mistake."
Did the Harris campaign fix its mistake?
The Harris campaign said it did, and they told the Washington Post they amended the campaign finance report once they became aware of their "mistake."
Fair enough.
A May 2020 Subplot: Nicolee Ambrose versus Diana Waterman 
Something stuck in Matt Adams' craw in the spring of 2020 – not just Andy Harris.
Adams was pissed about the Republican national committeewoman race.
It was Nicolee Ambrose versus Diana Waterman.
Matt Adams said Andy Harris "didn't have the dignity to return Diana Waterman's phone call when she announced her bid for national committeewoman."
"That pissed me off," Adams told A Miner Detail.
That spring, Diana Waterman decided to run for the Maryland Republican national committeewoman seat.
Waterman is a former Maryland Republican Party chairwoman.
Nicolee Ambrose, a failed 2022 congressional candidate, was Maryland's incumbent Republican national committeewoman at the time.
Matt Adams supported Diana Waterman.
And Nicole Harris and Andy Harris supported failed congressional candidate Nicolee Ambrose, who pals around with racist, sexist losers named Gary M. Collins, a former third vice chair of the Maryland Republican Party and a notorious insurance/bow-tie salesman whom Ambrose paid $28K to run her congressional campaign communications.
The 2020 Maryland national committeewoman race is one of the ugliest inter-party political races in recent memory.
Maryland Republican Party insiders re-elected Nicolee Ambrose over Diana Waterman at their virtual spring convention.
But Andy Harris Claims Matt Adams Lied About Phone Call 
A Miner Detailed reached Andy Harris for a response to Matt Adams' allegations.
John Dutton, Andy Harris' chief of staff at the time, confirmed that Andy Harris and Matt Adams did, in fact, speak over the phone.
Dutton, however, said Matt Adams lied about his phone call with Maryland's lone Republican congressman.
"Mr. Adams' quote about the Congressman cursing is unequivocally a lie," Dutton said.
Then Dutton accused Matthew Adams of libeling Nicole Harris.
"Mr. Adams lied about his wife [Nicole Harris] in a blatantly dishonest and libelous blog post."
But Adams stuck to his story.
When reached by phone, Adams told A Miner Detail he'd "take a lie detector test" to prove that he was telling the truth.
"I bet Andy Harris won't take a lie detector test. I have nothing to lie about," Adams said.
"I used to think Andy Harris was a good guy, a Christian man. I have always voted for Andy Harris – but I will NOT vote for him in the future."
And Matt Adams had one final parting comment about his altercation with Mr. Harris:
"I will not eat shit from a rusty spoon for Andy Harris."
Andy Harris Wanted Matt Adams Removed As An MDGOP Official  
The feud between Andy Harris and Matthew Adams escalated after their phone call.
Andy Harris wanted revenge.
The congressman was hellbent on removing Matt Adams as the third vice chairman of the Maryland Republican Party.
Mr. Harris emailed then-Maryland Republican Party Chairman Dirk Haire and the state GOP executive committee.
He pleaded with the higher-ups to remove Adams as the third vice chairman and toss him from the Somerset County Republican Central Committee.
Bold move, Dirk.
Andy Harris Said Matt Adams Implied Nefarious Motive About Late Wife's Death 
A Maryland GOP executive committee member forwarded A Miner Detail a copy of Andy Harris' email plea to remove Matt Adams from his official Republican Party duties:
"Today, Matt Adams launches an unprecedented, baseless ethics attack on me, and of more concern to me, on my wife.
He even had the nerve to imply a nefarious motive after the untimely death of my late wife almost six years ago now.
He not only reiterated false ethics claims (proven to be untrue) made against me by my last Democrat opponent [Jesse Colvin] – he took them to a higher (or should I say lower) level.
When I contacted him to express my dismay at him involving my wife, he lied on social posts about what I said to him, and then he told his lies to Ryan Miner, who, of course, is more than willing to publish a 'story' about this."
Yes, Ryan Miner was more than willing to write about a congressional ethics complaint.
"I'm used to unfounded attacks from Democrats, but I'm not used to blatantly false attacks from a member of the state GOP Executive Committee.
 And his [Adams] attempt to spread disinformation to unfriendly (blogger) press like Ryan Miner (and perhaps other media) should be if (sic) grave concern to the Party and to you all, its leadership.
I would ask you to take any and all steps possible to remove Mr. Adams completely from any official role in the Party," Harris wrote in his email.
He is very bad for the Party and (sic) it's ability to function in confidential matters when we all know how unfriendly the press can be to Republicans.
I don't know what has happened to Matt, but I hope you agree that immediate removal is now called for.
Thank you for all you have done to advance conservatism and for working to re-elect Mr. Trump.
We really can't let one very bad apple ruin our whole barrel."
The Harris camp did not respond to follow-up questions submitted by A Miner Detail.
In 2020, Mr. Harris co-chaired Donald Trump's Maryland re-election campaign.
President Joseph R. Biden Jr. defeated Donald Trump by over 33 points in 2020.
About Andrew Harris | Maryland Congressman 
Andy Harris is a physician and served in the U.S. Navy Reserves from 1988 to 2010.
His political career began when he was elected to the Maryland Senate in 1998 from state Senate District 9, encompassing parts of Baltimore County.
In 2002, Andy Harris' Senate district was redrawn; he was re-elected – but in Maryland Senate District 7.
In 2008, Andy Harris was ready to commute to Washington from his home in Cockeysville.
Harris ran for the United States Congress in 2008 in District 1 and defeated longtime incumbent Maryland Republican Wayne Gilchrest in the Republican primary by running to Gilchrest's political right.
He lost in the 08′ general election to Democrat Frank Kratovil, conceding to Mr. Kratovil on November 11 that year.
But Harris was determined to go to Congress.
In 2010, the Tea Party movement swept the country.
The conservative populist movement ushered over 50 fresh-faced Republican congressmen and women.
The Republicans had it all back then.
But even a decade ago, Republicans could still work together with their Democratic colleagues.
What about today?
It's a prerequisite for most national Republicans to hate their Democratic counterparts and believe the 2020 election was stolen.
What a sad state of affairs.
Truly, truly sad.
Do you remember 2010?
The U.S. House flipped from Democrat to Republican.
House Speaker Nancy Pelosi would become the House minority leader.
Ohio Congressman John Boehner was elected Speaker of the House of Representatives.
Former Maryland Governor Bob Ehrlich lost his third Maryland gubernatorial campaign to Martin O'Malley, who was re-elected to a second term.
Longtime Hagerstown state Senator Don Munson was defeated by Chris Shank in Maryland's state Senate District 2 Republican primary.
Andy Harris would go on to defeat 1st District Congressman Frank Kratovil by 14 points that year.
And off to Congress, he went!
But he won't leave. And it's nearly impossible to beat him.
So Maryland is stuck with Donald Trump's best Maryland friend for the foreseeable future.
And there's no place for Andy Harris to go beyond Congress. Marylanders will never elect him to the U.S. Senate, and there sure as hell would never elect him Maryland governor.
Off to Congress Andy Harris went.
Mr. Harris has faced only marginal Democratic opposition since going to Congress.
In November 2022, Harris defeated former Maryland state Delegate Heather Mizeur (D) in the 1st Congressional District's general election.
What Else Do You Need To Know About Andy Harris?
Despite telling Maryland voters he'd impose term limits on himself, Andy Harris ran for re-election this year (and won). He apparently cannot keep his promises.
There's no love lost between Harris and Maryland Republican Governor Larry Hogan.
Andy Harris and Nicole Harris are former President Donald Trump's biggest Maryland allies.
Matt Adams Died In April 2021 
Matthew Adams died from terminal cancer at age 51 on April 18, 2021.
On a personal note, Matt Adams was my friend.
Matt and I did not share the same politics, but MMatt was a loyal friend to the very end.
He would have gotten a kick of the collapse of the Maryland Republican Party after the 2022 bloodbath.
I miss Matt.
May he rest in peace.
Read Matthew Adams' obituary below:
Matthew F. Adams, "Matt," 51, passed away at his residence on April 18, 2021, surrounded by his close friends.
He was born December 28, 1969, in Milford, Delaware, to Michael Adams and the late Wilma Adams Lewis.
Matt attended college in Columbus, Ohio, for computer science and owned Shorefast Internet and Go Delmarva.
He also dedicated a big part of his life to politics.
Over the years, he served many roles across the area.
He served as President and Chairman of the Somerset County GOP and third vice-chairman of the Maryland Republican Party.
He was a huge supporter of many county Republican Central Committees of Maryland during his term as 3rd Vice Chairman and afterward.
He logged many miles driving to surrounding counties to support their events.
He hosted many websites and Facebook pages dedicated to politics and was an ardent Trump supporter.
Matt had a love for people and politics.
When he was not running his business or participating in politics, he enjoyed being outdoors gardening and metal detecting.
He is survived by his father, Michael Adams, and his stepmother Debbie, his brother and sisters, Sky Adams, Cameron Adams, and Melissa Grise, and many very close and special friends.
He was preceded in death by his mother, Wilma Adams Lewis.
On Wednesday, April 28, 2021, funeral services will be held at 11 am at Holloway Funeral Home in Salisbury.
A visitation will be held one hour before the service. Interment will follow the services at Wicomico Memorial Park in Salisbury.
In lieu of flowers, contributions may be made to Matt's memory to Coastal Hospice, P.O. Box 1733, Salisbury, MD 21802."