Dirk Haire is chairman of the Maryland Republican Party until mid-December 2022.
This is a story of a behind-the-scenes, first-person account of Dirk Haire's fractured relationship with the senior leaders inside the Maryland Republican Party
The Spring Convention 
The Maryland Republican Party's annual spring convention will look much different during the COVID-19 pandemic.
Senior Party officials and Maryland Republican Central Committee from the 23 counties and Baltimore City are meeting virtually on the third Saturday in May.
Expect drama.
National Committeewoman Race 
Maryland's Republican National Committeewoman race is a mess – and Dirk Haire isn't helping tamp down the drama.
Nicolee Ambrose is the incumbent Republican National Committeewoman.  Former Maryland GOP chair Diana Waterman is challenging Ambrose.
Waterman has her people, and Ambrose has hers.
Supporters and opponents of Waterman and Ambrose are engaged in an ugly, mud-slinging, behind-the-scenes internecine conflict.
Ambrose is a loyal foot soldier in the Dirk Haire camp; she and Haire work on behalf of one another's political interests.
Waterman, who preceded Haire as MDGOP chair, antipathy for Haire, while not brazen or public, is widely palpable amid the Republican Central Committee members deciding the outcome of the national committeewoman race.
The Maryland Republican Party's downward descent under Dirk Haire
Maryland Republican Party insiders know dysfunction exists among their ranks.
State Republicans – Larry Hogan, notwithstanding – are accustomed to losing to Maryland's Democrats.
Since they can't beat Democrats, state Republicans beat themselves.
The state GOP seemingly cannot get past:
Political turf battles;
Personality conflicts;
Poor fundraising;
The generally center-right Maryland Republican Party dramatically realigned itself with Donald Trump soon after he was elected president.
Mr. Haire, the high-profile Washington D.C. attorney, residing in Anne Arundel County, is politically astute.
Haire and Hogan dislike one another.
You have to wonder why – or don't you?
He quickly cozied up to Trump whisperer and White House insider David Bossie, Maryland's Republican National Committeeman.
Dirk Haire's tenuous relationship with Larry Hogan 
Maryland's twice-elected Republican Gov. Larry Hogan, one of the country's most popular governors.
He was re-elected in 2018, despite the state GOP's weakening influence.
Mr. Hogan and his inner circle mostly ignore the state GOP and the local central committees.
In fact, Hogan and Haire's relationship has been on the rocks for some time.
Publicly, Hogan is polite to Haire.
Privately, however, Hogan's staffers say that Mr. Hogan sees Haire as ineffective and power-hungry.
A number of Maryland county Republican Central Committee members, though, a gripe that Hogan has not been a strong enough ally to President Donald J. Trump.
And Haire has done little to bridge the gap between the Trump Republicans and Hogan's pragmatic style of governing.
Some Maryland Republicans go as far as to characterize Hogan as a "Never Trumper" over his inability, as they see it, to pledge blind fealty to the now-impeached 45th president of the United States.
Listen to the latest episode of A Miner Detail Podcast: Len Foxwell's Triumphant Return!
Haire succeeded Diana Waterman as chair in 2016, whom, ironically, he is adamantly opposing in an upcoming national committeewoman race – a political sludge match that has rocked an already-bludgeoned party and hobbling its executive board.
Mr. Trump surprisingly dipped into a provincial party race, handpicking Nicolee Ambrose for re-election – an unusual move for any sitting president, of either of the two major political parties, especially one who is apparently occupied with the rigors of balancing hours of cable news viewing/executive time, rapid-fire hate tweeting and managing a country through a global health pandemic that has killed nearly 80,000 Americans.
This week, the political divide inside the Maryland Republican Party further widened over a series of back-to-back emails and finger-pointing.
Since Wednesday, Mr. Haire has all but indicted the state GOP's top brass – Mr. Hair's supposed political allies and colleagues.
Wednesday, May 6: Haire targets Maryland GOP Third Vice-chairman Matthew Adams
On Wednesday, Haire copied all 275 Republican Central Committee members to an email addressed to the state GOP's third vice chairman, Matthew Adams, an unabashed Trump supporter.
Haire's email claimed that Adams, who operates two pro-Trump Facebook pages and a Maryland for Trump website, has used the Maryland for Trump Facebook page to speciously endorse Diana Waterman over Nicolee Ambrose in the national committeewoman race.
Attached to Haire's Wednesday email to state GOP central committee members was a PDF from Trump campaign chief operating officer Michael Glassner.
Adams, who is suffering from incurable colon cancer, was hit with a cease and desist letter by the Trump campaign. The letter implored Adams to immediately refrain from posting any further updates to his "Sites" and shut down the accounts.
"Your Sites are misleading and confusing to the President's supporters. They claim to be 'official' sites for "Donald Trump's volunteer campaign efforts in Maryland," Glassner wrote, "but that is not true."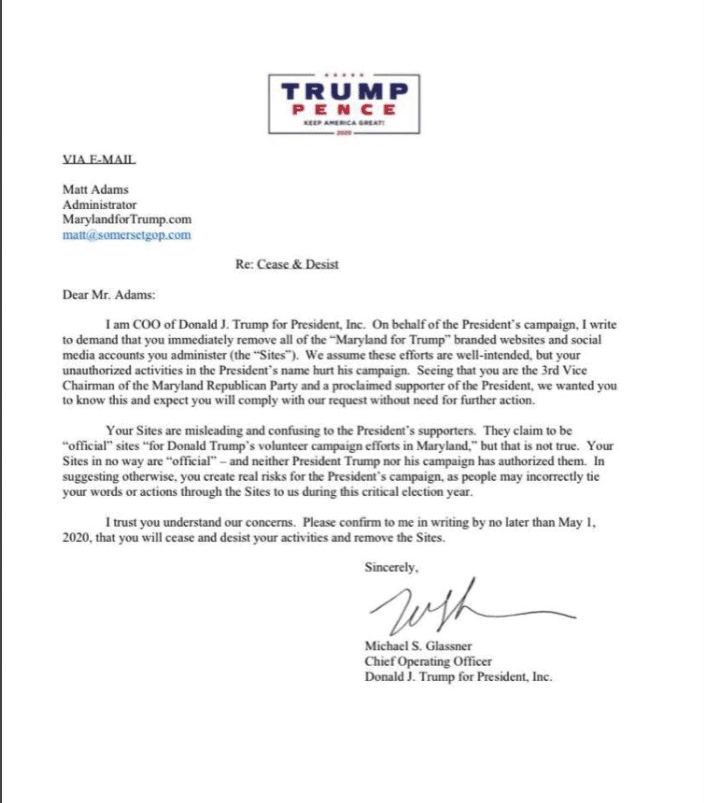 Haire's email and the attached cease and desist letter from the Trump campaign were forwarded to A Miner Detail.
A Miner Detail reached out to Adams for comment via Facebook Messenger and email. Adams agreed to be interviewed. He offered his reaction to the letter and stated his opinion about Haire's leadership at the state GOP.
"Dirk and David Bossie [Maryland's elected Republican National Commiteeman] are working behind the scenes to help Nicolee win this race."
"Nicolee definitely has something on Dirk Haire; that's why he's backing her," he said.
Adams said that Haire was retaliating against him for supporting Waterman in the national committeewoman race. Moreover, Adams was taken to task for posting supportive messages to his pro-Trump Facebook pages on behalf of Jorge Delgado, a Republican challenger to U.S. Rep. Andy Harris (R-Md.)
"I have posted stuff [to the Maryland for Trump Facebook page] against Larry Hogan for Dirk Haire. I have posted stuff bashing Michael Steele for Dirk," Adams said.
Adams, who lives in Somerset County and is an elected member of the Somerset County Republican Central Committee, did not hold back his feelings for Haire in an interview with A Miner Detail.
"The state Republican Party screwed me out of being a delegate because I won't play Dave Bossie and Dirk Haire's games…I will rip the scab off this party. I have been threatened with a cease and desist letter for the last 15 months," he said.
Adams suggested that Haire is using his position at the state Republican Party to launch a 2022 county executive campaign for Anne Arundel County Councilwoman Jessica Haire (R-District 7).
Jessica Haire is married to Dirk Haire.
Mrs. Haire also serves as the "volunteer Legal Counsel for the Maryland Republican Party."
Thursday, May 7: Haire lashes out at Adams, attacks A Miner Detail
On Thursday morning, Haire emailed Maryland's elected GOP central committee members a brief response to Adams' Wednesday interview with A Miner Detail.
The party chairman lashed out at Adams over his interview with A Miner Detail, calling Adams' behavior "disappointing and not consistent with statements that he supports the President."
Haire also leveled criticisms at A Miner Detail Editor-in-Chief Ryan Miner, labeling Miner as an "obscure liberal blogger."
Mr. Haire attached a screenshot of a photograph to his email to central committee members, taken by Miner's wife, Kimberly Large Miner. The photograph, taken in February 2016, prior to the New Hampshire primary, featured Miner and his wife pictured with former Secretary of State Hillary Clinton (D).
Miner's wife, Kimberly Large Miner, did not grant Haire permission to use her photograph, which was originally posted to her personal Facebook page; Mrs. Miner's Facebook settings enable only her Facebook friends to view her page.
Haire did not respond to a Thursday-morning voicemail message requesting comment on his latest email to state GOP central committee members.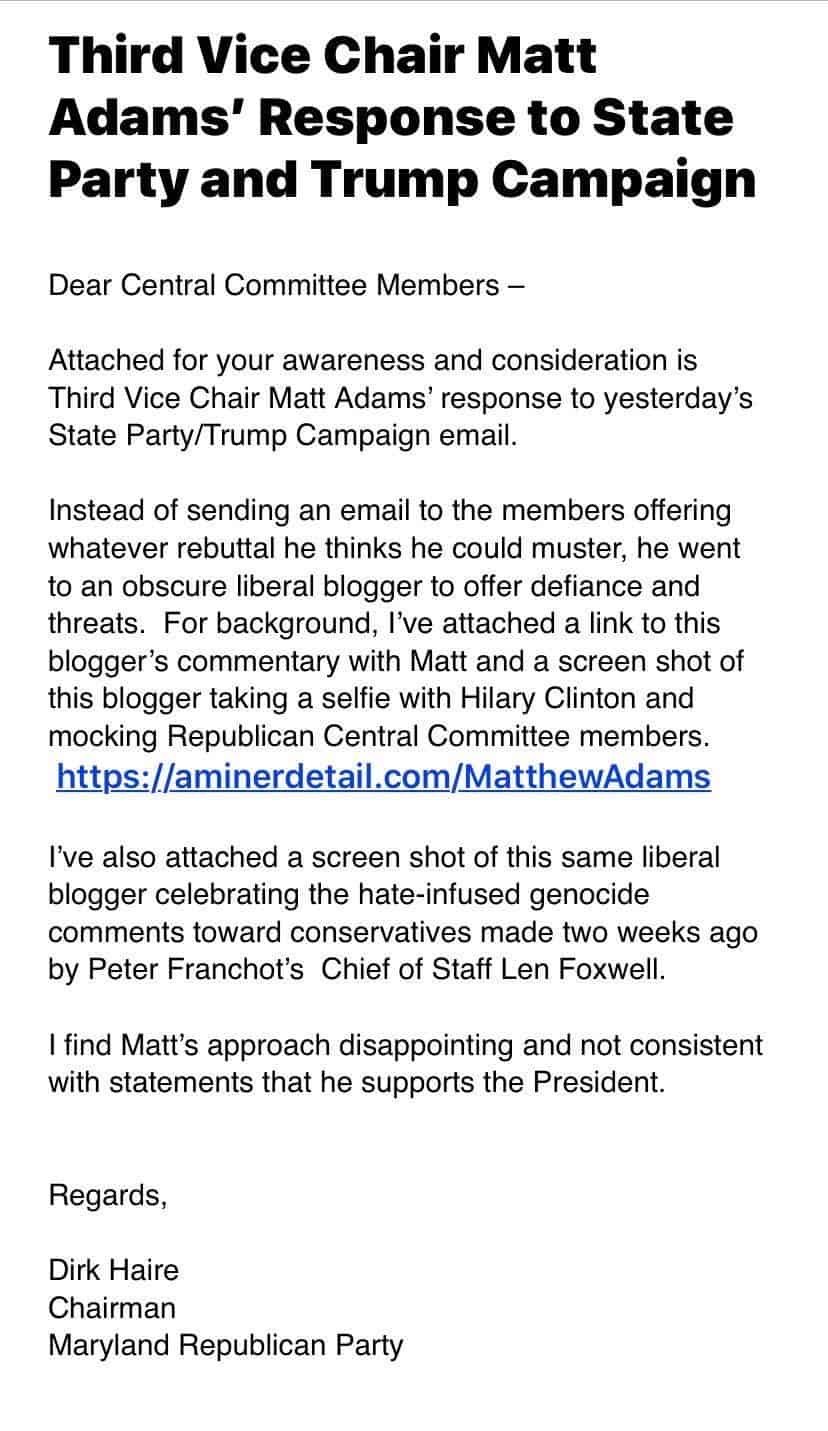 Online petition demanding Adams' resignation 
An online petition demanding Adams' "immediate resignation" as the state party's third vice-chairman was emailed to state GOP central committee members on Thursday afternoon.
The petition was organized by a handful of elected state GOP central committee members.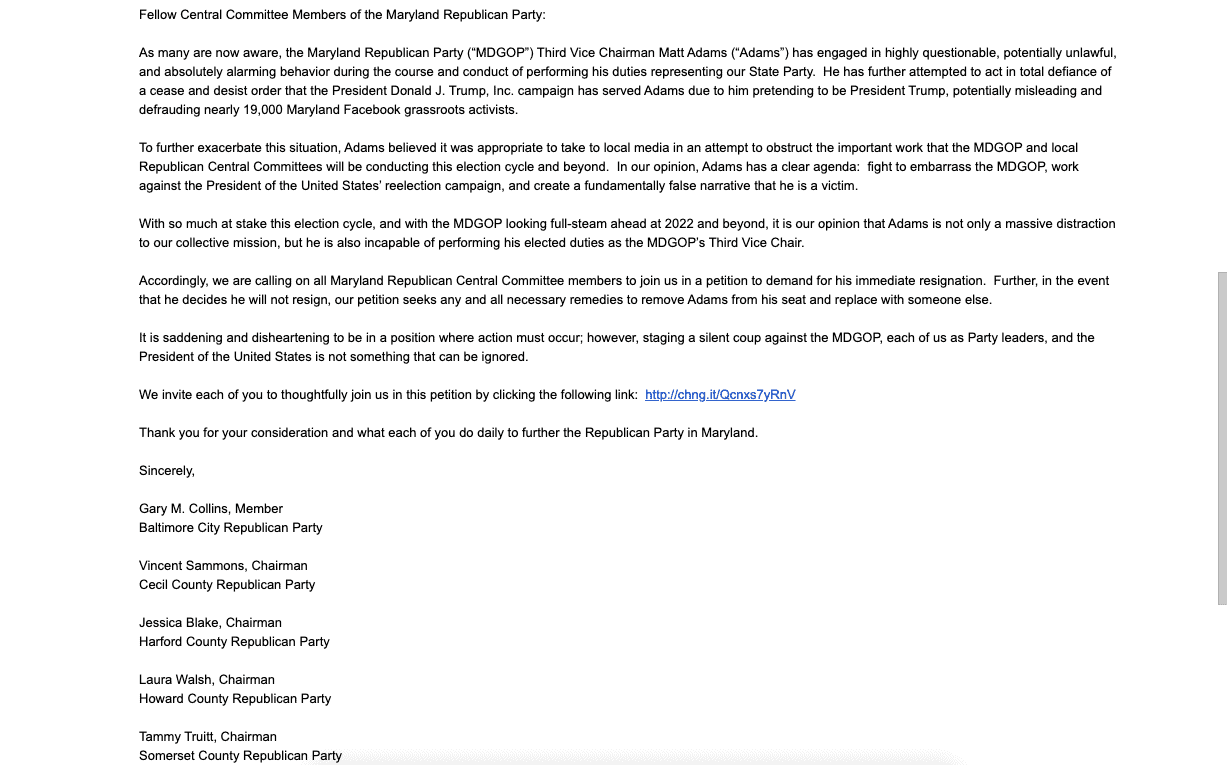 "Accordingly, we are calling on all Maryland Republican Central Committee members to join us in a petition to demand his [Adams] immediate resignation," the email said. "Further, in the event that he decides he will not resign, our petition seeks any and all necessary remedies to remove Adams from his seat and replace him with someone else."
23 people have since signed the petition aimed at removing Adams.
Dirk Haire targets Maryland's Black Republican Party officials 
Haire fired off an email Friday morning to state GOP committee members in which he lashed out at Maryland Republican Party First Vice Chairman Brandon Cooper.

Cooper sent an earlier email to Maryland Matters Editor Josh Kurtz on Friday morning drew Haire's ire.
Cooper called Haire a "liar," and he claimed Haire rescinded an invitation to Bowie City Councilwoman Roxy Ndebumadu to speak at the party's upcoming virtual event after Ndebumadu endorsed Diana Waterman over Nicolee Ambrose in the national committeewoman race.

Cooper returned fire later Friday, blasting Haire in a subsequent email.
"I look forward to us having an executive committee meeting to discuss your tyrannical behavior," Cooper wrote.
Mr. Cooper, an attorney, claimed that he was threatened by Haire – also a practicing attorney – and Nicolee [Ambrose] for backing Waterman over Ambrose in the upcoming election.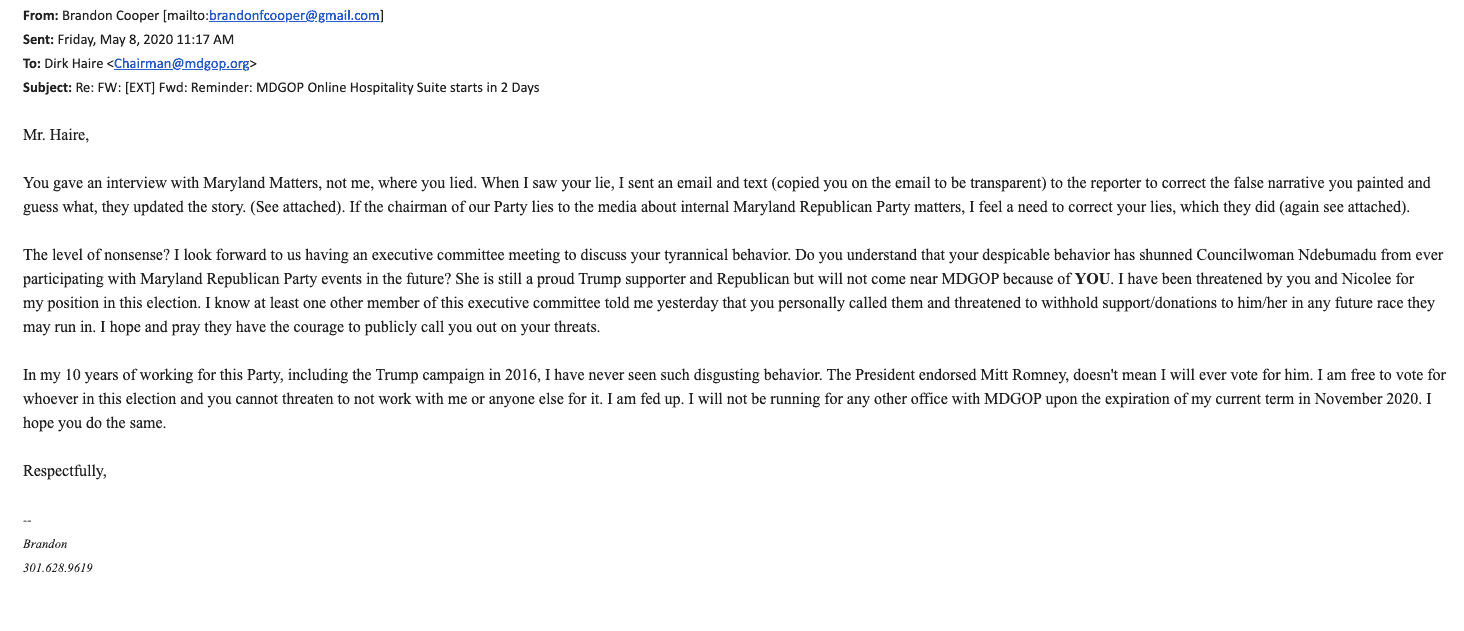 "I know at least one other member of this executive committee told me yesterday that you personally called them and threatened to withhold support/donations to him/her in any future race they may run in," Cooper wrote.
"I hope and pray they have the courage to publicly call you out on your threats."
Dirk Haire cancels Brandon Cooper's co-chairmanship 
Later Friday, Haire notified Maryland Republican Party executive committee members by email that Cooper would be stripped of his leadership role with the Maryland Black Republican Council.
Haire tapped Pastor Shannon Wright, the Baltimore City Republican Central Committee chairwoman, to replace Cooper as co-chairman.
Cooper told A Miner Detail Friday that Haire offered no advanced notice that he would be removed from his co-chairmanship and replaced by Wright.
"I was informed at the same time as the MDGOP Executive Committee – by email," Cooper said.

State GOP Party Second Vice Chairman Tony Campbell says Haire "cursed him out" and "threatened" him
Topping off the 48-hour state GOP executive leadership's hootenanny of email exchanges, laden with claims of threats and improprieties, was the second vice chairman's afternoon email addressed to "Members of the Maryland Republican Party."
Dr. Tony Campbell serves as the state GOP's second vice-chairman and chaplain. He was Maryland's 2018 U.S. Senate Republican nominee.
Campbell's email said he is "saddened to say our house is divided." He wrote that he is not taking sides in the upcoming GOP national committeewoman race.
"I was opposed to any effort to enforce unity at the cost of liberty…I believe every Republican Central Committee member can vote their conscience in the National Committeewoman race while supporting President Donald Trump," Campbell wrote.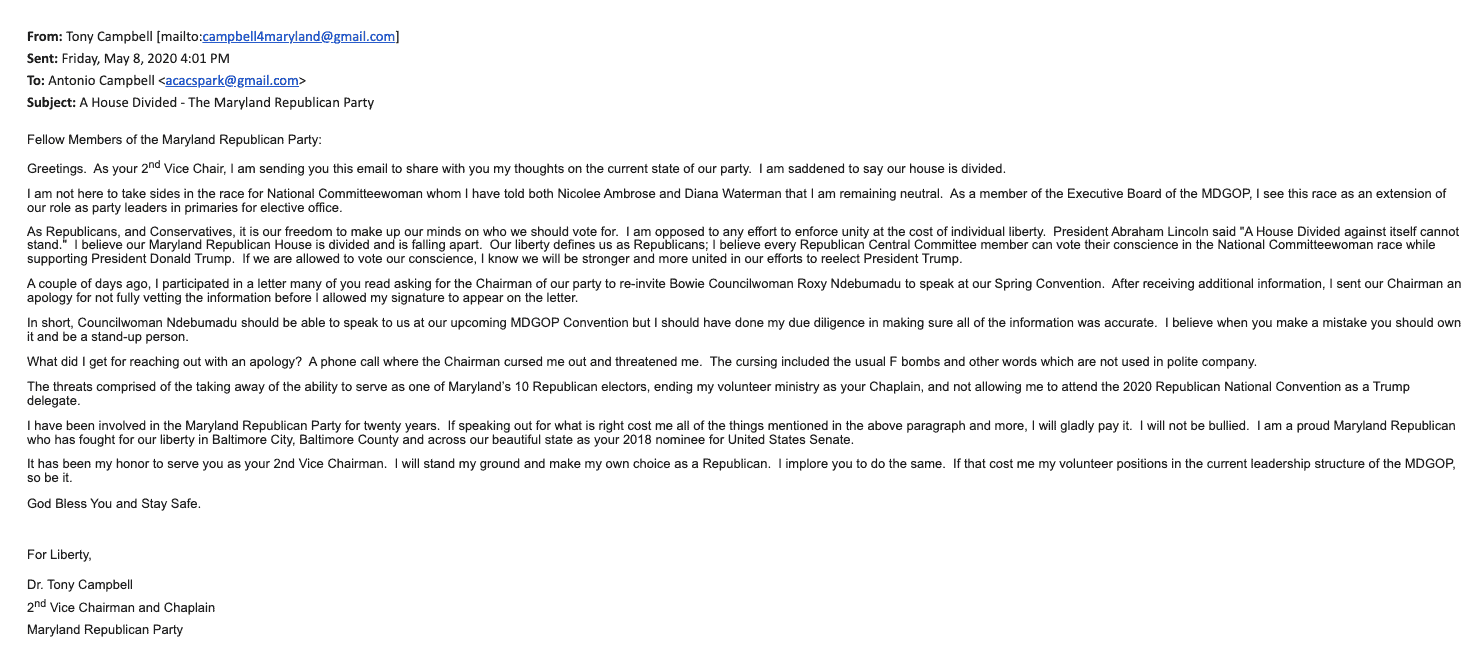 Campbell said he was one of the Republicans who participated in a letter that requested Haire re-invite Ndemumadu to speak at their virtual spring convention.
But after receiving additional information regarding Ndemumadu's convention speech and not "fully vetting the information" before signing the letter, Campbell wrote that he sent an apology to Haire.
"I should have done my due diligence in making sure all of the information was accurate," Campbell wrote in his email.
But Campbell's apology apparently did not assuage Haire.
"What did I get for reaching out with an apology?
A phone call where the Chairman cursed me out and threatened me. The cursing included the usual F-bombs and other words which are not used in polite company."
Mr. Haire did not respond to another request for comment on Friday.
Enter Dan Bongino
Campbell posted to Facebook Friday night that he was "contacted by numerous press outlets" to discuss the ongoing feud within the state GOP.
"I have been cursed out by better cursers (i.e., Dan Bongino)."
He said that he has "been threatened before by people who could actually" do him physical harm.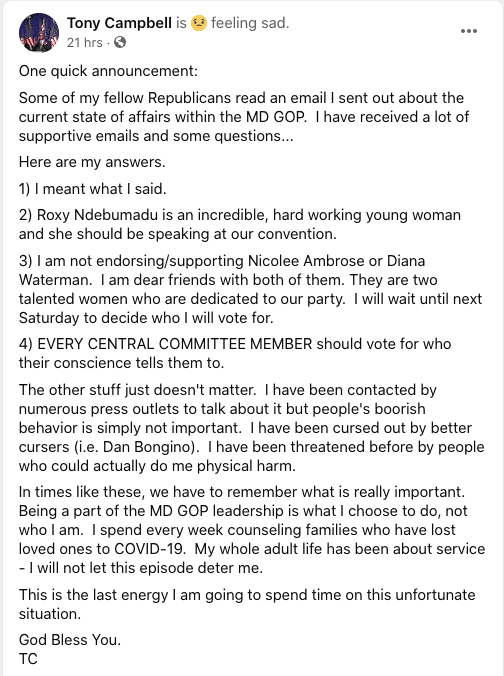 Former Maryland two-time political candidate Dan Bongino, a Republican, jumped into Campbell's thread Saturday morning.
"Please stop lying," Bongino implored.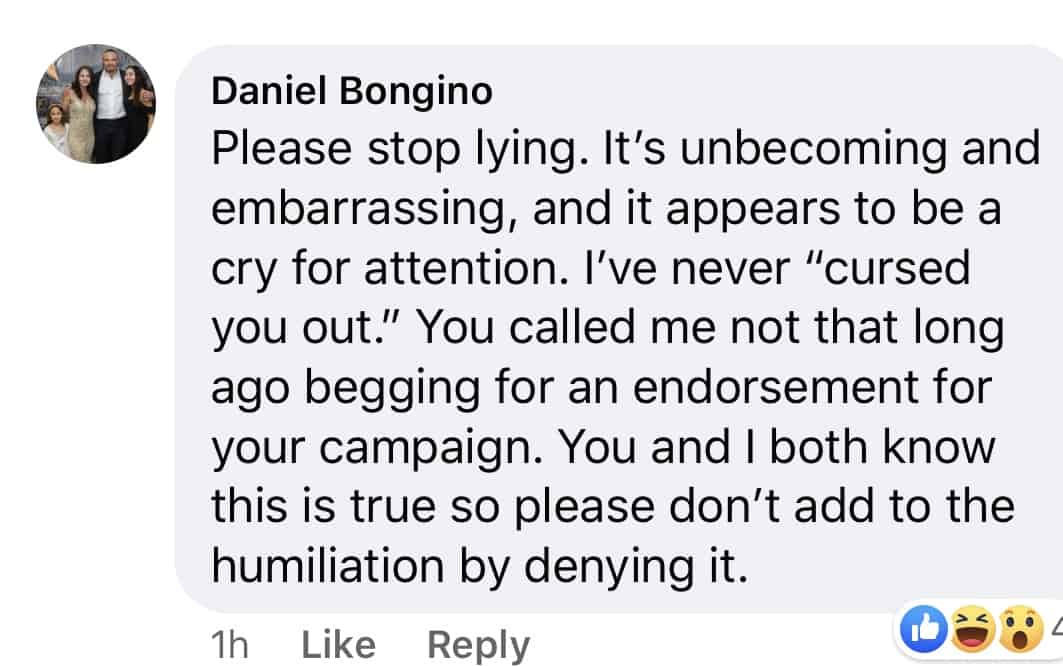 Bongino said he never cursed out Campbell and claimed that Campbell called him "not long ago begging for an endorsement" for his campaign.
In August 2016, Bongino engaged in a 17-minute-long profanity-laden telephone tirade against POLITICO reporter Marc Caputo while he was a congressional candidate for Florida's 19th congressional district.
Before hanging up on Caputo, Bongino shouted, "Shut up! … Go fuck yourself, you piece of shit! … Motherfucker! You shut your mouth. Fucking Coward. Hey! Fuck you! Motherfucker! Fuck yourself! You hear me? Let me tell you something… wait until I shred your fucking ass on the radio. You have no idea. Shut the fuck up. Go fuck yourself…"
Mr. Bongino, who lives in Florida, is a regular commentator on Fox News and is the host of a popular conservative political podcast.
---
Feedback/Questions? Ryan@AMinerDetail.com.