A Miner Detail received the document below from an anonymous source. The document below states that parents whose children attend Carroll Manor Elementary School in Adamstown, Maryland received an e-mail on August 15, 2019.
The e-mail contained a list of events by the original sender, which allegedly occurred in a special education classroom. The names of students were replaced with "Student A", "Student B," etc.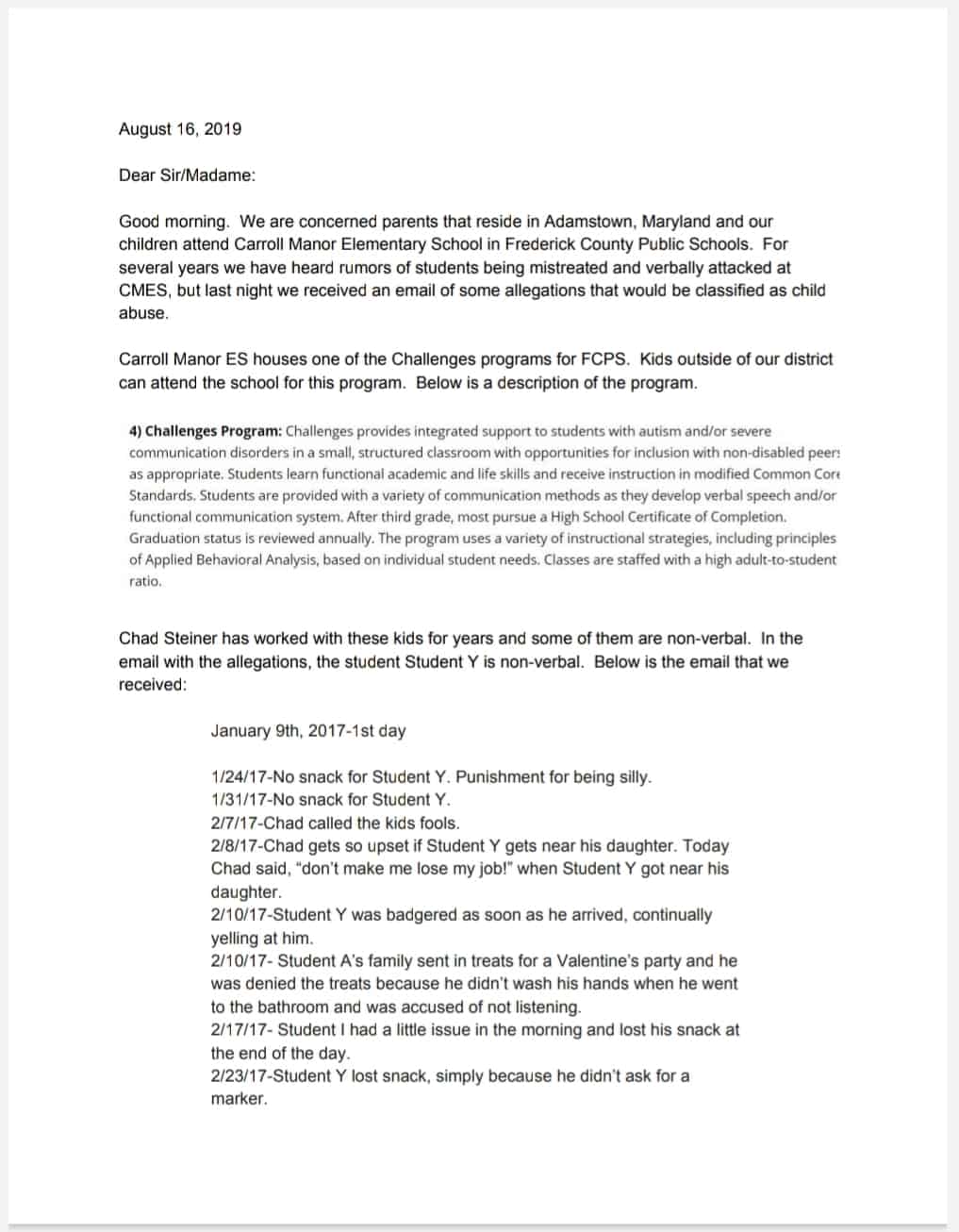 The allegation specifically mentions Carroll Manor Elementary School Special Education Resource Teacher Chad Steiner.
The results of a Frederick County Public Schools public information request shows Mr. Steiner was employed as a special education teacher at Carroll Manor Elementary School from 2014 through 2020. Mr. Steiner was reassigned to Thurmont Elementary School as of February 28 according to a PIA response from FCPS.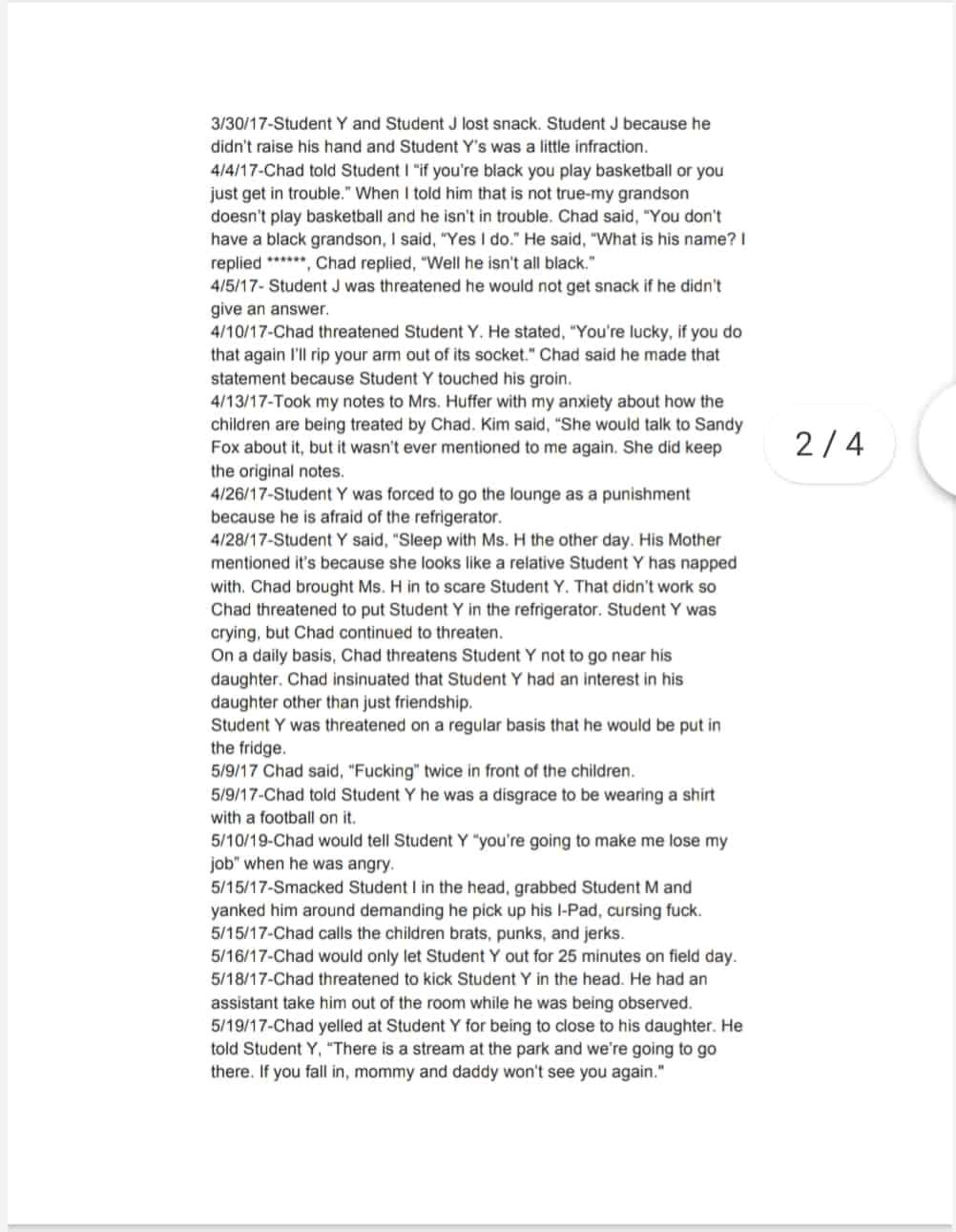 On April 13, 2017, a whistleblower claims to have brought notes to "Mrs. Huffer;" Kimberely Huffer, now Kimberly Robertson, is Carroll Manor Elementary School's principal.
The document (above) suggests that Mr. Steiner's own child was a student in the Carroll Manor Elementary School Challenges Program. The whistleblower alludes to Mr. Steiner's treatment of "Student Y" as a result of this friendship.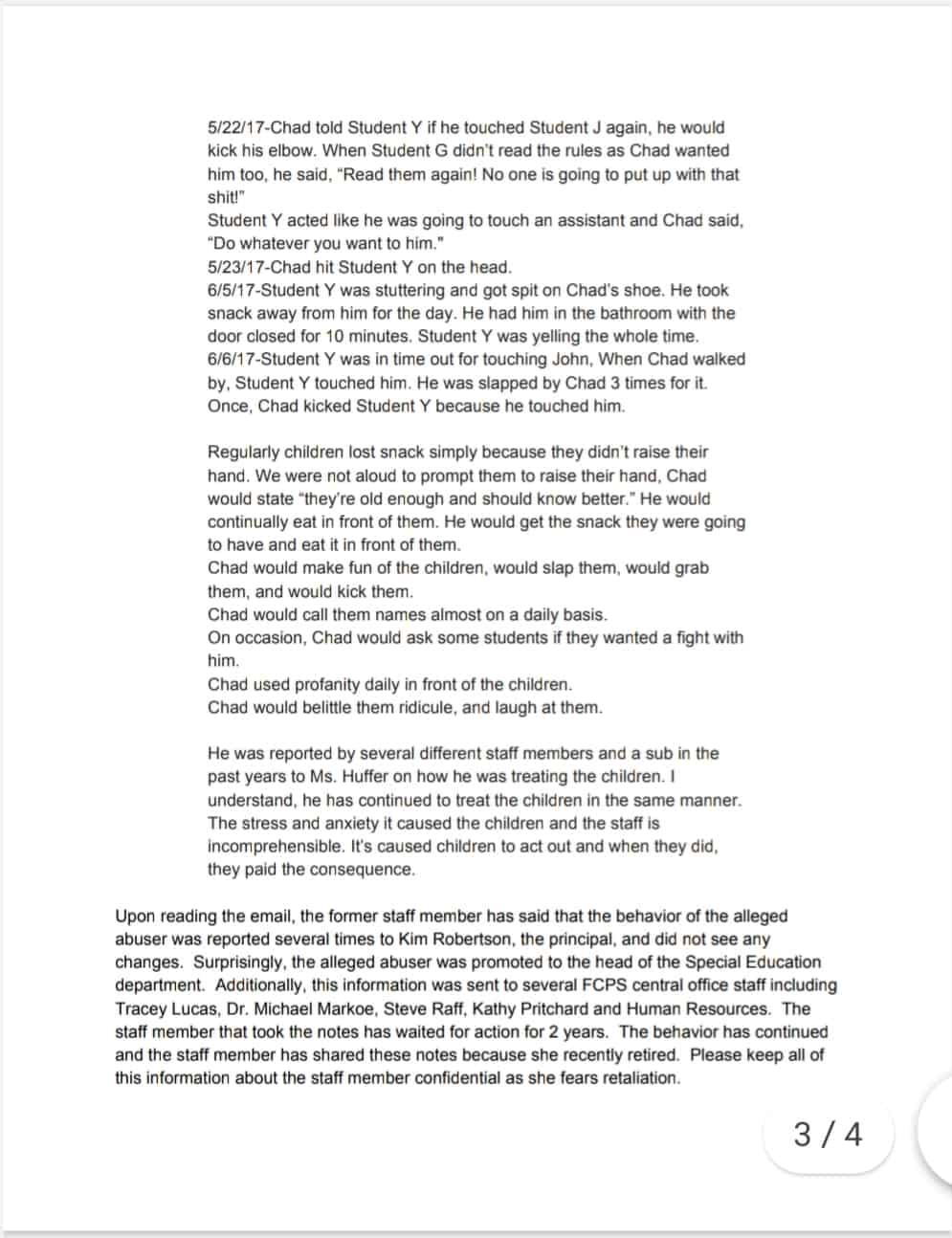 The whistleblower also claims to have notified multiple FCPS employees about Mr. Steiner's classroom conduct, including the school principal (Kim Robertson), the now-retired Executive Director of the Leadership Department (Tracey Lucas), Deputy Superintendent (Dr. Michael Markoe), Director of Elementary Schools (Steve Raff), and the Director of Elementary and Title I Schools (Kathy Prichard).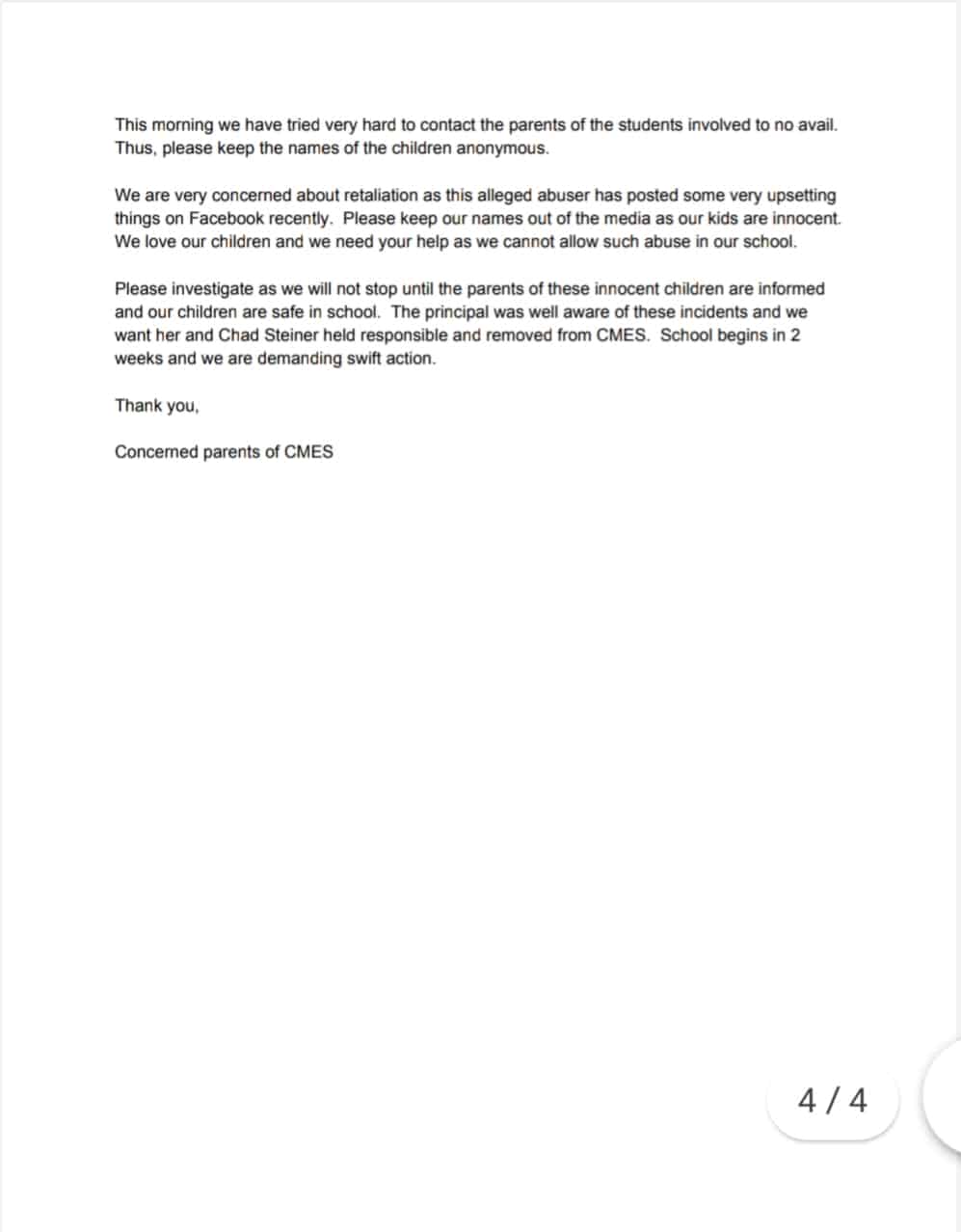 A Miner Detail reached out to sources in the education community in an effort to reach the whistleblower who created this document.
After narrowing down the identity of the whistleblower, a third party confirmed to A Miner Detail the individual's identity. The whistleblower's identity is now known to A Miner Detail and we encourage them to speak on the record.
A Miner Detail confirmed that at least one FCPS employee with knowledge of the CMES Challenges program knew that another FCPS employee maintained a list of classroom observations that coincide with the time period, as outlined in the above documents.
A Miner Detail also spoke with a number of FCPS employees with knowledge of the teacher and his classroom; the employees agreed to speak on their observations of his classroom conduct.
Steiner's colleagues claimed that he had a penchant for "unnecessarily harsh" punishments, verbal abuse, and they mentioned they he was generally unprofessional.
Some of Steiner's colleagues who spoke with A Miner Detail on background said they contacted their administrators about Steiner's behavior and requested professional distance from him.
A Miner Detail has also received a third-hand unconfirmed accounting from a student in Mr. Steiner's classroom.
As stated in the above document, most of the children in this program are non-verbal. Our unconfirmed report suggests that a former student reached a point in their education where they can communicate through electronic assistance; they used this newly learned technique to share classroom events that support the document above.
Frederick County Public Schools declined to comment.