In Montgomery County, Maryland, candidate endorsements do actually matter – especially in a crowded school board race that has drawn increased attention from parent activists, student leaders, and engaged citizens.
The Washington Post editorial board endorsement remains the crème de la crème for candidates seeking local office despite the cavalier indifference some unlucky non-recipients may choose to publicly display.
This year, The Washington Post tossed its editorial gravitas behind at-large candidate Lynne R. Harris and Shebra L. Evans, Montgomery County Board of Education's current school board president who is seeking re-election in District 4.
A deep bench of candidates – 13 total – to choose from, the Post called Harris the "clear choice for the at-large seat."
"She is focused solely on serving the interests of students, and her knowledge of the school system and its needs is unmatched," the editorial board wrote of the former president of the Montgomery County Council of Parent-Teacher Associations whose multiple careers and esteemed academic credentials – Harris is a former attorney; she's a nurse and a public health expert who eventually settled on education and became a high school teacher – are a mosaic of hopes and wishes of every American parent.
Harris, a Thomas Edison High School of Technology teacher, said she "is beyond honored to receive the endorsement of The Washington Post – particularly given that it highlights my years of work – as a volunteer through PTA and MCCPTA – as instrumental in gaining deep knowledge about our school system."
The Post's backing can certainly bolster a candidate's standing amid a crowded field and it can spur instantaneous interest among otherwise disinterested voters (consider David Blair's Post endorsement in the 2018 county executive Democratic primary).
Though additional scrutiny can follow, as it has with Mrs. Harris.
A comment authored by "Moco Resident 4 Truth" was written beneath Harris' endorsement that suggested the former attorney and 13-year Department of Justice veteran – Harris served as senior trial counsel in the U.S. Department of Justice's Civil Division, Torts Branch, Office of Vaccine Litigation – fought "against immigrants during her tenure as an attorney for the Office of Immigration Litigation during the Bush/Cheney Administration."

"In fact, her job, working for then AG John Ashcroft [a Bush appointee] apparently was to ensure immigrants who were appealing denials of asylum did not succeed in their appeal…Lynne personally wrote 40 appellate briefs and argued for the government AGAINST asylum seekers in the wake of 9-11," the anonymous poster wrote.
Harris says the allegation is false.
A Miner Detail received a similar copy of Harris' statement on Monday that was also posted to the online comments section of the Post's website containing her original endorsement.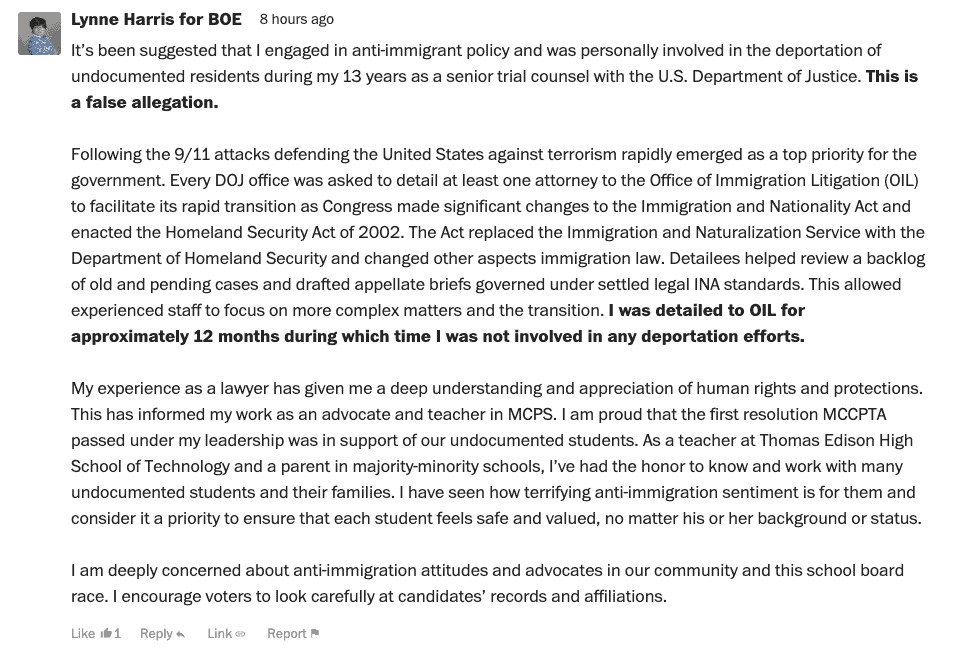 Harris said she was "not involved in any deportation efforts" while working under former U.S. Attorney General John Ashcroft.
Ashcroft is one of the notable chief architects of The Patriot Act – the now-expired controversial legislation signed by former U.S. President George W. Bush (R) in October 2001 in the aftermath of the September 11 terrorist attacks. The far-reaching law vastly expanded the powers and reach of law enforcement and arguably trampled on Americans' civil liberties, including a number of American Muslims.
Concluding her four-paragraph statement, Harris said she is "deeply concerned about anti-immigration attitudes and advocates in our community and this school board race."
"I encourage voters to look carefully at candidates' records and affiliations."
Listen to Lynne Harris' interview with A Miner Detail Podcast
The original comment in the Post targeting Harris' experience at the Justice Department was posted in the Montgomery County MD Neighbors for Local Schools Facebook group, an 8000-plus person group started by Stephen Austin, one of Harris' chief rivals seeking an at-large seat on the Montgomery County Board of Education.
Several of Harris' supporters have waged a nonstop onslaught against Austin, whom they have targeted incessantly since Austin first launched his campaign.
Mr. Austin, a finance professional who manages assets for pensions funds, is running on a platform of increased fiscal oversight and increased financial responsibility. He is proposing innovative budget solutions for MCPS and supports closing the achievement gap.
A proponent of the neighborhood schools concept, Mr. Austin is a leader in the robust movement that is pushing back against the MCPS districtwide boundary analysis conducted by WXY Architecture + Urban Design, an expensive and highly controversial study that has inspired thousands of new parents to take a stand against what they perceive as an out-of-control and less than transparent school system.
Mr. Austin's issue positions have placed him squarely at odds with several of Harris' supporters, many of whom have launched diatribes at Austin via social media.
Harris has stuck to her core platform positions and has mostly avoided taking personal swipes at her fellow at-large candidates.
Though a small swath of Harris supporters and supporters of other board of education candidates opposed to the neighborhood schools' concept are routinely attacking Mr. Austin's character.
One Montgomery, a far-left marginal progressive group masking its identity under the guise of " Montgomery County parents and community members committed to school equity as a means for creating a strong community," has recently launched a barrage of misleading attacks and patently false allegations against Mr. Austin.
The leftwing partisan group has dedicated multiple Facebook posts to attacking Austin and his core group of supporters.
David Simon Fishback, a One Montgomery member, co-authored a partisan attack piece against Mr. Austin that was published in the state politics and news website Maryland Matters. Fishback has publicly disclosed his support for Mr. Austin's opponent, Dr. Sunil Gasgupta, in the upcoming Board of Education primary.
Mr. Austin joined A Miner Detail Podcast via Zoom shortly after Fishback's co-authored attack opinion piece was published by Maryland Matters.
The attacks sustained by Mr. Austin reached a fever pitch last week when a sitting Montgomery County elected official targeted Mr. Austin's wife over her husband's education policy positions in a bizarre string of unsolicited emails – an unconventional tactic even for Montgomery County and one that has rattled the Austin family and has further eroded the tone of a race distracted by smears and mudslinging.
A Miner Detail received a series of photographs Sunday depicting someone removing one of Mr. Austin's ubiquitous campaign signs from an unknown property in Montgomery County.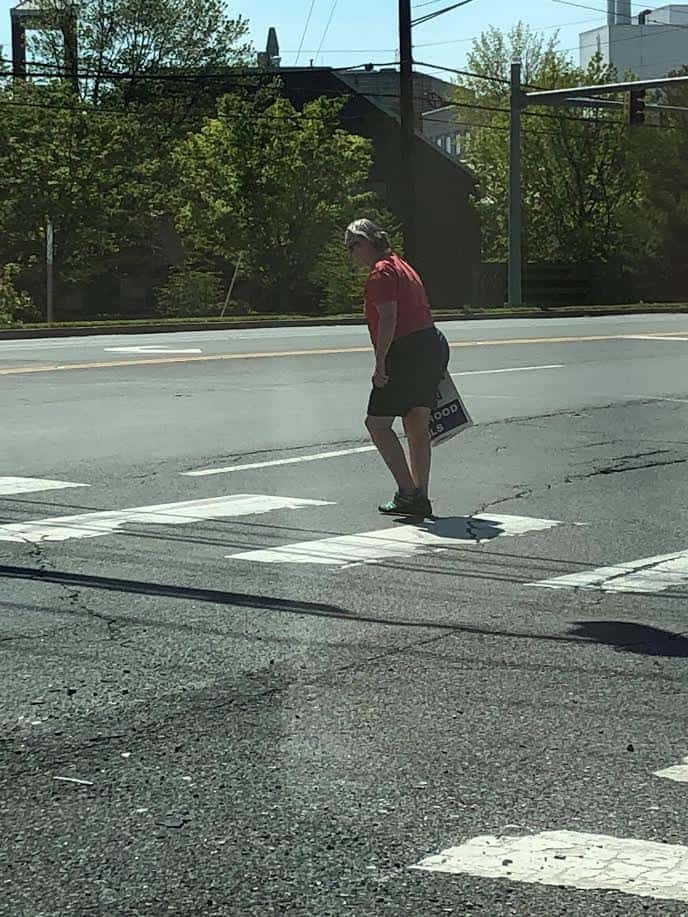 Facebook users identified the individual responsible for removing Mr. Austin's sign as a staunch supporter of at-large Board of Education candidate Dr. Sunil Dasgupta.
When reached for comment, the individual pictured (above and below) claimed that "Removing signs in yards is considered stealing" but "Removing signs in medians and public ways is not."
The same individual did not respond when asked to verify whether they were responsible for removing Austin's campaign sign.
Supporters of Mr. Austin's rivals have taken to social media to gripe that many of Austin's campaign signs are misplaced throughout the county, though several other Board of Educations candidate signs in the Silver Spring and Takoma Park region have received far less attention from Austin detractors for being incorrectly placed on county-owned properties.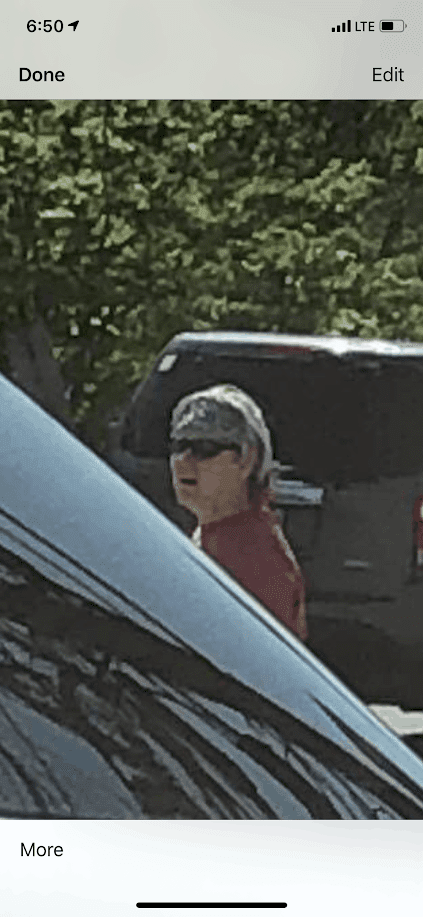 Three seats on the eight-member Montgomery County Board of Education will be decided in the November general election.
The June 2 primary will decide which two candidates will appear on the general election ballot for the at-large and District 4 seats; District 2 is without a primary because only two candidates registered for the race.
---
NOTE: A Miner Detail Editor in Chief Ryan Miner's wife, Kimberly Large Miner, is a Stephen Austin supporter. 
Questions/Feedback? Ryan@AMinerDetail.com.