Adams jumps into Circuit Court race
Uncommon it is for most Maryland judicial races to garner attention beyond the perimeters of their respective county boundaries.
But Anne Arundel County is quickly becoming the exception to the rule.
E. Wesley Adams III – most Anne Arundel residents know him as "Wes" – is waging an insurgent campaign for a seat on the Anne Arundel County Circuit Court.
With a few short weeks to go until the June 2 primary, Adams, a former state's attorney, is facing stiff competition in a six-person, nonpartisan primary.
Four of the Circuit Court judicial candidates seeking election – all of whom appointed by Republican Gov. Larry Hogan – have formed a candidate slate. Another candidate, a private attorney, is also running.
Circuit Court candidates' names appear on both the Republican and Democratic ballots.
Adams, a Republican, was elected Anne Arundel County State's Attorney in 2014, outsing incumbent Anne Colt Leitess in an election cycle that voters returned a Republican governor – Larry Hogan – to the state's Government House, and one in which Anne Arundel voters chose a staunch conservative – Steve Schuh – to lead Maryland's fourth-largest jurisdiction.
Hogan was overwhelmingly re-elected in 2018. Adams and Schuh were not as lucky.
The two Anne Arundel County Republicans were defeated in their 18′ re-election bids after suffering a number of high-profile political stumbles during their first terms, leading some voters, even, to call into question Adams' character.
Adams though quickly bounced back after his bruising loss. He was appointed Charles County's lead civil attorney almost exactly one year ago in May.
But nearly one year into his new role, the self-described "tough-on-crime" former prosecutor is ready to give up his Charles County gig for a permeant uniform change.
Maryland governors appoint Circuit Court candidates to the bench only after said candidates meet the requisite qualifications (bar-certified practicing attorneys who have practiced law in the county for at least 10 years) and are vetted by the state's Judicial Nominating Commission.
The Commission sends the names of qualified judicial candidates to the governor, who selects her or his choice for appointment.
Maryland Circuit Court judges are elected to 15-year terms.
Adams' character questioned by Bruce Bereano
The Capital reported that Maryland super-lobbyist Bruce Bereano and Adams engaged in a "testy" exchange at the Maryland State Board of Elections shortly after Adams filed his paperwork to have his name appear on the June 2 primary ballot.
Bereano told The Capital that Adams promised him and others that he would not run against judges appointed by Gov. Larry Hogan.
"He clearly lied and went back on his word, and breached his commitment to a number of people, and I think it is grossly wrong, and I think it speaks volumes about the kind of human being he is," Bereano told a Capital reporter.
But Bereano didn't stop there, taking another shot at Adams in an op-ed published by The Capital on May 6.
"Through his four years as a politician in our county from 2014-2018, he demonstrated that he does not possess the moral character and integrity required of a judge," wrote Bereano.
"Mr. Bereano is entitled to his opinion," Adams said Monday when reached for comment.
Bereano's op-ed up knocked Adams' four-year stint as Anne Arundel County's state prosecutor, referencing the investigation conducted by The Capital in which "multiple former employees" who worked for Adams in the state's attorney office "have come forward" to say that Adams' "first time in office has been marked by a damaging work environment, unusually high turnover and inadequate training for new prosecutors."
In 2019, Adams submitted his name to the state's 13-member Judicial Nominating Committee, Bereano wrote, "whom after examining [Adams'] character and meeting him, refused to recommend Adams as a judicial candidate because he did not possess these critical character qualifications."
Bereano called into question Adams' decision to hire longtime Republican operative, Lawrence Scott. Mr. Scott operates "Scott Strategies," a political consulting firm in which he has earned a reputation for running negative campaigns against his clients' opponents.
Scott's salary was briefly listed at $135,000 in a database kept by Anne Arundel County's Office of Personnel, though it was later revised to $67,5000; Scott's employment status was later reduced to part-time.
"He paid this political consultant $333,000 in Anne Arundel County taxpayer money for what amounted to a "no show" job while that lobbyist was still doing outside political consulting and lobbying work," Bereano wrote.
Scott left his job with Adams in March 2018 to run Adams' re-election campaign.
Bereano told A Miner Detail that Adams told him – twice – that he would not run for Circut Court judge.
"He said it twice to me. I wrote it down."
"His name wasn't submitted after the Judicial Nominating Commission interviewed him. He said he was running for judge because he thought he wasn't fairly treated in the process," Bereano said.
"His name didn't get through the commission."
Adams lobbies Hogan administration to hire former Anne Arundel County employee accused of sexual harassment, sexual assault
Christopher Flynn was hired in early 2015 by the Anne Arundel County Central Services Office. Later news reports claim Flynn resigned from the same job in October 2015.
Flynn was hired in late 2015 as the director of special projects for the Anne Arundel County state's attorney office, where he worked under Adams after his departure from the Schuh administration.
A Miner Detail on May 11 was forwarded a copy of a 2015 "Investigation Report" involving Flynn. The report was conducted and composed by Anne Arundel County's Office of Personnel.
The report, dated Sept. 30, 2015, was assembled "In Response to Incident Under Anne Arundel County's Non-Discrimination and Non-Harassment Policy," in which Flynn was accused of sexual harassment and sexual misconduct by a female subordinate employed at the time by the Anne Arundel County Central Services Office.
An investigation was initiated on Sept. 23 by Assistant Personnel Officer Susan Herrold.
A female colleague who worked with Flynn at the time claimed that Flynn "walked into her office; approached her so aggressively that she put her hands up in front of her; pushed her hands away; and grabbed her right breast," according to the complaint.
The sexual harassment and sexual assault allegations against Flynn were sustained by the County's Office of Personnel.
"Mr. Flynn's conduct with respect to [redacted], is not only conduct unbecoming a County employee, but also violates the Anne Arundel County Non-Discrimination and Non-Harassment Policy and applicable federal and state law," the report concluded.
"Mr. Flynn's pattern of conduct created a hostile work environment for [redacted] to the point where she now fears for her physical safety."
Flynn was notified by letter on Sept. 24 that he would be placed on "paid administrative leave until further notice."
When Flynn was tapped to serve on the Housing Authority of the City of Annapolis' Board of Commissioners in March 2017, The Capital reported that Alderman Kenneth Kirby (D-Ward 6) requested a delayed vote on Flynn to speak with him about a personnel matter with respect to his previous employer.
The Capital reported that "Flynn resigned from his job in October 2015, although reasons of his resignation were not given."
However, three individuals who worked in the Schuh administration who spoke to A Miner Detail on background said Schuh fired Flynn but offered him the opportunity to resign.
Flynn has not responded to A Miner Detail's LinkedIn message requesting comment.
Adams solicits Hogan administration to hire Flynn
Shy of two years working for Adams in the state's attorney's office, Flynn wanted a new job – this time with the Hogan administration.
Adams emailed Michael Leahy a copy of Flynn's resume on Wednesday, August 30, 2017, with an attached note thanking Leahy, Maryland's Acting Secretary of the Maryland Department of Information Technology at the time, for "looking into this."
"Below are the open positions in your [sic] that Chris referenced to me when we were discussing his next steps."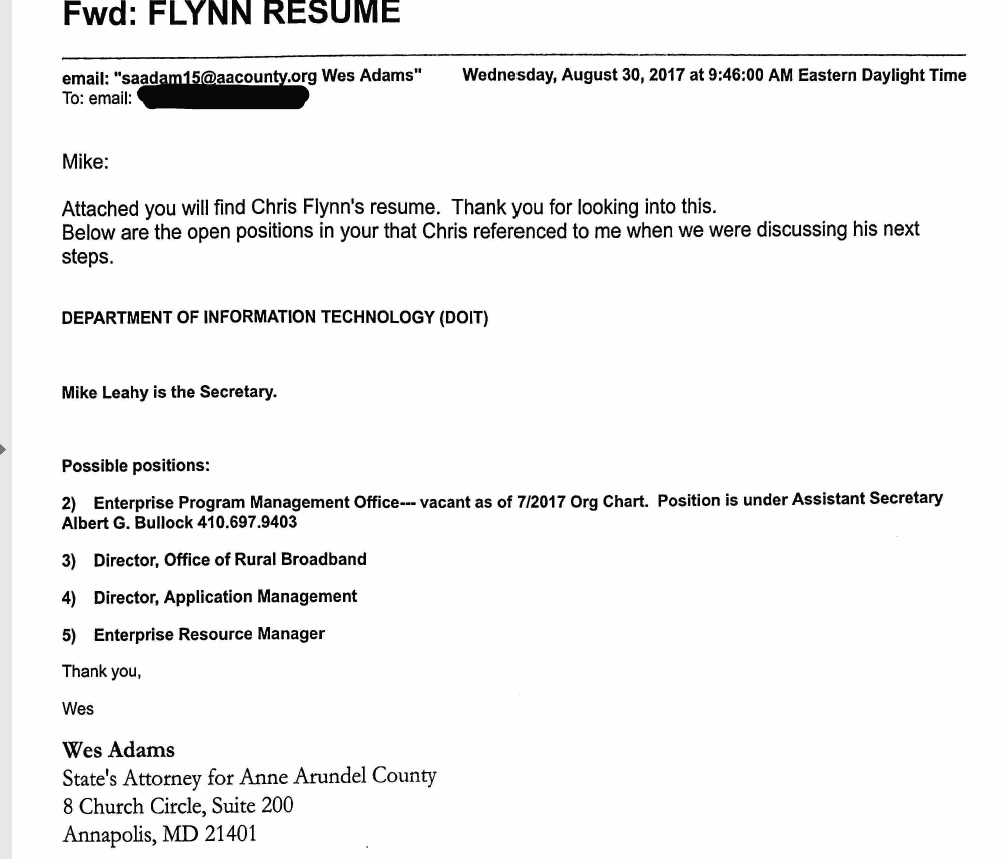 Flynn's LinkedIn resume does not appear to show subsequent employment with the Hogan Administration. His listed employment with the Anne Arundel County State's Attorney's Office ended in 2017, according to the same online resume.
A Miner Detail reached Adams for comment on Monday.
Adams initially claimed that he did not solicit the Hogan administration to hire Flynn.
But when pressed over his August 2017 email to Leahy, Adams later amended his initial statement. He told A Miner Detail that he "did not recall" whether he ever solicited the Hogan administration to hire Flynn.
He said that Flynn is a good man and that he has known him for many years.
Adams suggested that A Miner Detail should carefully consider publishing content that "could ruin somebody's life."
He claimed that he was not aware of the allegations that led to Flynn's departure from the Schuh administration.
According to Maryland's online campaign finance database, Flynn contributed $200 to Adams' 2014 state's attorney campaign. He paid $70 for tickets in 2013 to Adams' campaign event.
Adams did not respond to a text message Thursday seeking additional comment.
---
Feedback/Questions? Ryan@AMinerDetail.com.