In 2020, a Washington County, Maryland, Republican central committee called for the burning of Black Lives Matter and ANTIFA flags in response to the nationwide unrest and widespread protests after a former Minneapolis police officer murdered George Floyd.
The former Maryland GOP central committee member published his comments to Facebook under the Washington County Republican Central Committee's official Facebook handle.
"Since taking mob action against whatever offends us – or pretending to take offense – I suggest retaliation by burning BLM [Black Lives Matter] and ANTIFA flags, painting over any of their slogans, and meeting them head on [sic]," the Maryland Republican official said.
Below is a screen capture of the official's Facebook post.
Maryland Republican Central Committee Responsible Post
The now-infamous comment was published in July 2020 to a Facebook thread initiated by the Facebook page belonging to the Washington County Republican Central Committee.
The post accused without evidence Democrats and the Black Lives Matter movement of vandalizing a statue erected for Confederate Gen. Robert E. Lee. The defaced Lee statue sits at the Antietam National Battlefield in Sharpsburg, Md.
"Unfortunately (sic) now Washington County Maryland will get National News  (sic)coverage as the latest target of BLM vandalism: They got one of the statues at Antietam Battlefield last evening. These tolerant democrats (sic) are out to destroy America's History (sic) and cancel OUR culture. This is vile, and disgusting!" the post said.
The Washington County, Maryland Republican Central Committee's Facebook post was deleted within 24 hours of its publishing and condemned the post.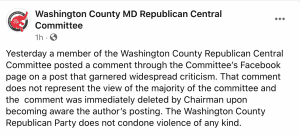 "Yesterday a member of the Washington County Republican Central Committee posted a comment through the Committee's Facebook page on a post that garnered widespread condemnation," the post read in part.
"That post does not represent the view of the majority of the committee and the comment was immediately removed," wrote Jerry DeWolf, then-chairman of the Washington County Republican Central Committee.
DeWolf said the now-deleted post does not represent Washington County's Republican Party, and its organization does not "condone violence of any kind."
Maryland Republican Party Responds To Washington County GOP Post
A Maryland Republican Party executive board member told A Miner Detail the post was "horrible," "disgusting," and "inappropriate."
"No excuse," the state GOP leader said.
Ray Foltz Takes Responsibility For Anti-BLM, ANTIFA Facebook Post
Washington County Republican Central Committee Member Raymond "Ray" E. Foltz took responsibility for the Facebook comment that called for violence against the Black Lives Matter movement and ANTIFA.
Mr. Foltz admitted responsibility for the post.
"This post was written by me, not Chairman [Jerry] DeWolf. Nor was it discussed with any other member of the WCRCC before my posting.
Foltz said he had two Facebook pages "open at the time" and mistakenly posted to the Washington County Republican Central Committee Facebook page, not his personal Facebook page.
"I regret having posted my comments to the WCRCC FB page," Foltz said.
"I am solely responsible for the comment and sentiments expressed."

---
Feedback/Questions? Ryan@AMinerDetail.com. 
Ryan Miner is the Editor & Founder of A Miner Detail.