President Donald J. Trump's (R) presidential campaign on Wednesday issued a cease and desist letter to Maryland Republican Party third vice-chairman Matthew Adams over what the campaign describes as "unauthorized activities in the President's name."
Adams, 50, said he received an email on Wednesday at 6:00 p.m. from Maryland Republican Party Chairman Dirk Haire.
Haire copied the entire state Republican Party body, Adams said.
Haire's email to Adams included a PDF letter written by Michael S. Glassner, the Trump for President campaign's chief operating officer.
"On behalf of the President's campaign, I write to demand that you immediately remove all of the "Maryland for Trump" branded websites and social media accounts you administer (the "Sites").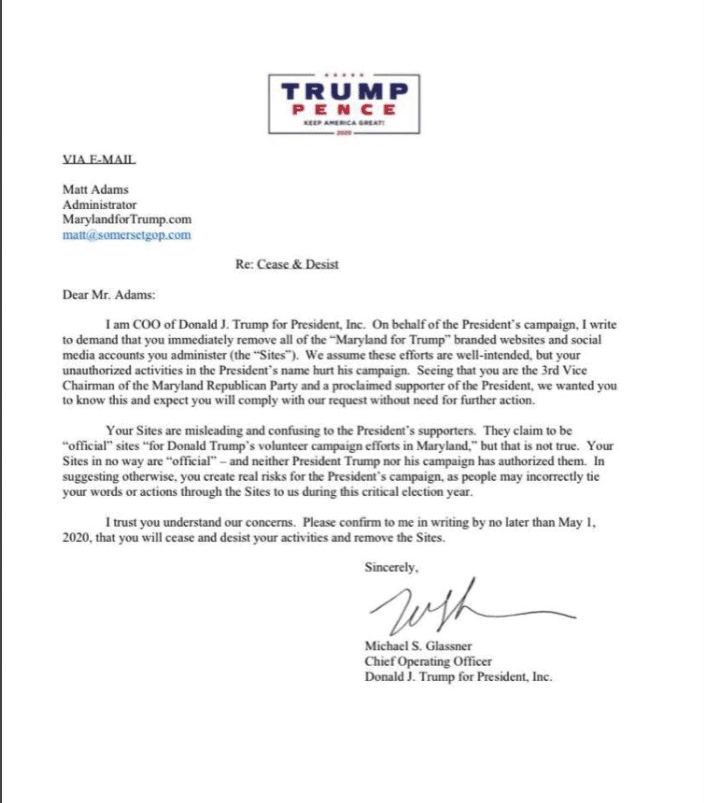 Adams, who lives in Eden, a small community in Somerset County, says he operates and posts often to the "Maryland for Trump" Facebook page.
In addition, Adams oversees and updates the "Maryland for Trump" website, though, he said, the page is currently "down for maintenance" and under construction.
Adams said he was tapped by the Maryland for Trump campaign co-chairs in 2016 to run the Maryland for Trump website and its social media pages.
Since 2016, Adams has maintained the Maryland for Trump website and Facebook page, which has grown to over 19K followers since Trump's successful 2016 presidential bid.
But Adams' recent show of support for Diana Waterman's Republican National committeewoman bid caused a stir after he posted the endorsement to the Maryland for Trump Facebook page.
Waterman is challenging incumbent Republican Nicolee Ambrose in the May 16 Maryland national committeewoman race. Mrs. Waterman previously served as chairwoman of the Maryland Republican Party from April 2013 to December 2016.
"Dirk and David Bossie [Maryland's elected Republican National Commiteeman] are working behind the scenes to help Nicolee win this race," Adams speculated.
"Nicolee definitely has something on Dirk Haire; that's why he's backing her."
Adams said that Haire is retaliating against him his support for Waterman – and more.
"I have posted stuff [to the Maryland for Trump Facebook page] against Larry Hogan for Dirk Haire. I have posted stuff bashing Michael Steele for Dirk," Adams claimed.
The Trump campaign's letter read, in part, "We assume these efforts are well-intended, but your unauthorized activities in the President's name hurt his campaign."
Adams said "this was the biggest piece of shit letter" that he's read, to date.
The cease and desist letter Adams received has no listed date. Adams told A Miner Detail that he was not provided a phone number or email address to respond.
The letter went on to claim that Adams' "Sites are misleading and confusing to the President's supporters. "They claim to be "official" sites "for Donald Trump's volunteer campaign efforts in Maryland," but that is not true."
The letter says that Adams' sites are in "no way "official" and President Trump nor the campaign authorized them.
Adams disagrees.
Adams said he was told by Haire in December 2019 that he could no longer organize for Trump's Maryland re-election campaign in any official capacity.
"People want to get together and start organizing and know what to do in their county," Adams said.
"Everything that I have wanted to do, Dirk [Haire] threatened me with cease and desist letters," Adams said.
"We wasted all of 2019, which was the perfect time to use the president to grow the Republican Party in Maryland. We have done nothing."
Adams did not mince words about the Maryland Republican Party's leadership.
"The state Republican Party screwed me out of being a delegate because I won't play Dave Bossie and Dirk Haire's games."
Adams said the Maryland Republican Party is "in big trouble" for failing to support Trump enough in Maryland.
"I will rip the scab off this Party. I have been threatened with a cease and desist letter for the last 15 months."
He further lamented the Maryland Republican Party's leadership, claiming "they control everything from the top down."
Adams suggested that Mr. Haire is using his position at the state Republican Party in a subtle effort to help launch a 2022 county executive campaign for Anne Arundel County Councilwoman Jessica Haire (R-District 7).
Jessica Haire is married to Dirk Haire.
Glassner's three-paragraph letter claimed that Adams "creates real risks for the president's campaign."
"People may incorrectly tie your words or actions through the Sites to us during the critical election year."
"Why the hell would Donald Trump give a shit about me?" Adams pondered aloud.
He went on to suggest that Maryland Rep. Andy Harris (R), a congressional ally of the president, may have contacted the Trump campaign to stop Adams' involvement with the Maryland for Trump campaign.
Asked whether he responded to the Trump campaign's emailed cease and desist letter, Adams said he is working on a response and plans to respond on May 7.
The cease and desist letter requests that Adams respond in writing no later than May 1, 2020, and to cease and desist with his activities and "remove all Sites."
Undeterred by the threat of legal action, Adams said he remains an unwavering Trump supporter.
"Let them take legal action."
Adams took to the Maryland for Trump Facebook page shortly after he received the emailed legal threat.
"I must also remind everyone you can NOT intimidate or scare a man with NOTHING to lose."
Adams shared with A Miner Detail that he has terminal colon cancer.
"I am on treatment and there isn't a cure."
"These people want to fight with a dead man," Adams said, "and all I have done is support Donald Trump."
He says he will ignore the cease and desist letter and will continue to post updates to the Maryland for Trump Facebook page.
"I will not eat shit from a rusty spoon from anybody. Dirk Haire doesn't know how far I'm willing to go. I was elected overwhelmingly to be the third vice-chair of this party; I was stifled from day one," Adams remarked.
Adams, again, did not hold back his personal disdain for Haire.
"He's a greasy lawyer. He will bend the rules and the laws as far as he can and still justify that he did nothing wrong."
Adams said he served as the chairman of the Somerset County Republican Central Committee "for 11 or 12 years," serving four as its chairman. He was voted out of as a central committee member in March, he said.
In addition to operating the Maryland for Trump Facebook page, Adams created, operates and regularly posts updates to "Trump Nation," a separate Facebook fan page for Donald Trump.
Adams pointed out that Trump Nation has nearly 400,000 Facebook likes.
---
Questions/Comments? ryan@aminerdetail.com.