Jessica Haire was defeated by incumbent County Executive Steuart Pittman in the 2022 Anne Arundel County Executive general election.
Review the Anne Arundel County Election Results.
Review the Maryland Election Results (2022).
Jessica Haire is a Republican.
During the Anne Arundel County Executive primary, Jessica Haire took a stand against former President Donald Trump and defeated former Maryland state Delegate Herb McMillian.
Anne Arundel County Republicans chose an electable general election candidate in Republican Jessica Haire.
But Maryland Republicans statewide chose an unelectable Republican by choosing Dan Cox over Kelly Schulz.
Dan Cox did not win Maryland's general election.
Wes Moore and Aruna Miller defeated him and his running mate by over 30 points, a historic margin not seen in a Maryland gubernatorial election since 1986.
In ordinary times, Jessica Haire was an ideal Republican candidate to defeat her Democratic opponent, Steuart Pittman.
But we aren't operating in ordinary times.
Jessica Haire | Trump 
On Monday, Feb 1. 2021, Councilwoman Jessica Haire of Edgewater voted to support a non-binding council resolution that condemned the violent U.S. Capitol insurrection.
In addition, Resolution 5-21 urged Congress to permanently disqualify Donald Trump from ever again holding public office due to his "egregious misconduct" in inciting the Jan. 6 Capitol insurrection.
All four Democrats on the Anne Arundel County Council co-sponsored the resolution and voted to support it.
And that brings us to Jessica Haire's political courage.
Did Jessica Haire Vote To Condemn Donald Trump?
Republican Jessica Haire joined the four Democrats on the council to vote yes on Council Resolution 5-21.
The Capital Gazette reported that Jessica Haire "ultimately voted for the resolution because she agreed unequivocally with the condemnation of violence to harass or threaten people or the public."
Jessica Haire chose her country over her political party by voting to condemn Donald Trump and the violent U.S. Capitol insurrection.
Anne Arundel County Council Resolution 5-21 
The text below is taken directly from Resolution 5-21.
The Anne Arundel County Council Condemns the Jan. 6 Capitol Insurrection
RESOLUTION condemning the insurrection at the U.S. Capitol Building on January 6, 2021, and urging the peaceful transition of power on Inauguration Day.
Donald Trump Incited the Jan. 6 U.S. Capitol Insurrection 
WHEREAS, incited by President Donald J. Trump, on January 6, 2021, a mob unlawfully breached the U.S. Capitol Building, injured law enforcement personnel, defaced and destroyed public property, and menaced Members of Congress and the  Vice President as they sat in a Joint Session to certify the results of the November 8 2020 election; and
The Insurrectionists Must be Held Legally Responsible 
WHEREAS, those responsible for planning, aiding, and carrying out such actions must be held responsible for their criminal acts; and
Elected Officials Must Uphold the Law & Do Their Jobs 
WHEREAS, elected officials are sworn to support the U.S. Constitution, to uphold the law, and do their jobs to the best of their ability; now, therefore, be it
The Council Offers Recognizes the U.S. Capitol Police 
Resolved by the County Council of Anne Arundel County, Maryland, That it offers its deepest condolences to the family of Capitol Police Officer Brian Sicknick, who gave his life defending the Capitol, and applauds the other members of the U.S. Capitol Police who faithfully carried out their duty to protect those who were lawfully inside the Capitol Building from the rioters and insurrectionists; and be it further
The Right to Peacefully Protest
Resolved, That it acknowledges and affirms the right of the people to peaceful means of protest, as secured by the First Amendment to the U.S. Constitution; and be it further
The Council Denounces Donald Trump's Repeated Lies That He Won The 2020 Presidential Election
Resolved, That it denounces the repeated, unchecked dissemination of misinformation, conspiracy theories, and lies by President Donald J. Trump and his accomplices and surrogates, in particular, those intended to undermine public confidence in the certified results of the November 2020 election, which he lost; and be it further
Public Officials Should be Free of Harassment, Intimidation & Threats When Conducting Free & Fair Elections
Resolved, That it condemns the intimidation, harassment, or threatening of any person who is involved in any aspect of conducting and certifying a free and fair election, in an attempt to change the outcome of that election, as well as the incitement and use of violence to intimidate, harass, or threaten such persons or the public; and be it further
Congress Should Permanently Disqualify Donald Trump From Ever Again Holding Any U.S. Public Office  
Resolved, That due to the President's egregious misconduct in undermining the election results and inciting a violent insurrection, Donald J. Trump should be permanently disqualified by Congress from holding any office of honor, trust, or profit under the United States or any State; and be it further.
The Council Demands a Peaceful Transfer of Power From Donald Trump to Joe Biden 
Resolved, That it demands a peaceful transition of power to President-elect Joseph R. Biden and Vice President-Elect Kamala D. Harris on Inauguration Day, January 20, 2021, to be followed by a thorough investigation and prosecutions of the insurrectionists as advised by the new U.S. Attorney General; and be it further.
The Council Will Send a Copy of Resolution 5-21 to Anne Arundel's Federal & State Delegations
Resolved, That a copy of this Resolution be sent to U.S. Senators Benjamin L. Cardin and Chris Van Hollen; U.S. Representatives C. A. Dutch Ruppersberger III, John P. Sarbanes, Anthony G. Brown, and Steny H. Hoyer; Senator Sarah K. Elfreth, Chair, Anne Arundel County Senate Delegation to the General Assembly; and Delegate J. Sandy Bartlett, Chair, Anne Arundel County House Delegation to the Maryland General Assembly.
A Recap of the Violent January 6 U.S. Capitol Attack 
The indelibly tragic day began with a clarion call.
At Donald Trump's urging, thousands would gather in Washington on Jan. 5 and 6 to support Trump's false claims that Democrats stole the 2020 presidential election.
Trump event organizers planned three consecutive events on Jan. 6, 2021:
The "March to Save America" rally was scheduled from 1:00 to 2:00

 

p.m.,
A"Stop the Steal" rally from 3:30 to 5:00 p.m.
An "Eighty Percent Coalition" rally from 5:00 to 8:30 p.m.
Trump began speaking just before noon on Jan. 6, nearby the White House and the National Mall.
The former president urged his supporters to "walk down to the Capitol" to "cheer on our brave senators, congressmen, and women."
Mr. Trump assured his supporters that he'd stand with them as they made their way to the U.S. Capitol.
But Trump never joined his supporters at the U.S. Capitol; he went back to the White House and watched television.
At least five police officers who served at the Capitol on Jan. 6 died weeks after the riot.
A bipartisan U.S. Senate report released in June 2021 found that at least seven deaths were connected to the Capitol insurrection.
However, the bipartisan report was issued a month before two D.C. Metropolitan Police officers — Gunther Hashida and Kyle DeFreytag — died by suicide in July 2021.
Former Vice President Mike Pence ignored Mr. Trump and some of his allies' pressure to block or delay Joe Biden's victory.
Violent Trump supporters sought to murder Mike Pence during the Capitol insurrection for refusing to stop the presidential election certification process.
And Donald Trump approved of his supporters' chanting "Hang Mike Pence," according to a May 25 New York Times report.
"Shortly after hundreds of rioters at the Capitol started chanting "Hang Mike Pence!" on Jan. 6, 2021, the White House chief of staff, Mark Meadows, left the dining room off the Oval Office, walked into his own office and told colleagues that President Donald J. Trump was complaining that the vice president was being whisked to safety.
Mr. Meadows, according to an account provided to the House committee investigating Jan. 6, then told his colleagues that Mr. Trump had said something to the effect of maybe Mr. Pence should be hanged.
The account of Mr. Trump's comment was initially provided to the House committee by at least one witness, according to two people briefed on their work, as the panel develops a timeline of what the president was doing during the riot."
Democrat Joseph R. Biden Jr. defeated Donald Trump in the 2020 presidential election.
Is Jessica Haire Never Trump?
Not quite.
But she did vote to condemn Donald Trump in a memorable showing of political courage.
Have you visited Jessica Haire's Anne Arundel County Executive Facebook campaign page?
You'll likely see Trump supporters lashing out at Haire over her yes vote on Resolution 5-21.
Did Jessica Haire Vote for Donald Trump? 
Jessica Haire claims she voted for Donald Trump in 2020.
But it doesn't matter who Jessica Haire voted for in a presidential election.
She's running for a county office.
What does it matter?
On May 4, 2022, Jessica Haire answered a Facebook poster's question about whether she supports Donald Trump.
Haire responded:
"I supported many of his [Donald Trump] policies and his 2020 reelection bid.
Herb McMillan is Jessica Haire's far-right Republican opponent.
She says that McMillian "has been making intentionally divisive and misleading statements" about her campaign.
Read the Facebook exchange below.
Is Jessica Haire any less conservative because she voted in favor of a non-binding resolution condemning Donald Trump for inciting an insurrection and attempting to overthrow American democracy?
No.
Jessica Haire vs. Herb McMillian
The primary difference between Jessica Haire and Herb McMillian is Jessica Haire understands Anne Arundel County politics.
Jessica Haire understands that Anne Arundel County is politically purple; she needs some Democrats to vote for her in the general election.
You'll recall that Joe Biden defeated Donald Trump 56-41 in Anne Arundel County in the 2020 presidential election.
But Herb McMillian is all-in on Trump; he's running the same political playbook as Dan Cox.
In fact, Mr. Cox is supporting Herb McMillian over Jessica Haire.
See Dan Cox's campaign flyer below.
Does Jessica Haire support Kelly Schulz for governor?
Nobody seems to know.
You can safely rule out Jessica Haire supporting Dan Cox.
But there's no written indication that Haire is publicly supporting Kelly Schulz.
Can you find an endorsement?
Where is it?
Please send it to us.
Maryland Politics 
With McMillian going all-in on Trump in the Anne Arundel County executive Republican primary, what happens if he makes it through to the general election?
He'll need some Democratic support to defeat Steuart Pittman in a general election.
Uh-huh.
Not so fast.
Anne Arundel County Democrats are incredibly motivated and activated this election cycle.
Four years ago, they helped Steuart Pittman beat Steve Schuh.
Remember him?
The Democrats will work just as hard to save Pittman in 2022.
Moreover, the Maryland Democratic Party isn't taking the Anne Arundel county executive race for granted.
Resources will pour into Anne Arundel County – you watch.
Let's play out a few scenarios:
Jessica Haire wins the county executive Republican primary.
Dan Cox wins the Republican gubernatorial primary.
Dan Cox would hinder most down-ballot Republicans in county races, making it much harder for Jessica Haire to defeat Steuart Pittman.
And what are the chances that Jessica Haire will share a campaign stage with Dan Cox?
It didn't happen.
But Herb McMillian would undoubtedly share any stage with Dan Cox.
The optics of Cox and McMillian rallying together in Anne Arundel County is a gift to Maryland Democrats.
Herb McMillian's Campaign Mailers 
Mr. McMillian is spending some serious campaign cash attacking Jessica Haire over her 2021 vote to condemn Donald Trump for his role in the Capitol insurrection.
Imagine wasting money on a campaign mailer attacking a political opponent over their vote to condemn a violent mob that killed at least five police officers.
Aren't Republicans supposed to be pro-law enforcement?
Jessica Haire chose her country over a cult.
She owes no one an apology, especially to anyone who still inexplicably defends Donald Trump and his allies.
But Herb McMillian, a military veteran and Naval Academy graduate, has chosen the Trump cult.
It's game theory.
McMillian feels like he has to assuage and appease the MAGA wing of the Republican Party to win his primary.
That strategy won't help McMillian win a general election.
What's worse?
McMillian's campaign mailers are worse.
Trump cultists like McMillian see Jessica Haire as a traitor.
He says so in a campaign mailer he sent to Anne Arundel County primary voters.
Jessica Haire showed political courage when she joined her fellow Democratic council members in voting to condemn a crazed lunatic twice-impeached U.S. president.
She chose her country over a cult.
You might even wonder who's giving Herb McMillian political advice.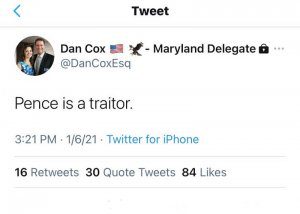 Since when did Republicans turn into "fake conservatives" or a "Republican In Name Only (RINOs)" if they condemn Donald Trump?
Jessica Haire should proudly wear her Trump condemnation vote as a badge of honor.
Have you ever watched HBO's The Newsroom?
Jessica Haire was defeated in her Anne Arundel County executive bid.
Will Jessica Haire's Republican brand replace the far-right in Maryland, or will Dan Cox's unelectable brand remain the status quo?