This article explores Maryland Republican Dan Cox's recent obsession with pedophilia and his roots in the dangerous QAnon conspiracy movement.
But first, some background information.
Maryland state Del. Dan Cox's disjointed gubernatorial campaign severely lacks financial resources and support from any credible Maryland Republican.
Gordana Schifanelli, Mr. Cox's running mate, doesn't count.
No elected Maryland Republican has endorsed Mr. Cox's campaign to date.
But the Cox campaign appears undeterred, at least from a bird's eye view.
So, what's the Cox campaign's "winning" strategy?"
Here's an outline:
First, find a campaign manager ready to shoulder the blame for an impending epic loss.
Find a Wix web developer to redesign the "Cox for Freedom" website.
Hire no serious campaign staff.
Appeal to the lowest common denominator within the Republican Party (the Cindy Rose's of the GOP).
Wait to lose the primary and refuse to accept the election's outcome.
This article seeks to unspool Mr. Cox's drift towards the fringe and to highlight his apparent obsession with QAnon buzzwords.
The national Republican base has drifted further and further towards fringe figures like Congresswoman Marjorie Taylor Greene and Congressman Paul Gosar.
Dan Cox wants Republican base voters to believe he's the Marjorie Tayor Greene of the Maryland Republican Party.
What does the GOP's political slow-drip towards the radical fringe portend for Maryland Republican primary voters?
It's hard to tell without updated polling on Maryland's Republican gubernatorial contest.
Cox faces a formidable Republican challenger in former state Commerce Secretary Kelly Schulz.
Schulz is supported by Gov. Larry Hogan (R) and Team Hogan insiders.
A vote for Kelly Schulz is a no-brainer for the Maryland Republican primary voters who like the Hogan years and appreciate some checks and balances in state government.
But with the national Republican base rapidly descending into conspiratorial chaos, a Dan Cox primary win isn't necessarily implausible.
The FBI Declares the QAnon Conspiracy a Domestic Terrorist Threat
In October 2020, Cox tweeted a hashtag — #WWG1WGA – directly linked to the dangerous QAnon conspiracy theory.
To date, Cox has not publicly renounced his QAnon allegiance. Mr. Cox appears now to have openly embraced his QAnon roots.
There's no more hiding it.
What is the QAnon Conspiracy Theory?
The QAnon conspiracy theory falsely alleges that Satan-worshipping pedophiles run a global sex-trafficking operation.
In May 2019, The Federal Bureau of Investigation's Pheonix field office released an internal 15-page intelligence bulletin intended for law enforcement, labeling QAnon and other fringe conspiracies as domestic terrorism threats.
QAnon followers believe pedophiles are running sex-trafficking operations and control the U.S. government, the media, and America's financial institutions.
The New York Times describes the QAnon conspiracy theory as an "umbrella term for a set of internet conspiracy theories that allege, falsely, that a cabal of Satan-worshipping pedophiles runs the word."
"QAnon followers believe that this cabal includes top Democrats like President Joseph R. Biden Jr., Hillary Clinton, Barack Obama, and George Soros."
"Hollywood celebrities like Oprah Winfrey, Tom Hanks, and Ellen DeGeneres and religious figures including Pope Francis and the Dalai Lama" are also part of the conspiracy."
(The undertones about George Soros are quite obvious – disgustingly obvious.)
The Pizzagate Conspiracy 
The FBI's 2019 internal memo explicitly references the Pizzagate conspiracy.
Remember Pizzagate from not so long ago?
Pizzagate is a deranged and debunked conspiracy theory that emerged within the kook wing of the Republican Party that claims Clinton-family associate John Podesta is a pedophile.
Podesta served as former President Bill Clinton's chief of staff in the mid-'90s. He chaired Hillary Clinton's 2016 presidential campaign and served as an Obama-Biden Transition Project co-chairman.
What's a conservative fringe conspiracy without implicating the Clintons and their closest allies?
Here's where it gets weird – and terrifying.
Well-known Washington, D.C. restaurateur James Alefantis played a central role in the Pizzagate conspiracy.
James Alefantis owns and operates Comet Ping Ping Pizza, the popular northwest D.C. pizza joint.
Pizzagate propagators insist that Alefantis's Ping Pong Pizza joint is a front for an underground child sex-trafficking ring led by none other than John Podesta and Hillary Clinton.
Edgar Maddison Welch 
The Pizzagate conspiracy spread rapidly through internet channels like Reddit and 4chan.
The conspiracy reached its sinister apex in December 2016.
28-year-old Edgar Maddison Welch of Salisbury, N.C., stormed into Comet Ping Pong holding a revolver and an AR-15.
Welch fired several rounds inside the pizzeria and searched for the basement child sex dungeon that radicalized internet conspiracy theorists believed existed in the restaurant's basement.
Welch never found the basement – because Comet Ping Pong doesn't have a basement.
Customers who were inside the restaurant when Welch showed up fled the scene.
They were terrified.
Thankfully nobody was hurt.
Welch surrendered to police that day.
But the trauma still lives on for many who experienced that horrific moment.
Welch Was Radicalized Through Online Channels  
Welch binge-watched YouTube videos about Pizzagate beginning on Dec. 1, 2016.
Then it was go-time for Welch.
He hashed out a plan to travel to D.C. to save the pedophile-tortured children and confront the nefarious politicos responsible for such egregious evil acts.
But none of Welch's friends would join him in D.C. He attempted to convince some of his friends to join him on his journey to his internet conspiracy Mecca.
"Raiding a pedo ring, possibly sacraficing [sic] the lives of a few for the lives of many," Walch texted to a friend a couple of days before jumping into his Toyota Prius and driving over 350 miles from North Carolina to northwest D.C.
En route to Washington, Welch texted his girlfriend a Bible verse, telling her that he believed God anointed him to do what he was endeavored to do.
Welch then recorded a message for his family.
He told his family he loved them.
Welch hoped his daughters might understand that he was trying to protect defenseless children one day.
In January 2017, U.S. District Court Judge Ketanji Brown Jackson sentenced Welch to four years in prison and three years of probation.
How do these stories directly tie into Dan Cox's QAnon loyalties and his current usage of QAnon buzz words?
Read on.
Republican Dan Cox's Obsession with Gender and Sex 
Dan Cox's latest preoccupation with gender, sex, transgender athletes, and policing bathrooms is amusing.
"Amusing" might not be the right word.
Sad?
Desperate?
Pathetic?
You have to wonder about some men in politics who appear so obsessed with policing bathrooms and gender identities.
They pull out the science card when convenient.
"It's not natural!" they say!
Like they genuinely care about science.
"You're either a boy or a girl. That's it. God created men and women!"
Yeah, okay, but which God?
Oh, the Jesus God?
Uh, huh.
It's Shakespearean almost when the loudest of the chest-thumping, rock-ribbed conservative men blasting the "gay agenda" are the one's caught in compromising positions with their same-sex paramours.
There's a pattern, no?
Indeed, by now, that pattern is easily identifiable.
Here's the formula:
Look for the loudest, most ardent right-wing Bible-thumpin' Evangelical men.
It's the ones who preach "traditional family values" while, in the same breath, they defend Donald Trump as a wholesome, God-fearing Christian man.
You know the type.
Sometimes or eventually, these Christian fundamentalist men inevitably stand before their church congregations, requesting tolerance – to live as they were born.
If only these same conservative Christian men (and some women, too) could have come to terms much sooner with their identities – before perhaps wreaking havoc on LGBTQ Americans.
It's weird how bathrooms, sex, and gender identity have become political aphrodisiacs for Dan Cox and other far-right Republicans.
Maybe not all Republicans want to highlight their penchants for bathroom tomfoolery.
No, not those Republicans with "wide stances" inside airport bathrooms.
Republican Dan Cox, Gender & Frederick County Public Schools
That latest Frederick County Public Schools dustup is the perfect opportunity for Dan Cox to flex his fringe conspiracy muscles and grab a few long-hanging fruit headlines.
On April 4, Cox published a press release on his Facebook page.
His Microsoft Word 1.0 formatted release encourages his District 4 constituents to attend the April 5 evening Family Life Advisory Committee (FLAC) meeting.
Oh, no.
Are the conservatives pushing to send the Hemingway books to the ol' hoosegow's inferno?
You might recall that Hemingway was an outspoken supporter of Fidel Castro's Cuban Revolution.
And you know, besides talking about bathrooms, conservatives, like Dan Cox, love nothing more than tossing out words like "Communism" and "Marxism" to describe any government action incongruent with Tucker Carlson's nightly A-block.
The books are safe – for now!
Maryland State Board of Education Health Education Guidelines 
This time, it's back to the basics for Dan Cox and his supporters: Misunderstanding sex and gender!
If you want to learn more about the difference between sex and gender, please take the time to read this medical journal.
So what's going on with the FCPS health curriculum?
The Frederick News-Post summarized the latest hubbub: 
"The Maryland State Board of Education issued new guidelines for elementary and secondary health education in 2019, writing into law that 'Maryland family life and human sexuality instruction shall represent all students regardless of ability, sexual orientation, gender identity, and gender expression.'
Then, a group of experts from across the state wrote a new health education 'framework' — a 51-page document that lays out the broad concepts students should address at each grade level.
It says students need to learn about different types of families, including those with same-gender parents.
It also says they must 'recognize a range of ways people identify and express their gender' and that 'it is important to treat people of all gender identities with dignity and respect.'
The Frederick County Board of Education voted unanimously and without discussion to approve that framework at its March 23 meeting.
But FCPS staff will spend the next six to eight months working out how those topics will appear in its classrooms age-appropriate, said Jamie Hitchner, the district's elementary health curriculum specialist."
Frederick County Public Schools Family Life Advisory Committee April 5 Meeting 
The school system's Family Life Advisory Committee (FLAC) meeting unfolded about as you might have expected when right-wingers storm a school-related meeting.
The Frederick News-Post was on the scene to cover the mayhem.
"For about 20 minutes, the crowd shouted angrily over one another and the committee, demanding more time be allocated for public comment.
Cindy Rose, a candidate running for school board on the conservative Education Not Indoctrination slate, encouraged attendees to "flip the tables."
One man accused the district of 'leading children away from God,' while a woman told committee members they would 'rue the day that you face your Lord and master.'"
For sure, when crazy calls, perennial school board candidate Cindy Rose answers.
At the very least, conservatives like Cindy Rose and Dan Cox are transparent about their short and long-term political goals.
Dismantle the public education system.
Develop an educational curriculum exclusively around the New Testament (exclude Jews, Muslims, and other world religions).
Deny the existence of evolution.
Replace the science curriculum with Bible study.
Shame and harass non-binary, gender-fluid, and gender-neutral public school students.
Crush all LGBTQ rights in America.
Transform American democracy into a theocracy.
Elect Donald Trump as president for life.
Frederick County School Board President Brad Young Responds to FLAC Meeting  
Frederick County School Board President Brad W. Young attended the April 5 FLAC meeting.
Sorry, Mr. Young.
Young published his thoughts about the meeting on his personal Facebook page (below).
"What was passed at the last Board meeting was the framework that the COMAR requires us to adopt.
It is a starting point, and now FLAC and the Board will work to develop an age-appropriate curriculum and materials for students.
This will be done over a long period of time and will be done in the open. No decisions have been made and nothing has been implemented.
Tonight, through the incitement of scaring people that their Kindergartners are going to be Indoctrinated into being gay or trans, a large group shouted down and would not let the committee do their work.
Several school board and council candidates took it as their opportunity to make it a campaign speech and to drown out others.
Quite a few people showed up to support curriculum changes but were intimidated by those that opposed.
My apologies that they were treated this way.
I have always been open to criticism, but I expect respect for staff and others attending and speaking.
Tonight, many were an unruly mob that was very passionate about their views but did little to help their position.
Threats and intimidation do not and will not work with me. I even had one person follow me 8 blocks from the meeting when I left. They sat in the parking lot waiting for me to leave the building. That is how crazy it has gotten.
I will chalk a lot of it up to people not understanding the process.
I stayed after the meeting and talked to several people who appreciated hearing what could not be presented in the meeting due to the audience.
Folks, stay passionate, but understand the process and respect those who do not agree with you.
Some of the comments made tonight were outright homophobic and transphobic and that I will not accept or condone.
Love everyone, and hate no one, that's how I've always been and that's how I always will be!
God Bless."
Dan Cox's QAnon Buzz Words 
Dan Cox responded to Brad Young's April 5 Facebook post exactly how you'd expect a QAnon conspiracy theorist to reply.
Cox wrote this:
Please don't misuse God in support of your apparently pedophile-grooming curriculum, Brad W. Young.
You have chosen a path of confusion – misleading children for (sic) potential chemical castration and sexualized grooming. The voters will not support you for (sic) election this fall.
What Is Sexual Grooming & Why is the Fringe Right-Wing Suddenly Using This Term? 
Please pay close attention to Republican Dan Cox's latest verbiage in his social media posts.
"Pedophile-grooming curriculum" is a phrase making its rounds through the internet's darkest corners, plucked directly from the QAnon field manual.
In Florida, the recently passed "Don't Say Gay" bill has been direct-marketed to Q-Anon consumers as an essential state law against the "grooming" of children.
Remember that the QAnon conspiracy is built upon a set of "nods and winks," writes Donald Moynihan, a professor at the McCourt School of Public Policy at Georgetown University, in a recent Washington Post op-ed.
Professor Moynihan explains:
"The most vivid importation of the QAnon worldview is happening in education, the policy domain where conservatives can best prey upon parental fears.
Chris Rufo, the conservative activist who orchestrated the movement against critical race theory, is constructing a new moral panic using QAnon messaging.
Rufo's main strategy is "winning the language war," which effectively means using the McCarthyite tactic of attaching a negative label ("communist!") to those who hold different beliefs and relentlessly repeating that label regardless of its accuracy.
Rufo has urged followers to use language such as "grooming" or "predators" — words intended to trigger images of child sexual abuse.
It works.
The "groomers" framing played a prominent role in the passage of Florida's law prohibiting the discussion of sexual identity among young children in schools.
When it became known among critics as the "Don't Say Gay" bill, a spokeswoman for Gov. Ron DeSantis (R) reframed it as an "Anti-Grooming" bill.
If you oppose the bill, "you are probably a groomer," she wrote on Twitter."
Here's More Proof That Republican Dan Cox is Openly Dabbling in QAnon Conspiracy 
Dan Cox published the following statement shortly after the April 5 Frederick County school board's Family Life Advisory Committee concluded:
"Dan Cox is the only candidate for Governor demanding protection of children from pedophilia-grooming confusion in "gender identity and expression" training of children from age 4 and up.
Kelly Schulz, Peter Franchot, Wes Moore and Tom Perez will all allow your children to be groomed and perverted with continued Board of Education training of children for transgender confusion starting at age 4 and up.
Think that's not true?
Ask them.
They are silent and have been.
The Hogan admin (including Kelly Schulz) appointed the Board of Education pushing (sic) these regulations and Dan's opponents all support the Board.
Dan Cox calls on them to join him in calling for the resignation of the Maryland Board of Education members who voted for the regulations that local departments are using to push their transgender pre-K and up training curriculum of your children."
It's easy to discern Cox's QAnon verbiage from his recent public statements.
"… Demanding protection of children from pedophilia-grooming confusion in "gender identity and expression" training of children from age 4 and up."
Why are Republican Dan Cox and other right-wing conspiracy theorists seemingly obsessed with pedophiles and pedophilia?
Mother Jones asked the same question and published a 2019 article exploring the far-right's obsession with pedophilia conspiracies.
"In this way, pedophile conspiracies act as a sort of propaganda of the counterrevolution, a fun-house reflection of the real threats to the social order.
This is what connects QAnon and Pizzagate to McMartin to the witch hunts of the Middle Ages to the dawn of major religions. The demons may take different forms, but the conspiracy is basically the same: Our house is under attack.
In a 2017 paper on Pizzagate and pedophile conspiracies, psychology professor Jim Kline, now at Northern Marianas College, argues that conspiracy theories 'are born during times of turmoil and uncertainty.'
In an interview, Kline goes further: 'Social turmoil can overwhelm critical thinking. It makes us get beyond what is logically possible. We go into this state of hysteria and we let that overwhelm ourselves.'"
Professor Moynihan's latest Washington Post op-ed concisely explains Dan Cox and other radical fringe conservatives' slow-drip to mainstreaming QAnon buzz words into the public vernacular.
"The QAnonification of our political discourse has real consequences.
It instills fear and can ruin lives and reputations. It serves to erode trust in our public institutions.
Educators already reeling from book bans and censorship now face accusations of 'grooming' the children we trust them to teach.
It can also encourage violence. A former candidate for Mississippi governor called for 'a firing squad' for 'those that want to groom our school-aged children and pretend men are women.'
In the case of Pizzagate, a gunman turned up at the D.C. pizzeria looking for evidence of the baseless claim he had become obsessed with.
In a quirk of fate, his sentencing judge was Ketanji Brown Jackson, who told the gunman, 'I hope you understand and see how much people have suffered because of what you did,' and: 'I am truly sorry you find yourself in the position you are in because you do seem like a nice person who on your own mind was trying to do the right thing.
But that does not excuse reckless conduct and the real damage that it caused.'
The damage of the QAnon conspiracy claims will spread in the body politic until conservatives find the courage to push back.
It can't happen too soon. Three dozen candidates running for Congress, including two incumbents, Greene and Rep. Lauren Boebert (R-Colo.), have espoused QAnon beliefs.
Ron Watkins, who has long been suspected of playing a major role in writing QAnon posts that appeared on 8chan, the online message board network he administered, is running for Congress in Arizona.
Watkins has labeled Jackson and any senator who votes for her 'a pedophile-enabler.'
Is this truly the future of Republican politics?
The answer may depend on whether enough conservatives will finally demand 'Have you no sense of decency?' to these heirs of Sen. Joseph McCarthy."
Have you no decency, Dan Cox?
You already know the answer.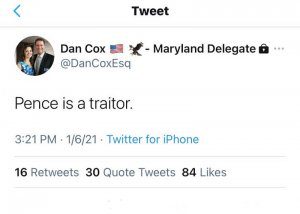 The Best of Dan Cox's Attention-Grabbing Antics 
There's a mile-long list of off-the-wall, nutty things Cox has said and done over the last couple of years.
Here are some of Cox's best hits.
Remember When Dan Cox Tried Suing Governor Larry Hogan?
Dan Cox tried suing Gov. Hogan in 2020 over Hogan's stay-at-home orders and regulations during the peak of the coronavirus pandemic.
Literally Dan Cox, a website created by the Schulz campaign that aims to highlight Dan Cox and his running mate's verbal inconsistencies, bad business practices, and "outrageous statements," sheds light on Dan Cox's initial position(s) on COVID-19 restrictions.
What was the outcome of Cox's lawsuit?
A federal judge threw out Cox's frivolous suit, writing that Cox and the plaintiffs failed to meet the burden that Gov. Hogan's orders were overreaching.
And Dan Cox fancies himself as a "constitutional lawyer?"
Republican Dan Cox Introduces Articles of Impeachment Against Larry Hogan in 2022
At the beginning of the 2022 90-day legislative session, Cox introduced articles of impeachment against Gov. Hogan to remove Hogan from office.
So, did Mr. Cox's publicity stunt work?
No, Cox's ill-fated impeachment charade petered out rather quickly.
Cox even claimed in media interviews that some of his House colleagues privately supported his efforts to remove Hogan from office.
Uh-huh, which House colleagues, Delegate Cox?
Dan Cox will never tell!
Though, somewhere out there, Warren Miller is nursing a crappy domestic lite beer as he plots to ruin Larry Hogan's future presidential ambitions.
Delegate Miller, Maryland Politics misses you!
Is Republican Dan Cox Following in Friedrich Nietzche's footsteps?
One could never compare Dan Cox and Friedrich Nietzche.
Nietzche was a brilliant and transformative philosopher.
And Dan Cox…
Some scholars contend that Friedrich Nietzsche's descent into madness was wholly incidental and physiological.
Perhaps so.
On the other hand, some historians and philosophers suggest that syphilis caused Nietzsche's drastic mental decline.
Advanced medicine and technology weren't available at that time; it's difficult to discern the precise medical causes that led Nietzsche to talk to a horse.
So, what really led to Nietzsche's tragic and untimely demise?
Was it natural causes?
Or was his decline a side effect of syphilis?
Let's hope Dan Cox does not have syphilis – for humanity's sake.
We certainly don't need or want an anti-vaccination war on penicillin.