Jessica Haire is running for Anne Arundel County executive in 2022.
Haire is a Republican who represents Anne Arundel County's District 7.
This year, Haire hired political consultant Rory McShane, a Maryland native, to commission to poll her side-by-side other candidates in a hypothetical matchup.
McShane's consulting firm, McShane LLC, has direct ties to the Proud Boys, a far-right neo-fascist all-male extremist group engaging in political violence.
She announced in June that she's running for county executive and officially filed for the office on Nov. 24.
McShane LLC Works for Jessica Haire 
In March 2021, McShane LLC specifically polled Anne Arundel County voters on a hypothetical matchup between Haire and incumbent Democratic County Executive Steuart Pittman (D).
A "confidential memo" produced by McShane's firm showed Haire defeating Pittman by 2.2 percentage points.
"Haire is on a clear path to victory should she decide to run for County Executive," the memo said.
Below is a copy of McShane's memo showing Haire beating Pittman in November 2022.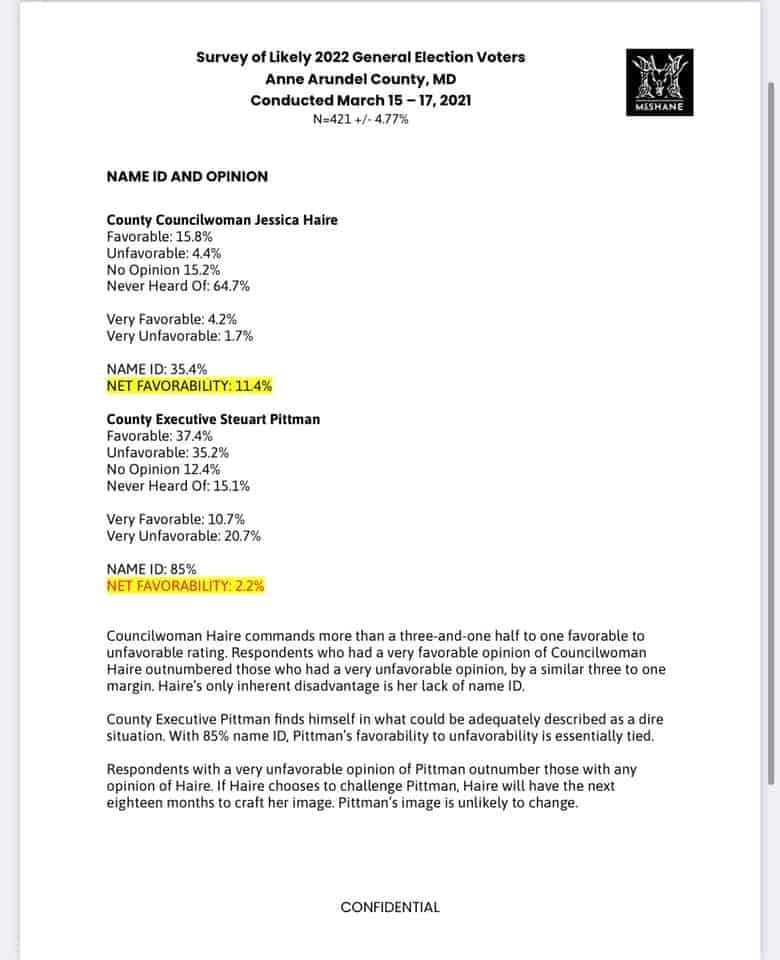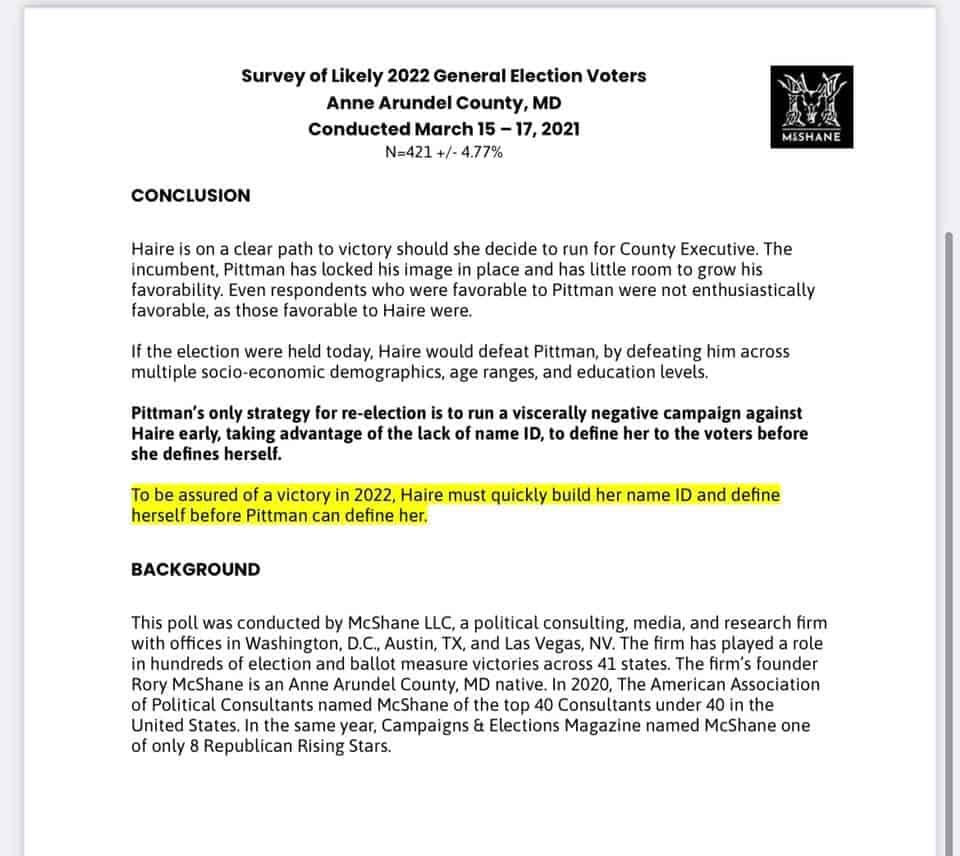 Jessica Haire and Dirk Haire (Husband & Wife) 
Jessica Haire is married to Maryland Republican Party Chairman Dirk Haire.
It's unclear whether Mr. Haire commissioned the poll from his position as chairman of the MDGOP.
McShane LLC included five additional Republican county executive candidates when it conducted its poll:
Read the results of McShane LLC's March 2021 Anne Arundel County executive poll.
A Maryland political operative spoke to A Miner Detail in June about McShane and Jessica and Dirk Haire.
"Dirk shared it with people as an MDGOP poll, which likely has to be on one of their financials," the insider said, speaking on the condition of anonymity.
"The State Party spending money on this…what I had not seen as the individual analysis they did for Jessica Haire, but no one else. No other candidates knew this was being done – except for her [Jessica Haire]."
On March 18, McShane forwarded Dirk Haire a copy of his firm's polling.
Below is a copy of Rory McShane's email to Dirk Haire that describes McShane LLC's polling.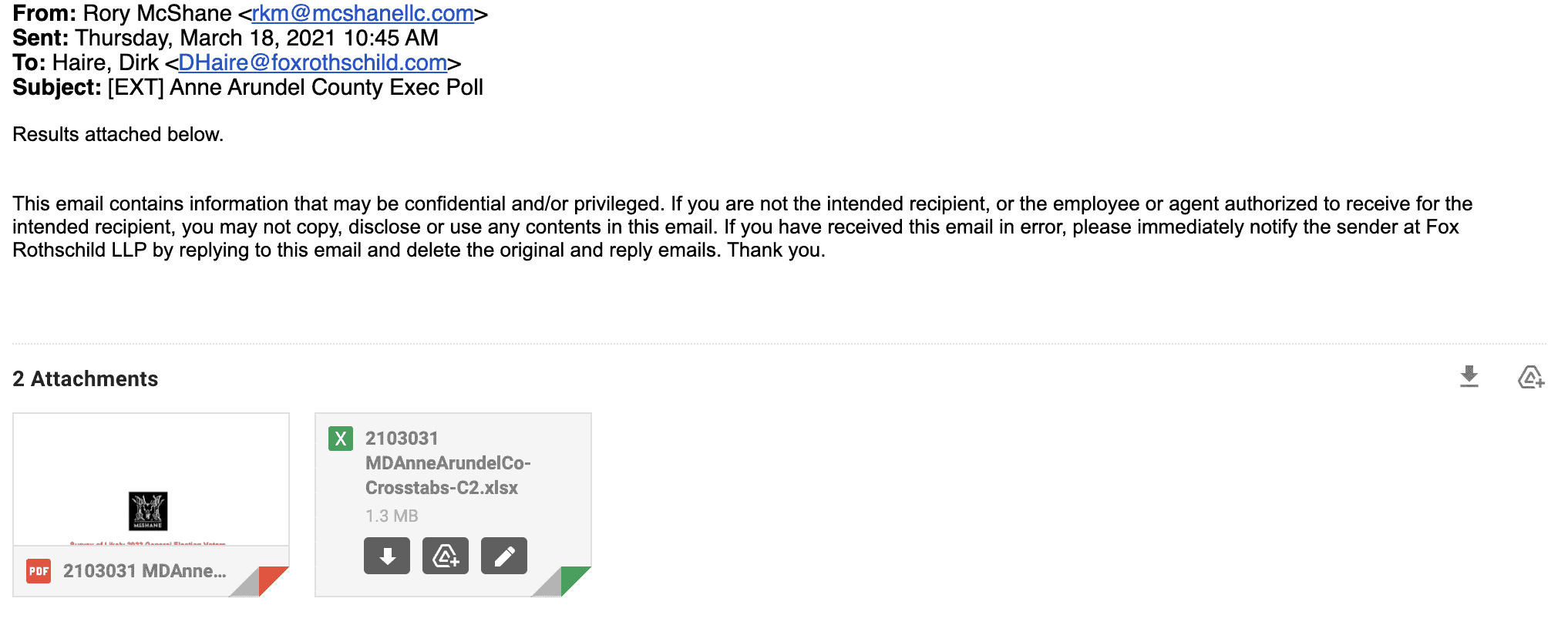 Nic Kipke Involved With Rory McShane 
A Maryland Republican Party operative said state Del. Nic Kipke (R-Anne Arundel) "was trying to get the House GOP caucus members to hire Rory McShane's political consulting firm."
"We've always known that McShane does shoddy work," the source said.
Kipke chairs Jessica Haire's county executive campaign.
The Republican operative said that "McShane overcharges [clients] and is also borderline criminal."
"He's a grifter."
Rory McShane Consulting Firm Recruited Proud Boys 
The Nevada Republican Party hired Rory McShane's political consulting company to investigate electoral fraud and challenge the 2020 presidential election results.
According to the Washington Post, the Nevada GOP tasked McShane's political consulting firm to access the validity of the 2020 election ballots in the Las Vegas area.
The Nevada Current and The Post reported McShane LLC Vice President Woodrow Johnston contacted Sarah Ashton- Cirillo to arrange for the Proud Boys to attend a Nevada rally.
Ashton-Cirillo is a progressive activist and former Las Vegas City Council candidate.
She faked an online political persona and infiltrated Nevada Republican extremist groups to "get the Proud Boys to a post-election rally protesting the validity of balloting in the presidential election."
The Proud Boys is a far-right, neo-fascist, exclusively all-male extremist group that former President Donald J. Trump (R) told to "stand back and stand by" during the first presidential debate last September.
The group promotes and engages in political violence and describes itself as "western chauvinists."
More than three dozen Proud Boys and Oath Keepers, another far-right group, have been charged with conspiracy-related crimes connected to the Jan. 6 insurrection at the U.S. Capitol.
Nevada Current received an email from a former Republican operative confirming the Facebook Messenger chat between Johnston and Sarah Ashton-Cirillo, the leftwing Democratic Socialist activist who spent months masquerading as an ardent Donald Trump supporter and is now running for public office in Las Vegas.
Johnston wrote to Ashton-Cirillo on election night in 2020, telling her that Rep. Paul A. Gosar (R-Ariz.), one of McShane LLC's clients, whom McShane often speaks fondly of through his social media channels, "was preparing a 'Brooks Brothers Riot' in Arizona," The Post's reported.
"We might need to do the same here in Nevada," Johnston wrote.
"Which means we need to get the Proud Boys out," he said.
"I'll let you know as soon as I know it's happening. But wanted you to be mentally ready."
Echoing Trump's infamous "stand back and stand by" comment, Johnston texted Ashton-Cirillo to "Stand back and standby Lol" in the same Facebook Messanger exchange.
Woodrow Johnston, when reached by The Post for comment, did not deny his conversations with Ashton-Cirillo.
McShane LLC principal Rory McShane denies involvement with the Proud Boys 
When reached on June 7 by text message, Rory McShane told A Miner Detail to "Read the Washington Post article," saying "it's pretty accurate."
"An employee [Woodrow Johnston, McShane LLC's vice president] contacted an activist about the Proud Boys, McShane said."
"I had no knowledge of the texts. He wasn't working on behalf of any client. Our management team has met with him, and he understands what he did wrong," McShane said.
"The day after the election, Johnston asked Ashton-Cirillo to invite Proud Boys members and other far-right activists to a protest similar to the 'Brooks Brothers Riot,' according to The Post's reporting.
In response to inquires from The Post and other media outlets, Johnston denied operating on behalf of or in coordination with McShane LLC to recruit the Proud Boys to protest Nevada's presidential election results at the Clark County Education Department in North Las Vegas.
Donald Trump was soundly defeated in the 2020 election eight months ago by President Joseph R. Biden Jr.
There is no evidence of massive voter fraud affecting the 2020 election results, an abjectly false claim the former president and his supporters, McShane included, continue to promulgate publicly.
Jessica Haire Condemns Donald Trump over Jan. 6 Insurrection
In February, Jessica Haire voted with Anne Arundel County Council Democrats to favor a resolution condemning the Jan. 6 insurrection at the U.S. Capitol.
One of Haire's chief Republican rivals, Herb McMillan, is polling county voters through his campaign website about Haire's vote to condemn Donald Trump for his involvement in the Jan. 6 melee.
"Did you know that Jessica Haire, who is running for County Executive, voted to condemn Donald Trump and bar him from ever running again?" McMillan's poll says.
"It's true. In early February, Jessica Haire voted with Democrats on the County Council to pass Resolution 5-21, the bill condemning Donald Trump and urging Congress to bar him from ever serving public office again."
"Knowing Jessica Haire cast this critical vote, do you think she would be a voice for Republican voters?" McMillan's poll asks.
Rory McShane and Jessica Haire did not respond to repeated requests for comment.
A Miner Detail to interview Sarah Ashton-Cirillo
A Miner Detail Podcast is set to interview Sarah Ashton-Cirillo on Wednesday, July 28 at 9:00 p.m. EST on her time spent collaborating with McShane LLC.
Ashton-Cirillo is the "transgender poker player and progressive activist who went undercover and cozied up to right-wing extremists," The Daily Beast also reported.
The interview is set to be aired live on A Miner Detail's Facebook page on Wednesday at 9 PM.
---
Ryan Miner is the Editor, Founder, and Publisher of A Miner Detail, a Maryland politics blog featuring Maryland political news, political commentary, and opinion. He is the host of A Miner Detail Podcast.
Feedback/News Tips: Ryan@AMinerDetail.com. Follow Ryan on Twitter: @RyanRMiner.
Ryan Miner is the Editor in Chief, Founder, Senior Political Reporter and Publisher of A Miner Detail. He is the host of A Miner Detail Podcast.