Are you following the 2022 Democratic candidates for Maryland governor?
Jill Kamenetz, the widow of the late Baltimore County Executive Kevin Kamenetz, is closely following Maryland's Democratic gubernatorial primary.
Kevin Kamenetz ran for Maryland governor in 2018.
He died May 10, 2018, a month and a half before Maryland's June primary election.
On June 17, 2022, Jill Kamenetz, released a devastating video on her Facebook page urging Maryland Democrats to vote for anybody but Peter Franchot.
The Democratic Candidates for Maryland Governor June 2022 Polling
The Baltimore Sun and the University of Baltimore released a poll on June 5, 2022, showing Maryland Democrats and Republicans mostly undecided about which candidates they support in the July 19 primary.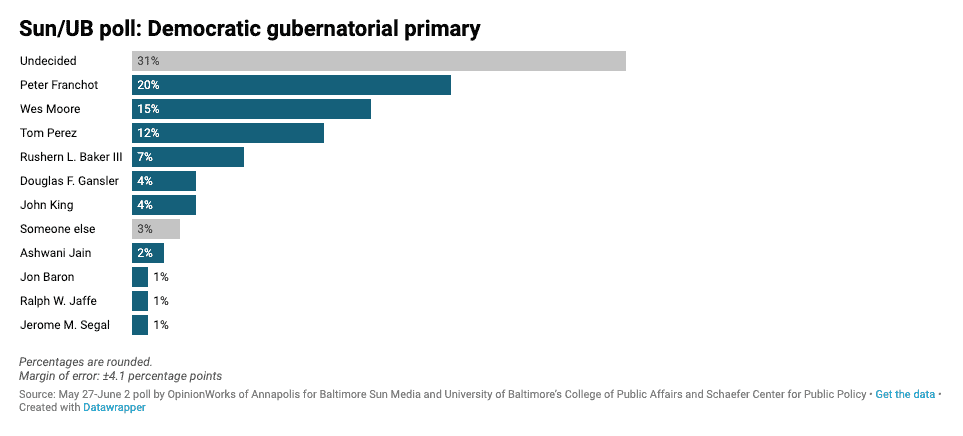 Will Maryland Democrats Win Back The State House? 
Louis Jacobson, a U.S. News and World Report contributor, ranks Maryland's governorship as one of the "most vulnerable" to switch political parties in 2022.
"The most vulnerable governorship on our list is the open seat in deep-blue Maryland that moderate Republican Larry Hogan is vacating," Jacobson wrote.
Maryland isn't that "deep-blue."
Republican Larry Hogan proved that while Maryland Democrats outnumber Republicans, the state isn't politically "deep-blue."
Nr. Jacobson's 2020 column elevates the following four Democrats into the proverbial top-tier.
Former Prince George's County Executive Rushern Baker (ran and lost in the 2018 Democratic primary);
Maryland Comptroller Peter Franchot;
F0rmer nonprofit executive Wes Moore;
Former Democratic National Committee Chairman Tom Perez.
"For now, the top tier of declared candidates in the Democratic field appears to be Wes Moore, a veteran, and former nonprofit executive; Rushern Baker, the former Prince George's County executive who lost the 2018 gubernatorial primary; state Comptroller Peter Franchot; and former Democratic National Committee Chairman Tom Perez," Jacobs0n writes.
As of June 2022, Mr. Jacobson's theory has proven true.
Understanding Polling Methodology
Mr. Jacobson used his reporting to analyze political races around the country.
He said he used a "variety of sources in each state."
"That's the case here," Jacobson said, in response to A Miner Detail's email requesting information about how the columnist determined candidate rankings in the 2022 Maryland Democratic gubernatorial contest.
Jacobson said he doesn't reveal his sources when he handicaps political races.
"I can't share the names of the folks I interviewed, Jacobson said, though his sources' assessments "could be wrong or incomplete."
Jacobson said he spoke to more than one source when handicapping Maryland's 2022 Democratic gubernatorial contest.
Wes Moore's Support
Wes Moore has significant establishment support.
As of June 2022, Wes Moore has seemingly wrapped up more endorsements from the Maryland General Assembly than his fellow Democratic contenders.
Of the nine Democratic gubernatorial candidates, Jacobson wrote that "Moore, despite his lack of electoral experience, has made the deepest inroads in securing establishment support."
Who is the Maryland Democratic Party Establishment? 
Is the Maryland Democratic establishment the Democratic Party of Maryland's elected officers and county central committee members?
Yes. 
Is the Maryland Democratic establishment U.S. Senators Ben Cardin (D-Md.) and Chris Van Hollen (D-Md.) and Maryland's all-male Democratic congressional delegation?
Yes. 
Is the Democratic establishment House Speaker Adrienne A. Jones (D-Baltimore County) and Senate President Bill Ferguson (D-Baltimore City)?
Yes. 
Is the Maryland Democratic establishment the House and Senate majority leaders and their deputies?
Yes. 
Is the Democratic establishment the wealthy Democratic donors?
Also yes. 
And most of Maryland's Democratic establishment is backing Wes Moore for Maryland governor.
What Does Establishment Support Mean In This Election? 
It means that a lot of Maryland Democrats aren't crazy about Peter Franchot.
Franchot rails against "politics-as-usual," or the Maryland establishment.
He does that because the Maryland political establishment doesn't like him.
And some of the Democratic contenders for governor might avoid calling themselves the establishment.
But consider this: If you've been in elected office for more than 20 years, you're the establishment.
That's right, Mr. Franchot; you're every bit part of the Maryland political establishment.
Remember Rushern Baker's 2018 Gubernatorial Campaign? 
In 2018, Rushern Baker was the establishment Democrat who locked up Maryland Democratic establishment support.
Progressive Democratic primary voters in 2018 blew up Baker's chances of securing the nomination for his party.
They chose Ben Jealous instead.
Hogan defeated Jealous in the November 2018 general election by more than 10 points.
Do you Remember Anthony Brown's 2014 Gubernatorial Campaign? 
How could Mr. Brown possibly lose the race with the Martin O'Malley political machine carrying him to a glorious victory?
Then-Lt. Gov. Brown had the Democratic establishment in line, eager to notch a win on their proverbial belts.
But Maryland general election voters chose Mr. Hogan.
After a few years in Congress, Anthony Brown is running for statewide office again in 2022.
Anthony Brown is a clear front-runner in the Maryland attorney general race, according to a June 2022 Baltimore Sun/University of Baltimore poll.
Mr. Brown leads former Maryland first lady, longtime judge, and prosecutor Katie Curran O'Malley 42% to 29% among likely Democratic voters.
How's that for a political comeback?