QAnon conspiracy theorist Dan Cox (R-Frederick) is running for Maryland governor.
Dan Cox is a threat to American democracy.
"On this 4th of July 2021, Valerie [Cox's wife] and I are announcing that I am stepping up to run to be your next Governor of Maryland to restore Freedom to the Free State."
"Don't Stop Believing," Cox wrote, with an attached link to his campaign website.
Dan Cox's gubernatorial policy platform
Some of Dan Cox's gubernatorial priorities include:
"Provide parents with choice of educational opportunities and honor parental rights to end the divisive CRT [Critical Race Theory] and make our schools free from political or ideological indoctrination."

"Ensure election integrity forensic audit and protect the People's right to choose their representatives with one person, one legal vote. I will submit a legislative package to require a valid citizen voter I.D., end unverified mail-in ballots and order a forensic audit of the 2020 election.

"Defend our communities from increased violence by providing the necessary budget for local and state law enforcement to do their jobs effectively. I will support and empower our local Sheriffs, State Police, and Federal partners to remove criminal illegal aliens from our communities."
And you won't find but even one original policy goal on Cox's website, that is, should you click the "Learn More" button at the base of his homepage.
The Dan Cox Vision 
Dan Cox's best attempt at stringing together a coherent policy platform can be found within his website's "Our Vision" section.
He enumerates his "legislative accomplishments" as introducing legislation to:
End the "State of Emergency" and reopen Maryland;
Ban vaccine passports;
Demand in-person schooling;
Provide direct grants to families whose schools were 'wrongly' shut down;
Ensure equal access to healthcare for seniors and all Marylanders at all times, including during Maryland's 'so-called state of emergency.'
Now that's a legislative record that Dan Cox can bank on to elect Maryland's 63rd governor.
Mr. Cox pulls directly from the Donald Trump/Marjorie Taylor Greene playbook:
Appeal to the lowest common denominator within the Republican base;
Give voice to the dimmest of the dimwits;
Ignore the growing threat of White Supremecy;
Appeal to the QAnon cult;
Perpetuate the Big Lie that the 2020 presidential election was stolen from Donald J. Trump;
Throw out the emotionally manipulative conservative red meat the Republican base cannot get enough of;
Blame immigrants for your lot in life;
Disparage Democrats at Marxists, Communists, or whatever economic ideology you fail to understand beyond Sean Hannity's radio program;
Denounce Nancy Pelosi and RINOs as unforgivingly evil;
Mention something about Hunter Biden's laptop;
Question President Barack Obama's birth certificate;
Rail against Black Lives Matter supporters;
Extol your Christian values loud and proud;
Dismiss the media as "fake news:.'
Blast Hollywood elites;
Excoriate Dr. Fauci;
Repeat COVID-19 conspiracies;
Proclaim mask mandates as unconstitutional;
File a lawsuit to challenge your governor over mask mandates (lose in court);
And, by God, loudly and proudly announce your intentions to forgo a vaccination;
Declare COVID-19 as no worse than a common cold;
Suggest Kim Klacik as a legitimate candidate for Maryland's lieutenant governor.
How A Miner Detail Will Cover The Dan Cox Gubernatorial Campaign 
A Miner Detail will highlight Dan Cox's role during the January 6 Capitol insurrection.
Mr. Cox, you'll remember, tweeted, "Pence is a traitor" just after domestic terrorists stormed the U.S. Capitol on Jan. 6, 2021.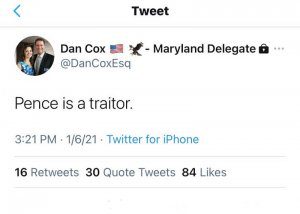 This Maryland politics blog seeks to understand where Dan Cox was during the Capitol insurrection and whether he joined the traitorous mob that sought to kill the vice president of the United States.
A Miner Detail will not write favorably about Dan Cox.
Mr. Cox does not deserve a platform to lie, perpetuate conspiracy theories or make a mockery of the gubernatorial contest.
Dan Cox is a threat to American democracy.
And A Miner Detail intends to use its forum to expose the dangers a Cox candidacy poses to all Marylanders.
July 19 is Maryland's primary.