By Ryan Miner  
David Trone, the enormously wealthy political outsider willing to spend "whatever it takes" to win the Democratic nomination in Maryland's 8th Congressional District, is hiring.
Trone's campaign is using Craigslist (Washington D.C. and Frederick) to solicit potential field staff for canvassing and phone calls.
Below is the Craigslist ad Trone is using to solicit hourly-paid staff: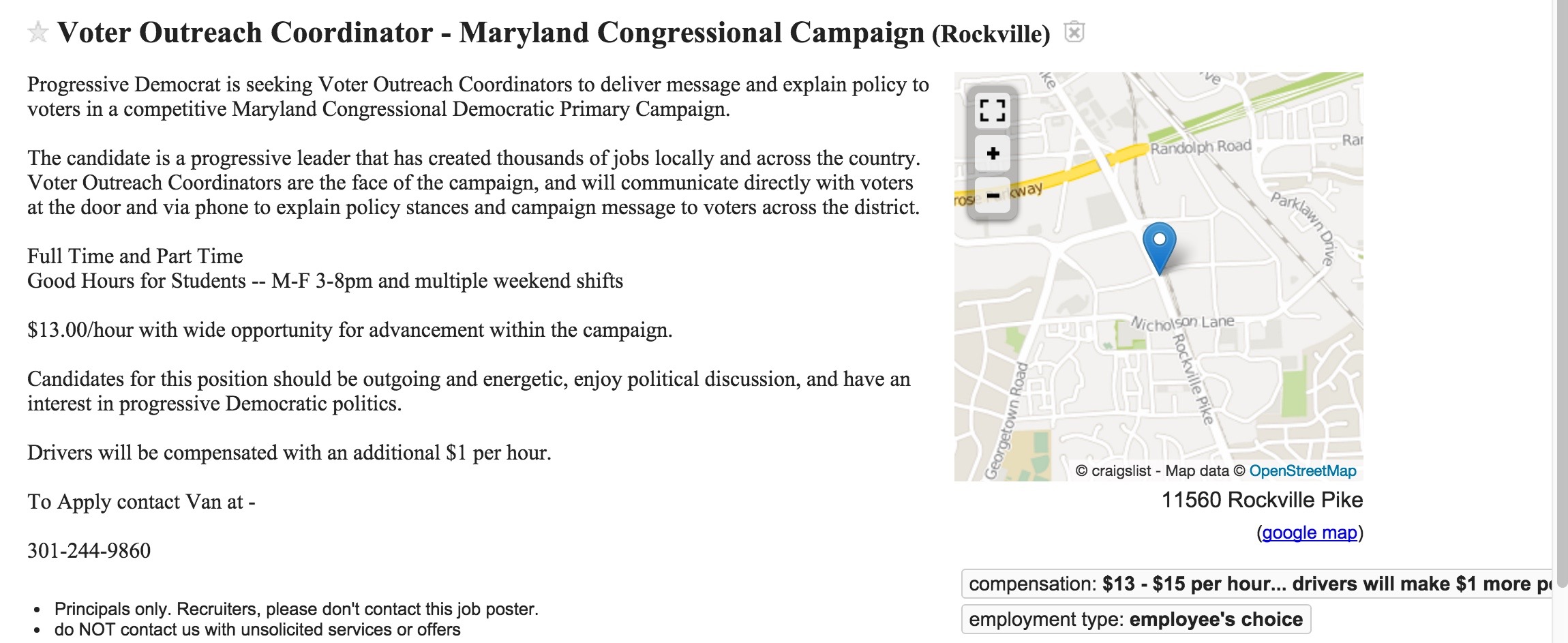 According to Trone's ad, he is seeking "Voter Outreach Coordinators" who will "communicate directly with voters at the door and via phone to explain policy stances and campaign message to voters across the district."
A company called Zero Work Solutions is being used to vet applicants who respond to the Trone's Craigslist ad. Rich DiCriscio, a New Jersey native, is one of the hiring managers tasked with vetting and hiring Trone's "voter outreach coordinators." According to DiCriscio's LinkedIn profile, he is Trone's "Deputy Field Director."
The voter outreach coordinators are trained to make phone calls on behalf of Trone to Democratic CD-8 primary voters, identifying whether voters support Trone or his Democratic opponents, including Kathleen Matthews or Jamie Raskin. Volunteer outreach coordinators are also being sent into various neighborhoods throughout the 8th Congressional District, including parts of Frederick and Carroll Counties, to pass out Trone's campaign literature door-to-door.
Trone is paying "voter outreach coordinators," according to his ad, $13.00/hour with "wide opportunity for advancement within the campaign." You can determine for yourself whether Trone's rate of pay is consistent with his position on income inequality and the minimum wage.
Trone advocates for raising the federal minimum wage and tying it to inflation. On his website, Trone claims that the "federal minimum wage has not gone up since 2009, and it hasn't kept pace with the rising cost of living. It would be almost $11 today if it had kept up with inflation." As of July 1, 2015, Maryland's minimum wage stands at $8.25. 
Trone's campaign staff is training volunteer outreach coordinators at its campaign office located at 11560 Rockville Pike – Rockville, MD 20852.
Ryan Miner is the Editor in Chief, Founder, Senior Political Reporter and Publisher of A Miner Detail. He is the host of A Miner Detail Podcast.