Maryland Congressman David J. Trone (D) is using his robust fundraising network to promote Alabama Sen. Doug Jones over Republican Roy Moore.
Moore is a former Alabama Supreme Court justice who lost to Jones, a Democrat, in Alabama's December 2017 special election to replace former U.S. Attorney Jeff Session's Senate seat.
Moore was accused of sexual misconduct by several women who said Moore sexually abused them many years ago – including allegedly sexually molesting teenage girls and reportedly being banned from a local shopping mall for allegedly pursuing young women.
Moore denies the women's claims.
Trone's campaign on Saturday fired off an alarm-sounding email blast: BREAKING: Roy Moore Enters U.S. Senate Race in Alabama."
"Some major news out of Alabama. Roy Moore is running for Senate in 2020," Trone wrote.  "Alabama is going to be one of the closest U.S. Senate races in the country. We cannot sit idly by if there is ANY chance of Roy Moore becoming a Senator."
National Republicans, most notably President Donald J. Trump, are pushing back against Moore's round-two Senate bid.
Trump – who has also been accused of sexual misconduct by over 20 women, including a recent rape allegation – backed Moore over Jones in the 2017 special election.
Trump, however, has changed course, tweeting in late May that "Roy Moore cannot win."
The president's son, Donald Trump Jr., fired off a tweet last week that blasted Moore's decision to enter the Republican primary, writing, "Roy Moore is going against my father and he's doing a disservice to all conservatives across the country in the process."
Trone's could-be eventual Republican opponent, state Del. Neil C. Parrott of Hagerstown, hasn't indicated whether he still supports Moore this time around.
Parrott urged his conservative followers in September 2017 to support Moore in the Alabama special election, writing on Facebook, "Chief Judge Roy Moore, the 10 Commandments Judge, just won the Republican Primary for US Senate."
"Can't wait for him to get to the US Senate and shake things up a little bit. We need action from the Senate and Chief Judge Roy Moore is all about action," Parrott wrote.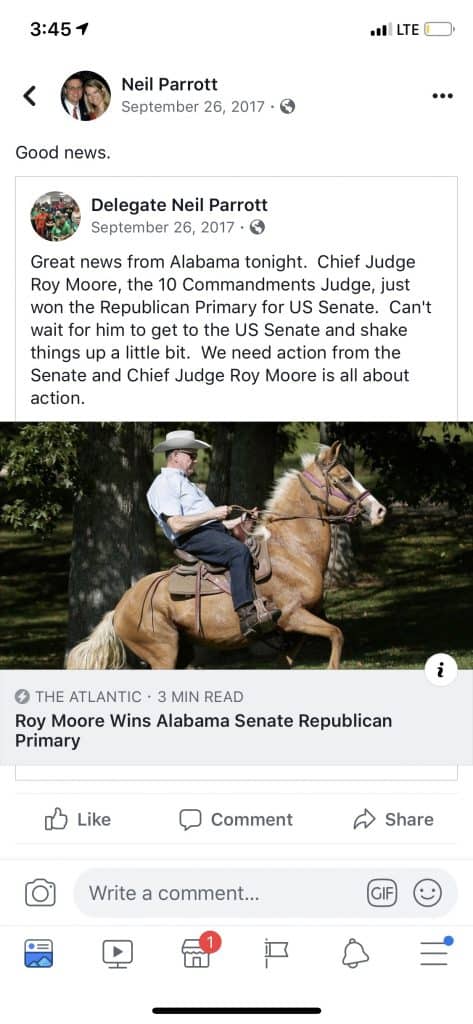 Parrott has not responded to A Miner Detail's requests for comment on whether he is still supporting Moore's candidacy.
As it stands, no other Republican to date is outwardly running for Congress in Maryland's 6th district. Amie Hoeber, who ran for Congress twice in the 6th district but was defeated, has not ruled out a third run.
On a drizzly November morning in 2018, only three days after winning a third term in the Maryland House of Delegates, Parrott – his family by his side and only a few loyal supporters to watch – announced at the Hagerstown City Park that he was launching a congressional exploratory committee in Maryland's 6th congressional district.
Parrott's decision to launch a congressional bid was in large part due to the unanimous ruling, issued by three Maryland federal judges, that the state had to throw out its congressional map in a protracted legal battle over partisan gerrymandering.
Seven Republicans, all of whom lived and voted in the 6th district's boundaries prior to the Maryland General Assembly's redrawing of the congressional map in 2010, brought suit against the state, claiming that state lawmakers deliberately reconfigured the 6th District to oust the former Republican representative in favor of a Democrat.
The Republicans held that the new congressional map violated their First Amendment rights to associate.
The Supreme Court agreed to hear the case – Lamone v. Benisek – and is expected to issue an opinion any day now.
Parrott's fundraising totals thus far are weak in comparison to Trone's mega campaign war chest. And, while some of Parrott's colleagues in the House of Delegates have raised money for him, others behind the scenes have expressed extreme skepticism over his ability to run an effective campaign and win against Trone.
One Western Maryland Republican state delegate who asked to remain on background referred to Parrott's congressional bid as "silly," and a waste of time and money.
"Neil, even for Western Maryland, is far too extreme, and he's one of the most ineffective members of the Maryland House of Delegates. Most of us can get along with Democrats and work on big issues – but Neil is hated," the delegate wrote in a text message to A Miner Detail when reached for comment.
Parrott, like Roy Moore, brands himself as a social conservative Christan who stands up for religious freedom.
In 2005, Parrott took his socially conservative opinions to the Herald-Mail, Hagerstown's daily newspaper, to advocate on behalf of a government-mandated tattoo for anyone infected with HIV.
"The HIV tattoo would, however, help to prevent the spread of infection by people who know that they are infected, but who choose not to curb their behavior, putting their partners at risk," Parrott wrote.
"It would be a 100 percent unmistakable sign allowing all parties involved to make an informed decision. These practical solutions treat this epidemic with the seriousness it deserves, while being compassionate to those infected, and to those who are at risk of unknowingly becoming infected one day.
While Parrott has released no public statement, he has told others that he has since changed his position on the issue.
The link to Parrott's letter to the editor can no longer be found on Herald-Mail Media's website.
---
Feedback/Questions? ryan@aminerdetail.com