A few Montgomery County Republicans targeted Rep. Jamie Raskin (D) today over an innocuous mistake found written in a form letter in response to one of Raskin's congressional constituents.
A Silver Spring resident had apparently shared with Raskin's office their concerns over the Taylor Force Act – a Senate bill that proposes to stop American economic aid to the Palestinian Authority until the PA changes its laws to cease paying stipends funneled through the Palestinian Authority Marty's Fund to individuals who commit acts of terrorism and to the families of deceased terrorists.
Raskin's Washington D.C. congressional office responded to the Silver Spring constituent, sending them written correspondence containing a misplaced word.
The second sentence of Raskin's form letter read,
I have the deepest sympathies for the Force family after the senseless loss of their son, former Army office Taylor force, and I wholeheartedly and unconditionally [condone] terrorism in every form.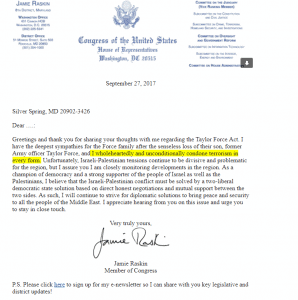 The oversight may have caused the constituent some confusion; however, Raskin's congressional office quickly corrected the record.
Raskin's communications director, Lauren Doney, forwarded A Miner Detail the following statement directly from the congressman:
The letter from my office, dated September 27, 2017, contains a regrettable typo. To state the obvious, I wholeheartedly and unconditionally condemn terrorism in every form. I am sorry for this mistake from my office. – Rep. Raskin
One Montgomery County Republican activist forwarded A Miner Detail a copy of Raskin's letter earlier this morning, writing,
This was forwarded to me.

I don't know how to post this onto FB

Would be fabulous to get it to go VIRAL

Is this what he REALLY thinks and he accidentally told the TRUTH ?? (See yellow highlighted portion below)
Or does he just not have a great attention to detail, in which case is THAT what we really want in Congress ????!!
Please remove my email address before forwarding/ posting. Thanks.
Democrat-turned-Republican Elizabeth "Liz" Matory – who placed seven out of seven in the 2014 District 18 Democratic primary – posted a copy of Raskin's letter on her "Liz Matory for Congress" Facebook page.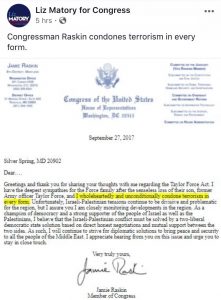 In 2016, Matory briefly filed as an independent (unaffiliated) candidate in the 8th District race but later changed her party registration to Republican and ran (and was defeated) in the Republican CD-8 primary.
Ryan Miner is the Editor & Founder of A Miner Detail.