By Ryan Miner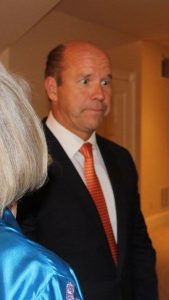 File this under the "like we didn't already know" category, but The Washington Post editorial board this afternoon released its U.S. Senate endorsement as well as its congressional endorsements in Maryland's 6th and 8th congressional districts.
Hoeber is infinitely more qualified and accomplished than the uber-partisan John Delaney, but in a strangely reasonable twist, the Post did endorse Republican Barbara Comstock over her Democratic opponent. Comstock recently renounced her support for Republican presidential nominee Donald J. Trump, bucking, to her credit, her own Party's miscreant of a nominee.
No contest, obviously, between Maryland state Senator Jamie Raskin and Republican Dan Cox. With Cox's full-on embrace of Trump – both candidates will go on to be crushed in Maryland – it's no wonder the Post – and many Republicans – don't take Cox seriously. Any political candidate who places deer or animal or – God only knows – human piss on the back of their campaign signs in an effort to be funny (or maybe not in this case) isn't worth a second look. Thanks for running, Dan Cox.
Here's what the Post had to say about Maryland's congressional candidates:
MOST OF this year's suburban congressional races in the Washington area are slam dunks. It's plain as day that incumbent Reps. Don Beyer in Virginia's 8th District and John Delaney in Maryland's 6th District — unusually smart, decent and diligent Democrats who turned to politics after impressive careers in business (and, in Mr. Beyer's case, a stint as an ambassador) — are vastly more experienced and knowledgeable than their Republican opponents, both political novices.

Ditto Maryland State Sen. Jamie Raskin, the Democrat running to succeed Rep. Chris Van Hollen in Maryland's 8th District. We disagree with the very liberal Mr. Raskin, a constitutional law professor, on some issues, but we admire him for his intellect and prodigious legislative achievements.

As for Mr. Van Hollen, whose command of budgetary and fiscal policy has made him among the most respected Democrats in Congress, he is cruising to what should be a lopsided victory in his U.S. Senate race against a Republican state lawmaker, Kathy Szeliga, who is at sea with federal issues.