State GOP official says Rep. Andy Harris called him Friday, cursed him out and threatened him
Maryland Republican Party official Matthew Adams claimed that Rep. Andy Harris (R-Md.) screamed, cursed and threatened him during an afternoon phone call on Friday after Adams published a blog post that mentioned Harris' wife, Nicole Beus Harris.
Adams serves as the Maryland GOP's third vice-chairman.
He posted to his personal Facebook page Friday: "Get this, weasel Andy Harris calls me and curses at me. Claimed he will take me down. Threats now?"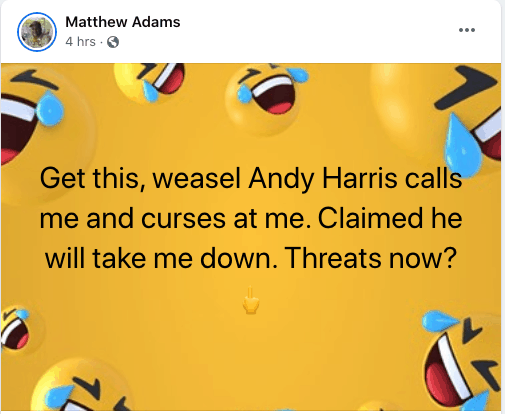 A Miner Detail sought out Adams for comment after his post appeared on Facebook.
"Andy Harris called me at 3:26 and 3:27 p.m. this afternoon," Adams said. "I missed his call and tried calling him back."
"As I was calling Harris back, he called me from a different number. I picked up and he started screaming and shouting at me. He just railed on me."
Adams said Harris called him a "fucking asshole" for mentioning his wife, Nicole Beus Harris, in a blog post he published Friday to his Maryland political blog Fight for Maryland. 
Adams shared with A Miner Detail a screenshot of his phone's call log with Harris' numbers. A Miner Detail can confirm the calls made between Harris and Adams.
"He was so belligerent that I could hardly keep up with him. He just kept screaming at me."
But Adams said he responded in kind to Harris shouting and cursing, letting fly a few choice phrases of his own. Adams said he would not "eat shit from a rusty spoon for Andy Harris either!"
"I told Harris he didn't have the dignity to return Diana Waterman's phone call when she announced she was running for Republican National Committeewoman. That pissed me off."
Former Maryland Republican Party Chairwoman Diana Waterman in April launched a challenge to the state Republican Party's incumbent national committeewoman, Nicolee Ambrose. Ambrose defeated Waterman on May 16 at the state GOP's virtual convention. Adams backed Waterman over Ambrose.
After only a minute or so into the call, Adams said that Harris hung up on him but not before Harris threatened to "fucking take him down."
"I used to think Andy Harris was a good guy, a Christian man," he said. "I have always voted for Andy Harris but I will not reconsider voting for him in the future."
Adams has been supportive of Harris' Republican challenger, Jorge Delgado, a former congressional aide to U.S. Sen Cory Gardner (R-Colo.). He has been posting Delgado's campaign material to the Maryland for Trump Facebook page as well as to his personal Facebook page.
Harris' office responds to Adams
In an emailed response to A Miner Detail's request for comment, Harris' chief of staff, John Dutton, confirmed Harris' Friday phone call to Adams but took issue with Adams' characterization of the exchange.
"Mr. Adams' quote about the Congressman cursing is unequivocally a lie as well."
Dutton said "Mr. Adams lied about his wife in a blatantly dishonest and libelous blog post."
When reached to respond, Adams said he is "willing and happy to take a lie detector test."
"I bet Andy Harris won't take a lie detector test. I have nothing to lie about."
Harris escalates Friday feud 
Andy Harris escalated his feud with Adams later Friday evening in a personal email plea to the Maryland Republican Party's executive committee. He requested the committee remove Adams from his position with the state GOP; in addition, Harris wants Adams removed from his Republican Central Committee position in Somerset County.
"Today, Matt Adams launches an unprecedented, baseless ethics attack on me, and of more concern to me, on my wife," Harris wrote. "He even had the nerve to imply nefarious motive after the untimely death of my late wife almost six years ago now."
Mr. Harris was married to Sylvia "Cookie" Harris for 30 years until she died suddenly and unexpectedly in late August 2014.
Harris began dating Republican political consultant and fundraiser Nicole Beus several months after his first wife's death. The couple married in July 2017.
"He not only reiterated false ethics claims (proven to be untrue) made against me by my last Democrat opponent [Jesse Colvin] – he took them to a higher (or should I say lower) level."
Adams's blog post claimed the Maryland Republican Party "had to hire his then-girlfriend, Nicole Beus, and her company Indy's Services" to service the state Republican Party's fundraising needs.
"With no other remedy at hand, the state party contracted with Indy's Services and Andy Harris for Congress made donations as needed to fund her position — always supplying a little extra for the state party's troubles. This financial quid-pro-quo was run through the MDGOP Federal Account and Indy's Services was paid from the same," Adams' wrote.
The Washington Post reported in October 2017 that "Harris' campaign and several GOP political committees" paid his spouse, Nicole Beus Harris, "more than $26,000 in 2017 for work she did through her firm, Indy's Services," according to federal campaign finance records.
The Post reported the "Maryland Democratic Party filed an ethics complaint" with the Office of Congressional Ethics, arguing that Harris, Maryland's lone Republican congressman, "may have violated ethics rules requiring members to report the sources of spousal income and assets."
Kathleen Matthews, the chair of the Maryland Democratic Party at the time, told The Post, "It appears Andy Harris paid his wife thousands of dollars from his campaign, then tried to hide it from government ethics regulators."
"The Harris campaign said the omission was a mistake and the congressman amended his filing once he became aware of the error," The Post reported.
"I'm used to unfounded attacks from Democrats, Harris decried in his email, " but I'm not used to blatantly false attacks from a member of the state GOP Executive Committee. And his attempt to spread disinformation to unfriendly (blogger) press like Ryan Miner (and perhaps other media) should be (sic) if grave concern to the Party and to you all, its leadership. "
Harris is one of President Donald J. Trump's most vocal allies in Maryland. He is strongly supportive of the president's policies has defended Trump on a number of occasions.
Harris pleads with MDGOP to remove Adams from state, local Party roles
A ferocious Trump supporter himself, Adams, 50, who is suffering from terminal cancer, has drawn Harris' ire.
Now, Harris, the co-chairman of Donald Trump's Maryland re-election campaign, wants Adams to be banished from his Party roles for good.
"I would ask you to take any and all steps possible to remove Mr. Adams completely from any official role in the Party," Harris wrote in his email.
"He is very bad for the Party and (sic) it's ability to function in confidential matters when we all know how unfriendly the press can be to Republicans. I don't know what has happened to Matt, but I hope you agree that immediate removal is now called for.
Harris concluded his email by thanking state Republican leaders "for working to re-elect Mr. Trump," but he took a final swipe at Adams, "We really can't let one very bad apple ruin our whole barrel."
A Miner Detail received a copy of Harris' Friday email to the state GOP's elected executive board.

Harris' staff did not respond to A Miner Detail's follow-up questions on what Harris and his staff specifically consider "blatantly dishonest and libelous" and whether the congressman and his wife intend to take legal action against Adams.
Adams, though, said he remains unfazed.
"I have been threatened by better men than Andy Harris. He's a do-nothing congressman who is woefully out-of-touch with the true conservative Republican Trump supporters of this district."
---
Feedback/Questions? Ryan@AMinerDetail.com.
Ryan Miner is the Editor in Chief, Founder, Senior Political Reporter and Publisher of A Miner Detail. He is the host of A Miner Detail Podcast.