Frederick County Sheriff Chuck Jenkins and a local gun dealer were indicted for a scheme to acquire machine guns illegally.
Read the Department of Justice's April 5, 2023, press release.
Maryland Matters and other media outlets have provided in-depth coverage of the Jenkins indictment, in which Jenkins is accused of using the power of the Frederick County Sheriff's office to enrich a private corporation.
Republicans continue to triple down on the cult of Chuck Jenkins.
Our friends at Radio Free Hub City obtained a copy of the indictment.
Jenkins claimed that a M249 Squad Automatic Weapon (SAW), which is a belt-fed machine gun, was "particularly suitable for use as a law enforcement weapon," among other charges.
Below, A Miner Detail unwinds a brief history that led up to Frederick County Sheriff Chuck Jenkins' indictment.
A Miner Detail's Chuck Jenkins Coverage 
A Miner Detail's coverage of Jenkins is extensive.
We thank the numerous sources inside the Frederick County Sheriff's Office who came forward and shared information with us.
Our coverage of Sheriff Jenkins began when Frederick County Circuit Court Judge Theresa Adams assembled a dossier on Eric Beasley.
Jenkins assigned former Frederick County Police Sergeant Amanda Ensor to investigate Beasley.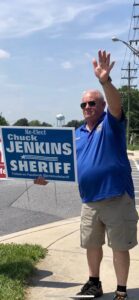 In 2020, Jenkins pushed the now-retired law enforcement officer to pursue criminal charges against Beasley at the request of Judge Adams.
Ensor refused Jenkins' request.
Chuck Jenkins | The "Constitutional Sheriff" 
Sheriff Jenkins' has often branded himself as a "constitutional sheriff," ostensibly around the idea that a local sheriff's authority supersedes state and federal authority.
Jenkins has rallied against Maryland lawmakers' assault weapons ban, red flag gun confiscations, and COVID-19 mask mandates, which became political centerpieces in subsequent re-election campaigns.
The so-called "constitutional sheriff," who isn't an attorney, once claimed that his local law enforcement powers superseded state and federal law.
During an afternoon press conference shortly after the Chuck Jenkins' indictment was made public, Jenkins stated that he had been aware of the investigation for at least a year.
One year ago, Chuck Jenkins was campaigning for re-election.
Jenkins defeated Democrat Karl Bickel in the November 2022 general election.
Chuck Jenkins | Racial Profiling | 
Jenkins is often accused of racism for his hard-line positions on immigration.
In 2021, Jenkins admitted that Frederick County sheriff's deputies have racially profiled motorists during routine traffic stops.
Additionally, the American Civil Liberties Union noted that Jenkins' office targeted the plaintiffs who filed suit against the Frederick County Sheriff's Office – even while the case was pending in court.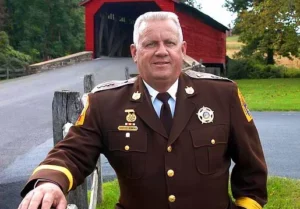 The Maryland ACLU chapter further stated, "Frederick County Sheriff's Office has harassed other members of the RISE Coalition, unlawfully targeting and questioning them for suspected immigration violations, including the targeting of Latinx U.S. citizens."
More Problems Inside The Frederick County Sheriff's Office
Maryland State Police arrested Frederick County Sheriff's Deputy Allan Mandujano in March on charges stemming from child abuse.
Jenkins responded to Mandujano's arresting, stating, "The actions of one deputy should not reflect on the entire agency."
Mandujano is currently suspended without pay.
During a press conference today, Todd Wivell stated that Sheriff Chuck Jenkins will continue to work while under indictment.
Hypocrisy much?
The Jenkins Whistleblowers
A Miner Detail focused much of its Frederick County reporting on the whistleblowers inside the Frederick County Sheriff's Office who had enough of Jenkins' reign.
Deputy Stephanie Kelley went on the record with A Miner Detail – only because she retired from the Frederick County Sheriff's Office.
Kelley detailed Jenkins' inability to manage his department and recalled an occasion when Jenkins "turned beet red" when he told former Maryland Lieutenant Gov. Boyd Rutherford that the Frederick County Sheriff's Office needed additional funding.
She also described how Jenkins had retaliated against some political opponents, including state Sen. Bill Folden (R-Frederick County), a former law enforcement officer.
A Second Whistleblower Comes Forward
A second whistleblower came forward.
His name is Scott Monaco.
Monaco is a former Special Police Officer assigned to the Frederick County courthouse.
He detailed a hostile work environment inside the Frederick County Sheriff's Department and accused Jenkins of of allowing nepotism while sheriff's deputies were infrequently trained because of limited funding.
Amada Ensor | The Ultimate Whistleblower 
Finally, former Frederick County Sheriff's Sergeant Amanda Ensor went on the record with A Miner Detail.
Ensor filed suit against Jenkins in 2021, claiming Jenkins was responsible for creating a hostile work environment inside the sheriff's office.
She also accused Jenkins of gender discrimination.
A Miner Detail will have more on this story as it develops.