This is an open letter addressed to Montgomery County Executive Marc Elrich and the Montgomery County Council about Montgomery County Reimagining Public Safety Task Force member Joanna Silver's Tweets attacking Montgomery County Police.
The letter below was emailed to the Montgomery County executive and members of the Montgomery County Council.
An Open Letter Addressed to Montgomery County Council, Executive About Joanna Silver's Anti-Police Tweets 
"Good Morning, County Executive Elrich and members of the Montgomery County Council:
I have attached three images that contain recent tweets published by Reimagining Public Safety Task Force Community Representative Joanna Silver.
Ms. Silver's March 2023 tweets are deeply and profoundly offensive, abhorrent, disgusting, obscene, and fundamentally detestable.
On Friday, March 3, 2023, Montgomery County Police issued a press release following a routine and legal traffic stop that discovered over two thousand fentanyl pills, a loaded .45 caliber handgun, and over $1100 in U.S. currency.
On Saturday, March 4, 2023, Ms. Silver published a tweet [Attached Image 2] calling Montgomery County Police's press release "a perfect example of copaganda."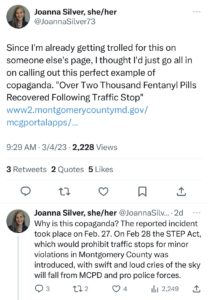 Moreover, when Ms. Silver discovered that Twitter users expressed their offense at her degrading tweets and called on her to step aside from her position on the Public Safety Task Force, she responded by calling said Twitter users [Attached Image 1] "trolls and further claimed, "the Taskforce (sic) doesn't do anything, and our County Executive hasn't followed most of our recommendations."
Aside from Ms. Silver's disgusting and unfair attacks aimed at Montgomery County Police, if the Task Force, in Ms. Silver's words, "doesn't do anything," then perhaps she isn't a suitable fit for the role and should step aside.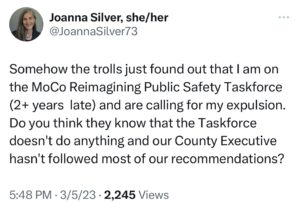 It's my understanding that the Task Force Community Representatives were appointed to the Task Force with the expectation that they synthesize the community's input and exercise good-faith objectivity when approaching community issues as essential and critical as public safety.
Ms. Silver's repugnant Twitter attacks, aimed at Montgomery County Police in her recent Tweet diatribe, represent a marginal, microscopic, and weening fringe activist base in Montgomery County.
Nevertheless, these marginal fringe anti-police activists (and groups) inexplicably exert influence over at least two Montgomery County Council members with an obvious anti-police, anti-public safety agenda.
Joanna Silver Should Resign From Task Force 
I have a 19-year-old first-year engineering student at the University of Maryland College Park and a 16-year-old Wootton High School sophomore.
I am thankful every day that our Montgomery County Police protect my family and put their lives on the line to protect our community.
Two thousand fentanyl pills are off the streets; that's 2000 preventable overdoses; that's 2000 lives potentially saved.
Montgomery County Police did the jobs we expect them to do – the same jobs many of us would never have the courage to do ourselves. How dare Ms. Silver disparage Montgomery County Police with her disgusting, anti-police remarks.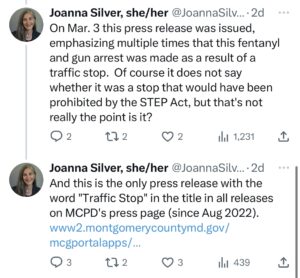 Joanna Silver should serve on no Montgomery County Public Safety Taskforce in light of her recent comments.
I urge the County Council to request Ms. Silver resign immediately from the Task Force – or face expulsion.
Far-left anti-police fringe activists like Joanna Silver should never be given a platform or a voice on Public Safety Task Force, no less, to spew their horrific, anti-police propaganda.
Thank you,
Ryan R. Miner"
Joanna Silver Bio 
(Ms. Silver's bio is taken from the Montgomery County government website.)
Joanna Silver has been a resident of Montgomery County for fourteen years and works professionally as a public defender.
In a volunteer capacity, Joanna coordinates the Montgomery County Deportation Defense Coalition and is a member of Jews United for Justice and Takoma Park Mobilization; Joanna represents both of these organizations in the Silver Spring Justice Coalition.
Joanna served six years on the Board of the Ivymount School in Rockville and currently serves on the Board of Temple Emanuel in Kensington.
Joanna coordinates her neighborhood's casserole program for Shepherd's Table in Silver Spring and the Sligo Middle School PTA Emergency Assistance Fund.
Joanna is a proud Impact Silver Spring Weaver Learning Lab graduate and a 2019 recipient of the Capital Area Immigrants' Rights Coalition Community Advocate Award.
Over Two Thousand Fentanyl Pills Recovered Following Traffic Stop
"Gaithersburg, MD – On Monday, February 27, 2023, at approximately 3:15 p.m., Montgomery County Police 4th District officers conducted a traffic stop on a silver Mercedes sedan in the 12300 block of Georgia Avenue for a traffic infraction.
Officers identified the driver of the vehicle as 20-year-old Markus Carter of Silver Spring and determined that Carter was driving the vehicle in violation of his learner's permit.  There were two other occupants of the vehicle, a 20-year-old and an 18-year-old male.
Through investigation, probable cause to search the vehicle was developed.
Inside the vehicle, officers located 250 suspected fentanyl pills and other items indicative of drug distribution.
On Carter's person, officers located additional fentanyl pills, over $1100 in U.S. Currency, and a loaded .45 caliber handgun.
Later in the evening, 4th District officers and Special Investigations Detectives executed a search warrant at Carter's residence.
Officers located an additional 1800 suspected fentanyl pills in that location, in addition to more U.S. Currency and other items indicative of drug distribution.  The two other individuals were released without charges.
Carter was charged with a number of criminal offenses including illegal possession of a firearm and possession of a controlled dangerous substance with intent to distribute. He is being held without bond at the Montgomery County Central Processing Unit.
In announcing this arrest, Montgomery County Police Chief Marcus G. Jones stated, "This traffic stop is an example of excellent work by our 4th District officers. Last year, we lost over 80 members of our community to fatal drug overdoses.
This year, we have already lost over 20."
"The Drug Enforcement Administration frequently warns 'one pill can kill,' Jones continued.
"Here, we have one arrest with over 2,000 pills seized."
"We never will be able to truly quantify the number of lives that were saved as a direct result of this traffic stop, but without question, this stop saved lives in our community. Fentanyl overdoses, not to mention the violence associated with drug sales and firearms, are a danger to our entire community, and I commend the work of our 4th District officers and Special Investigations Detectives on their work in this case."
This investigation was an effort of the Montgomery County Department of Police under the Maryland Criminal Intelligence Network (MCIN).
MCIN was launched in 2017 and provides grant funding and strategic support through the Office of Crime Prevention, Youth, and Victim Services to MCIN member sites to identify, disrupt, and dismantle criminal organizations through inter-agency collaboration and data sharing to make Maryland safer.
The Governor's Office of Crime Prevention, Youth, and Victim Services funded this project under subaward number, MCIN-2023-0012.
All points of view in this document are those of the author and do not necessarily represent the official position of any Maryland State office or agency."
Contact The Montgomery County Council