Does Sheriff Jenkins have a hard time managing the sheriff's department?
Some Frederick County deputies seem to think so.
Retired Frederick County Sheriff's Deputy First Class Stephanie Kelley spoke on the record with A Miner Detail about her time working as a sheriff's deputy under Chuck Jenkins.
Deputy Kelley retired from the Frederick County Sheriff's Department in January 2021.
She served under two Frederick County sheriffs during her 20-year career with the department.
This article aims to provide Frederick County residents critical insight into Sheriff Chuck Jenkins' management style, as told firsthand by a retired deputy.
Stephanie Kelley's Career Before Working Under Sheriff Jenkins
Deputy Kelley began her career as a 911 dispatcher in Loudon County, Virginia.
Kelley graduated from the Frederick City Police Academy in May 2001.
She was the first female FCSO Training Academy graduate to receive an academic achievement award.
Kelley was a patrol deputy for 14 years.
She chose to stay on patrol to "do police work," she said, and not "sit behind a desk."
The Future Sheriff's Technology Aversion
Deputy Kelley was assigned to the investigations unit for a 30-day test period in 2006, around the same time Sheriff Jenkins first ran for sheriff.
Kelley and Jenkins worked in the same office for some time.
Chuck Jenkins wasn't shy about sharing his plans for the department if voters elected him at the time.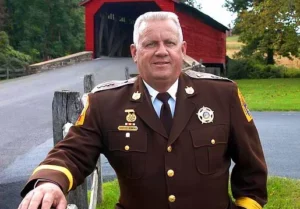 Deputy Kelley remembers a 2006 conversation she had with Jenkins while they were working together in the same office space.
She recalls Jenkins telling her that he'd remove the mobile data terminals (a.k.a. laptops) in the sheriff's cruisers as his first act as sheriff.
"Pen and paper" were superior to computers, Kelley recalls Jenkins saying.
Sheriff Jenkins' Political Retaliation
Deputy Kelley remembers Sheriff Jenkins as deeply political – so much so that he used his position as sheriff to retaliate against his political foes.
In 2006, Jenkins narrowly won a 4-way primary for sheriff.
He faced off against:
Harold Domer
Thomas Johann
Kelley recalls Jenkins was irked at the time about a couple of sheriff's deputies campaigning for his political opponents.
Here's what she remembers:
Two sheriff's deputies – Dave Dewees and Ron Hibbard – quickly found themselves on the receiving end of Chuck Jenkins' ire.
Then, an incident transpired, Kelley recalls.
Dewees was at a Frederick County shooting range when another deputy inadvertently grabbed his patrol shotgun and took it home.
That incident, she said, turned into an internal affairs (IA) investigation.
Dewees was cleared of the charges and the investigation was resolved in his favor.
Kelley recalls that Deputy Dewees was nearly prevented from testifying in court as a result of the allegations.
Political Retaliation 
Deputy Kelley alleges Jenkins used the shooting-range incident as an opportunity to retaliate against Dewees.
She recalls Jenkins also targeting Frederick County Sheriff's Captain Ron Hibbard over his political activities.
What drew Jenkins' attention to Hibbard?
Hibbard was supporting one of Jenkins' political challengers, Kelley said.
Kelley does not, however, recall the events of the incident.
Though at one point, she said, Hibbard was suspended, pending the outcome of an investigation.
According to Kelley, Jenkins had learned that Hibbard was spotted golfing during his suspension from the department.
Jenkins promptly reversed Hibbard's suspension, Kelley said, forcing Hibbard to return to duty, pending an internal affairs investigation.
Incidentally, Captain Hibbard is a listed defendant in Frederick County Sheriff Deputy Amanda Ensor's lawsuit against Jenkins.
Saluting Sheriff Jenkins
Deputy Kelley recalled a peculiar unwritten regulation known widely throughout the Frederick County Sheriff's Department.
Deputies must wave to Sheriff Jenkins if they see him driving.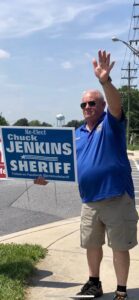 A Miner Detail verified that there's no official sheriff's department policy mandating deputies wave at the sheriff if they see him driving.
Kelley said she remembers this unwritten department policy because Jenkins once claimed that Kelley refused to salute the him when she saw the sheriff driving.
She said her department supervisor verbally admonished her for not saluting Jenkins.
Internal Frederick County Sheriff's Department Investigations
Kelley said she transferred to the investigations department in 2014.
In 2018, she joined the Internet Crimes Against Children (ICAC) Task Force.
The ICAC Task Force operation was formalized in December 2020 with a memorandum signed by Frederick County State's Attorney Charlie Smith.
Read more about the Frederick County Sheriff's Department.
Calling All Frederick County Deputies 
Does the Frederick County Sheriff's Department employ you?
Are you a deputy sheriff?
To share confidential information with A Miner Detail, you can download Signal and send us an email with your phone number.
Please note: Please establish up-front whether you want to speak on or off the record.
Are you Chuck Jenkins?
Do you want to go on the record with A Miner Detail?
Stay tuned for the next article featuring retired Sheriff's Deputy Stephanie Kelley.