In 2022, Bill Folden ran for the District 4 state senate seat in Frederick County.
Mr. Folden won his election and was sworn in as a Maryland state senator in January 2023.
But in April 2022, an anonymous website – BillFolden.com – attacked Mr. Folden's conduct as a Frederick County Police officer.
A Miner Detail submitted a Maryland Public Information Act request in January 2022 for information on the website disparaging Folden.
However, A Miner Detail chose not to publish the results from the public information request.
Similar information about Folden's record as a police officer was already in the public domain.
The videos published on the anonymous website ostensibly portray Bill Folden's police conduct in a negative or unfavorable context.
If you support Bill Folden, you'll say the videos demonstrate Folden's authenticity – but Folden's detractors might say the published videos showed Folden acting like a jerk.
Who is behind the anonymous website attacking Bill Folden? 
The website lists its creator as Captain Insano.
Is the website owner a fan of The Waterboy?
Capitan Insano shows no mercy.
The domain BillFolden.com was registered on April 3, 2022, through GoDaddy.com. 
The site owner did not disclose their identity.
The website lists an info@billfolden.com email address.
A secondary email address linked to the info@billfolden.com email account is listed below.

A Miner Detail's process to determine the Folden website creator 
A Miner Detail PIA requested the documents containing the names of the individuals who asked for Bill Folden's police records.
Review A Miner Detail's PIA request results at Folden PIA Requests.
Only three individuals submitted public information requests for Folden's disciplinary records:
Frederick County officials denied Lamonda's PIA request, claiming it was too broad.
Lamonda's first PIA request for Folden's police records was also denied for failing to include a phone number and home address with the request.
James Grose | Frederick County Republican 
James Grose is pictured below with former Maryland Republican gubernatorial candidate Dan Cox, a believer in the QAnon conspiracy theory and a potential 2024 6th District congressional candidate.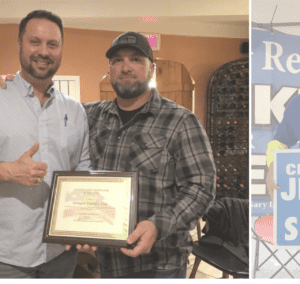 The email address JGrose79@comcast.net is directly linked to James Grose.
A quick review of the anonymous website attacking Bill Folden:
The site used the same website template and web host as James Grose's Republican Central Committee website
The attack website also used a nearly identical template to former Hagerstown state Del. Brenda Thiam's campaign website.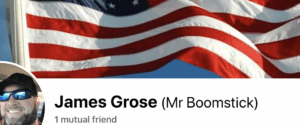 Is James Grose and Jason Miller responsible for the website attacking Bill Folden?
Maryland campaign finance reports show that Jason Miller is responsible for creating Brenda Thiam's campaign website.
Mr. Miller's personal Facebook page shows he was employed at the time with the Maryland General Assembly as Thiam's chief of staff.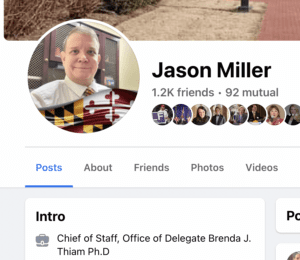 James Grose is pictured below.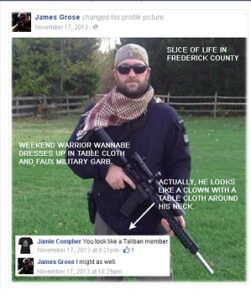 In 2016, the Maryland politics blog Seventh State reported that James Grose once threatened a Baltimore Sun reporter and voiced extremist political positions.
Grose & Miller Failed Bid for Frederick County Republican Central Committee 
In 2022, Mr. Miller and Mr. Grose ran for the Frederick County Republican Central Committee on a self-funded slate.
Update | Wednesday, September 6, 2023 
After learning of Mr. Grose's seeming discontent with the article, A Miner Detail asked Grose for comment and offered.
A Miner Detail further offered Mr. Grose the opportunity to correct the record and provide this outlet with plausible information unequivocally disproving his and Jason Miller's involvement with creating the anti-Folden website.
Grose Blames A Miner Detail For His 2022 Republican Central Committee Loss 
In social media posts, James Grose suggests the content published in this article is responsible for his failed 2022 Republican Central Committee bid.
Below is an overview of James Grose's total votes in his Frederick County GOP Central Committee bid.
Early Voting: 497
Election Day: 2,630
Mail-In Ballot/ Provisional: 525
Mr. Grose earned 3,652 total votes.
To determine how many votes separated Grose from being included within the top nine voter earners, A Miner Detail compares Grose's total votes to the candidate who ranked 9th – Kelly A. McGuire, who earned 5,383 votes.
1,731 votes separated Grose and McGuire.
2022 Frederick County Republican Central Committee Voter Turnout Analysis 
Given the existing dataset, listed below are some factors to consider when assessing Grose's plausibility in the top nine spots.
If voter turnout had been higher, would the additional votes have gone to Grose?
Given that most of Grose's Republican support came on Election Day (72.02%), increasing voter turnout on that specific day might have been his best opportunity to earn one of the top nine spots.
(Maryland's 2022 primary was held on Tuesday, July 19, 2022.)
It's important to consider that moving up by 1,731 votes is a substantial leap; it's not just a matter of a slight percentage increase.
It would have taken a significant change in voter behavior or campaign strategy for James Grose to earn one of the top nine spots.
While it wasn't impossible for James Grose to have earned one of the top nine Central Committee spots, doing so would likely have required substantial shifts in voter turnout, campaign strategy, or the political landscape.
Without additional data or context, assessing the plausibility of Grose's accusation that A Miner Detail's reporting in this article is responsible for his failed Republican Central Committee bid is challenging.