Former Maryland state Del. Bill Folden is a Republican candidate for state Senate in District 4.
An anonymous website – BillFolden.com – went live this month, attacking Mr. Folden's conduct as a Frederick County Police officer.
In January 2022, A Miner Detail submitted a Maryland Public Information Act request for the records listed on the website disparaging Folden.
However, A Miner Detail chose not to publish the results from the public information request.
Similar information about Folden's record as a police officer was already in the public domain.
The videos published on the anonymous website ostensibly portray Bill Folden's police conduct in a negative or unfavorable context.
If you support Folden, you'll say the videos demonstrate Folden's authenticity.
But Folden's detractors might say the published videos show Folden acting like a jerk.
Who is behind the anonymous website attacking Bill Folden? 
The website lists its creator as Captain Insano.
Is the website owner a fan of The Waterboy?
Capitan Insano shows no mercy.
The domain BillFolden.com was registered on April 3, 2022, through GoDaddy.com. 
The site owner does not disclose their identity with GoDaddy.com.
The Folden attack website lists an info@billfolden.com email address.
A secondary email address linked to the info@billfolden.com email account is listed below.

Our process to determine who is responsible for creating the website
A Miner Detail submitted a public information request that requested documents that show who requested Bill Folden's police records.
You can review A Miner Detail's PIA request results at Folden PIA Requests.
Only three individuals have submitted public information requests for Folden's disciplinary records.
Frederick County officials denied Lamonda's latest PIA request because it was too broad.
Lamonda's first PIA request for Folden's police records was also denied for failing to include a phone number and home address with the request.
Mr. Grose is pictured below with Maryland Republican gubernatorial candidate Dan Cox, a District 4 state delegate and a believer in the QAnon conspiracy theory.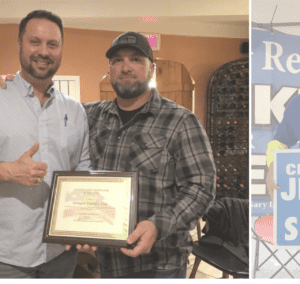 The email address JGrose79@comcast.net is directly linked to Mr. Grose.
A quick review of the anonymous website attacking Bill Folden:
The site uses the same website template and web host as James Grose's Republican Central Committee website
And the site shares a nearly identical website template as Hagerstown state Del. Brenda Thiam's campaign website.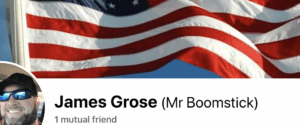 Is James Grose and/or Jason Miller responsible for the Folden attack site?
Maryland campaign finance reports show that Jason Miller is responsible for creating Thiam's campaign website.
Mr. Miller's personal Facebook page shows that he's employed by the Maryland General Assembly as Del. Thiam's chief of staff.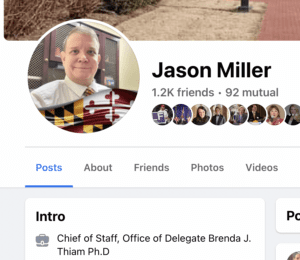 James Grose is pictured below.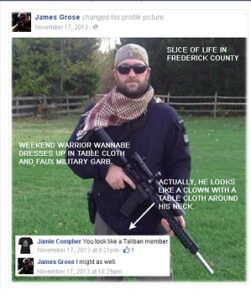 In 2016, Maryland politics blog Seventh State reported that James Grose once threatened a Baltimore Sun reporter and has voiced extremist positions.
Mr. Miller and Mr. Grose are running for the Frederick County Republican Central Committee on a self-funded slate.
Bill Folden previously represented District 3B in the House of Delegates from 2014 to 2018; Ken Kerr defeated him in the 2018 election.
Stephen Barret is the other Republican seeking the District 4 Senate Republican nomination.
In the November general election, the July 19 District 4 Republican Senate primary winner will face off with Democrat Carleah Summers.
The Government is here to help you. The government has ALWAYS been here to help you. Soylent green is not people. There are 5 lights. Darmok and Jalad at Tanagra, Shaka when the walls fell. The Capitol has the best interests of all the Districts in mind. None of these sentences are being said under violent threat. These are my sincere beliefs. – E.A.B.