Washington County's former assistant county administrator, Sarah Lankford-Sprecher, has filed a civil lawsuit against Commissioner LeRoy E. Myers Jr.
Sprecher has alleged Myers sexually harassed her on a County business trip to Korea. In a complaint sent to all Washington County commissioners, Sprecher also alleged that Myers targeted her professionally after she rejected his sexual advances.
Sprecher resigned her position with the County in September, citing unbearable work conditions.
According to court documents, Sprecher's attorney, Elias G. Saboura-Polkovotsy, filed a civil complaint yesterday against Myers in Washington County Circuit Court.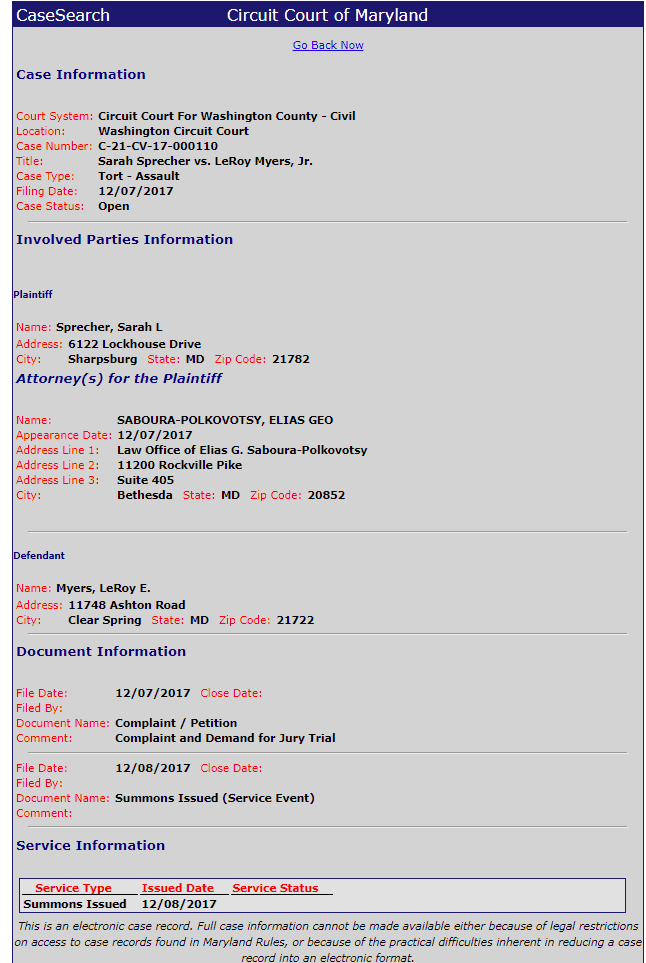 Saboura spoke on the record today with A Miner Detail's editor in chief, Ryan Miner.
"Sarah is a very courageous lady, notwithstanding her fear of the abuse of power and privilege that could be used against her by a very powerful man in Washington County. She went ahead and filed this lawsuit, recognizing that there is no money at all in it for her, other than a vindication of the truth," Saboura-Polkovotsy told Miner.
"This is not a money maker; there is no money in this lawsuit whatsoever. This is purely and utterly a claim to protect other women from being harassed or abused by somebody else."
Saboura-Polkovotsy went on,
"Her life was ruined. Her future with the County was ruined, and she hopes this will never happen to anybody else."
Saboura-Polkovotsy questioned Washinton County's sexual harassment complaint process.
"The County says they have a system to deal with sexual harassment complaints and that this investigation was part of the process that they have in place. Then if that's the case, then this report should be public record and should be shared with, at a minimum, the employee."
He said the County has not shared the sexual harassment report with Sprecher.
"We haven't seen a copy of it."
Asked about the County's investigation, Sprecher's attorney said the County wanted to meet Sprecher 'in private.'
When asked about the recent Ethics Commission opinion, Saboura-Polkovotsy told Miner,
"But now I heard that Slocum in the Ethics Opinion is saying this is an attorney work product (sic) and it's not subject to the disclosure because of the litigation. That's a completely different story; because what they are saying is 'we only did this investigation because Sarah had a lawyer and she made a claim. That's in their ethics opinion. At least that's what he admitted.'"
So somebody is lying at some point. They're either lying to us and saying 'we have a process' when they never had a process. That's why it took them almost six months to investigate our claim."
Miner asked Saboura-Polkovotsy to elaborate on the legal process with respect to the Circuit Court petition.
"The good news is now we're going to have litigation. What I couldn't do through nice venues, now it has to be through discovery. They are going to have to respond to me; they are going to have to respond to Sarah. They are going to be deposed."
Saboura-Polkovotsy said this of Myers,
"I would love to interview the commissioners' ex-wife and see how many times they dated while he was married to his ex-ex-wife. I would love to hear all kinds of stories; they are all going to be under oath and subject to perjury. I want to hear about all these secret loans and all these people being fired, because they took one position in the County. It's ridiculous!"
"We know he touched another person in Korea. There is a recording for that. That's a recorded interview. The process in the County is flawed. That's why women are not coming out; it's flawed. There is no process," Saboura-Polkovotsy continued.
Miner asked Saboura-Polkovotsy about Specher's decision to resign.
"She had invested her career in the County. She was excelling in her career with the County. She was doing exactly what she always wanted to do. Because one stupid act by this guy, it changed her life.  She lost confidence in herself and only to add insult to injury, now she finds that he went on a campaign to get her demoted – and they did! They did demote her. They basically told her that 'you are no longer the second in command here,'" Saboura-Polkovotsy told Miner.
Saboura-Polkovotsy told Miner that County Administrator Rob Slocum told Sprecher that 'he wished that she never file because I could never work with you like this.'
Ryan Miner is the Editor & Founder of A Miner Detail.