The Salisbury City Council's vice president resigned Saturday from the Wicomico County Republican Central Committee and the Maryland Republican Party.
Muir Boda – who, until today, served Wicomico County Republican Central Committee's former vice-chair – emailed a resignation letter to his county's Republican central committee shortly after the state Republican Party concluded its annual spring convention on Saturday.
"So, effective Sunday, May 17, 2020, I am resigning from the Wicomico County Republican Central Committee and the Maryland Republican Party," Boda wrote.
"Over the course of the past month or so, it has been clear that the Maryland Republican Party is no longer a unified organization or representative of where I stand politically," Boda wrote.
"This is a road I can no longer travel politically."
State GOP Chairman takes punitive action 
Boda pointed to the Maryland Republican Party's intensifying internal dysfunction as a reason for his immediate departure.
He coupled that with "certain actions that were taken against members of our party, specifically 1st Vice-Chair Brandon Cooper and 2nd Vice-Chair Tony Campbell."
Cooper and Campbell are elected members of the state GOP's executive committee who have been threatened and politically targeted by state Republican Party Chairman Dirk Haire in recent weeks.
Haire stripped Cooper of his co-chairmanship with the Maryland Black Republican Council after Cooper publicly endorsed former Maryland Republican Party Chairwoman Diana Waterman over incumbent Nicolee Ambrose in the contentious state Republican National Committeewoman race.
After signing onto a letter that called for Haire to reinstate Bowie City Councilwoman Roxy Ndebumadu's invitation to address state GOP convention attendees this spring, Campbell said Haire called him, cursed him out, and threatened him.
Haire also targets Maryland Republican Party Third Vice-Chair Matthew Adams, who is dying of terminal cancer, with a cease and desist letter written by President Donald J. Trump's presidential re-election campaign.
Haire forwarded Adams the letter written by the Trump campaign on May 1.
Mr. Haire has since accused Adams of intentionally leaking internal Party information to the Maryland press and illegally operating a Maryland for Trump Facebook page and website.
All of this was enough for Boda to call it quits.
"Though I personally supported and voted for Nicolee Ambrose for National Committeewoman, I was extremely disappointed in the treatment of those who supported Diana Waterman," Boda wrote.
"Those actions were not representative of Republican values and further divided our party and disenfranchised those participating in the process."
Ambrose defeated Waterman yesterday at the Party's first-ever virtual convention.
Ms. Ambrose will serve another four-year term representing the Maryland Republican Party at the Republican National Committee and the upcoming Republican National Convention this summer.
Haire strips GOP dissenters from serving as Trump delegates to national convention
A late Friday email from Maryland Republican Party Second Vice Chairman Tony Campbell informed state Republicans that some of the previously selected Trump convention delegates, himself included, were stripped of their delegate spots – at Haire's sole discretion.
Haire also removed Trump delegates Brandon Cooper, the state Party's first vice-chairman; Diana Waterman, the former state party chairwoman, who now leads the Maryland Federation of Republican Woman group; and Queen Anne's County Republican Central Committee Chairman Mike Arntz.
"So, to put a bow on this farce, Campbell wrote, "I have been replaced as a Trump delegate by having the nerve to speak out on a (sic) issue affecting our convention.
Waterman led the Maryland Republican Party's delegation at the 2016 Republican National Convention in Cleveland, Ohio, delivering all 38 Maryland delegates to Mr. Trump.
Haire succeeded Waterman as Party chairman in January 2017.
"Apparently, this pattern of retaliation is not limited to people who have the nerve to speak up against him [Haire]. It also extends to anyone who dared to endorse Diana Waterman openly," Campbell wrote Friday.
"I have never seen the Republican Party run as a dictatorship until now. What hope do we have to offer the people of Maryland if our party is ruled by fear, intimidation, retaliation, and threats?"
In a May 11 email to Campbell, Haire wrote that as long as he is the Party chairman, "those who do what you are doing will most certainly not be rewarded with discretionary party roles."
"Instead of disagreeing professional and factually, you went running to our enemies' to create a fake narrative of (sic) dissention," Haire wrote.
"To follow your logic, the President's campaign and I should do whatever you and a couple of others want, or otherwise you will leak your nonsense to liberal bloggers and The Baltimore Sun."
Some state Republican Party leaders who joined a Tuesday evening video call expressed concern over a "narrative" taking shape that Haire intentionally purged black Republicans from the Party.
Campbell's Friday-evening email acknowledged that he knew he would lose his delegate seat to the national Republican convention. Still, he would be ready to fight for the Party's "freedom from this tyranny."
"I am asking you to open your eyes to see the corruption festering in our party," Campbell concluded. "It is up to you whether the Maryland Republican Party can be the "city on the hill."
This year's Republican National Convention will be held in Charlotte, North Carolina, beginning Monday, August 24.
Republican organizers of the Charlotte convention say they plan to move ahead despite the coronavirus outbreak that has taken nearly 90,000 American lives since March – even as the national Democratic Party weighs its options for a convention that will almost assuredly nominate former Vice President Joseph R. Biden Jr. to take on Trump in November.
Boda's resignation from the MDGOP 
Boda's resignation letter said that state GOP central committee members "were only offered the opportunity to vote for or against President Trump's slate initially."
"We were deprived of the opportunity to cast votes for other individuals who had put their names on the line," Boda lamented.
"This was certainly a slap in the face to all of the people running…"
He wrote that yesterday's state Republican Party convention "disenfranchised" the candidates and the central committee members who participated.
"This is likely the reason 45% of us cast a ballot against the President's slate."
The photograph below is the Maryland Republican Party's updated list of at-large and alternative delegates attending this year's Republican National Convention.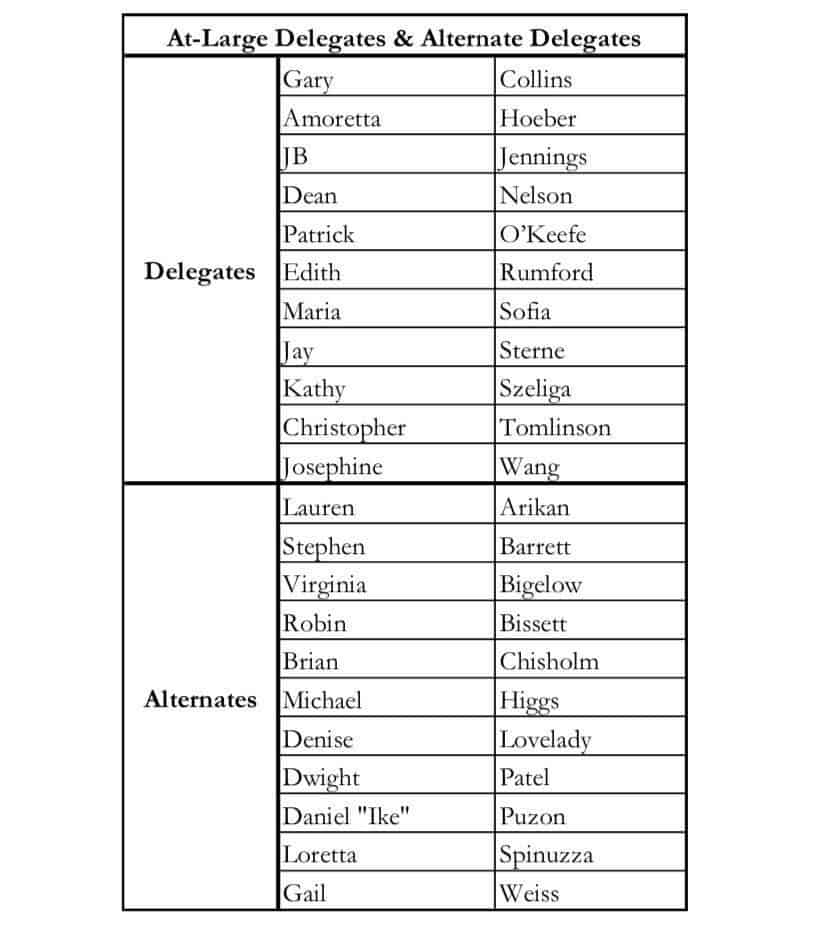 Boda intends to leave the national Republican Party 
Boda did not just resign his post with the Maryland Republican Party – he said he intends to leave the Republican Party altogether.
"The other concern I have is the Republican Party's building itself around the cult of personality," he wrote.
"No longer does the GOP represent the values of small government, fiscal responsibility, and individual freedom."
In a brief interview with A Miner Detail Saturday, Boda said he is likely to return to the Libertarian Party.
His letter stated that he is unable to continue aligning himself "with a political party that has strayed so far off course and wrapped itself around a personality…"
Boda said his resignation "is no way reflective" of his local Republican central committee; it is "solely a personal decision" for him, he wrote.
"There are many wonderful people who are Republicans, and I dearly appreciate their support and friendship over the years."
Boda, 47, is a two-term Salisbury City Councilman and a Maryland Municipal League board member.
He serves as the president of the Eastern Shore Associations of Municipalities, representing 56 municipalities on Maryland's Eastern Shore, and is an affiliate chapter of the Maryland Municipal League.
---
Ryan Miner is the Editor of A Miner Detail and the host of A Miner Detail Podcast. He can be reached at Ryan@AMinerDetail.com.