By Ryan Miner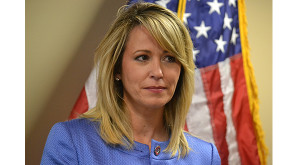 Occasionally I get ahead of myself and begin to speculate on possible future political matchups. I know most of you have grown tired and weary of 2016 politics. I cannot even turn on my television without groveling over the excessive coverage of the presidential contest.
Today we can take a brief sabbatical from speculating on which presidential candidate is up or down in Iowa and New Hampshire. Instead, we'll shift directions to local politics.
Skipping 2016 altogether, look ahead for a moment to Frederick County's political landscape in 2018. County Executive Jan Gardner will be finishing her first full term as the county's first chief executive.
Republicans in Frederick County will have amassed a massive opposition file to run against Garnder. I wonder, however, if a Democrat would challenge Gardner in a primary? Maybe Bud Otis could switch parties and do just that. I mean, to be fair, isn't Otis a consistent rubber stamp for Gardner anyhow?
But which audacious Republican in Frederick County will take on Gardner in 2018?
Would Blaine Young mount a comeback? Would Kathy Afzali act upon her obvious delusions of grandeur, escaping Middletown to wage a countywide campaign against Gardner? Dear Lord. Would Bud Otis actually run as a Republican and take on the county executive? Councilmen Kirby Delauter and Billy Shreve are waging a constant onslaught against Gardner at the council level; would they both consider an executive run? Michael Hough? Nah, he's probably waiting to run for Congress sometime in the future. David Vogt is an ambitious first-term delegate. Sheriff Chuck Jenkins is incredibly popular in Frederick County.
There are numerous other Republicans I haven't mentioned who may already be considering a bid against Gardner.
I surmise that Kelly Schulz, a former Frederick County state delegate and the current secretary of Maryland's Department of Labor, Licensing and Regulation, would be the absolute best Republican candidate to run against Garnder in 2018.
Schulz is universally beloved by Republicans not only in Frederick County but statewide. She is wicked smart and incredibly talented. Schulz has a knack for breaking down complex policy issues and explaining them to a layman like myself. In 2018, Schulz will have four years of executive experience under her belt that will far outweigh Gardner's own.
Kelly Schulz is the future of the Republican Party in Maryland.
Schulz is a policy wonk. She has a unique and uncanny ability to diagnose a potential problem and offer solutions to fix said problem. Schulz isn't a hard partisan; she is known for her ability to make friends across the political aisle, invariably placing Maryland's best interest before any partisan agenda.
Schulz may not even want to be the next Frederick County executive. But if she does want it, she would undoubtedly be the absolute best possible choice.
Schulz would likely have instant party support and the infrastructure to supplement a possible bid. She has a vast network of support in Frederick County, and her supporters are deeply loyal. Raising money would certainly be no issue for Schulz. She's a proven fundraiser, and she is tremendous on the stump.
From what I hear from my sources in Frederick County government, Jan Garnder is already fretting over the possibility of Schulz running aginst her. Unquestionably, Kelly Schulz would beat Jan Garnder in a one-on-one matchup.
If you want it, Kelly, then go get it.
Plenty of us would be behind you.
Ryan Miner is the Editor in Chief, Founder, Senior Political Reporter and Publisher of A Miner Detail. He is the host of A Miner Detail Podcast.