By Ryan Miner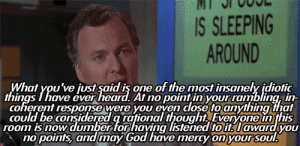 Neil Parrot's jaw-dropping, incogitable interview last week with the Herald-Mail is one that demonstrates just how absurdly out of touch he is with his district, with science, and mostly, with reality.
I don't even know where to begin.
The Herald-Mail interviewed Maryland Del. Neil Parrot last Tuesday to record, on the record – almost out of amusement, or so it seems – Parrott's predictable reaction to learning that Washington County could soon become home to two medicinal marijuana growers.
On April 08, 2014, House Bill 881, was approved by the House 125-11 and by the Senate 44-2. Governor Martin O'Malley signed the bill on April 14, 2014, effective June 01, 2014.
But first, some background:
Maryland first approved a medical marijuana law in 2013. The effort stalled, however, because it required academic medical centers to run the programs, and none stepped forward. Consequently, state law was changed in 2014 to allow doctors certified by the commission to recommend marijuana to patients with debilitating, chronic and severe illnesses.
On April 8, 2014, the Maryland House of Delegates approved House Bill 881 at a staggering 125-11 (Neil Parrott was one of eleven state delegates to vote against the bill. Incidentally, Kathy Szeliga, Maryland's 2016 Republican nominee for the U.S. Senate voted for the bill) and by the Maryland Senate 44-2. Governor Martin O'Malley subsequently signed the twin bills into law on April 14, 2014, effective June 1, 2014.
According to MarijuanaDoctor.com,
House Bill 881 tasked the Maryland Department of Health and Mental Hygiene, and the Natalie M. LaPrade Medical Marijuana Commission, with developing regulations for a patient registry and identification cards, dispensary licensing, settling fees and possession limits. The Commission includes provisions to issue yearly requests for applications from academic medical centers, to operate medical marijuana compassionate use programs.

HB 881 effectively removed all state-level penalties on the use, possession and cultivation of marijuana, by patients who have been issued with a "written or oral recommendation", by their primary care physician, stating that he or she "would benefit from medical marijuana."
Last Monday, on August 15, The Natalie M. LaPrade Maryland Medical Cannabis Commission announced the names of the 15 growers and 15 processors who have received license pre-approvals; the firms come from counties all around the state, including, apparently, Washington County.
According to CBS DC,
The commission chose from a pool of 145 grower applicants and 124 processor applicants. The applicants are located in 16 of the state's 23 counties and the city of Baltimore.
This brings us back to Parrott's incredulous interview with the Herald-Mail. Here is what reporter CJ Lovelace reported after interviewing Parrott on the possibility that Washington County could be the new home to not one, but two medical marijuana growers:
I think really what we're seeing is the camel's nose under the tent," Parrott said. "In Maryland, we're setting up a whole marijuana industry."
Parrott, R-Washington, said he is worried that the system is being set up to allow for recreational marijuana use in the future.

He contends that having two growers and a processor in the county is not good news for the area.

"I think it's a shame that we have Colorado coming here to Maryland," he said, noting that two dispensaries per senatorial district, or 94 total, is an "astronomical" amount for Maryland's 24 jurisdictions.
"What message does this send to our kids, what message does this send to the community?" Parrott asked. "… I think it sends a very unfortunate message."
Parrott's comments are nothing short of sheer and abject stupidity combined with flagrantly atrocious ignorance. Parrott, not a scientist but an occasionally working traffic engineer who spends the majority of his free time creating ballot initiatives that fail miserably when put to a vote, doesn't understand or seek to educate himself on the countless proven benefits that medicinal marijuana offers those who need such a treatment.
Multiple anecdotal and scientific studies have proven numerous benefits of medical marijuana. One popular magazine that supports the usage of medical marijuana highlights 25 health benefits of using cannibis.
Read on…
1. Medical marijuana has been found to reduce chronic pain in patients significantly debilitating diseases.
2. Patients with epilepsy have found relief from chronic seizures. In fact, in 2014, the FDA approved Epidiolex, a 99 percent CBD extract to help children with epilepsy.
3. Medical Marijuana has been found to ease nausea and reduce vomiting. This is especially beneficial to patients undergoing chemotherapy.
4. Medical marijuana increases appetite in patients undergoing chemotherapy and those who are malnourished.
5. CBD is a powerful sleep aid and helps those suffering from insomnia sleep at night.
6. CBD reduces anxiety and feelings of depression.
7. Medical marijuana has been shown to protect the liver from binge alcohol-induced steatosis.
8. CBD stops the growth of cancer cells in lung cancer, prostate cancer, and breast cancer.
9. Medical marijuana helps reduce side effects associated with hangovers.
10. CBD lotion and salves successfully treat hives and allergy induces rashes.
11. CBD offers relief in inflammatory bowel diseases.
12. CBD helps reduce anxiety in those suffering from Post Traumatic Stress Disorder.
13. Medical marijuana may improve the quality of life for patients with Parkinson's Disease.
14. CBD reduces muscle spasms.
15. Medical marijuana can promote healthy digestive function.
16. CBD has been shown to help ease the pain associated with female menstrual cycles.
17. CBD has been shown to help some Sexually Transmitted Diseases such as herpes.
18. Medical marijuana may increase sex drive as well as overall sexual experiences.
19. CBD oil has been shown to calm colicky babies.
20. Medical marijuana helps athletes maintain focus throughout mundane exercise regimes.
21. Cannabis salves relieve the itching associated with mosquito and other bug bites.
22. One of many health benefits of marijuana, it can reduce blood sugar levels in patients with diabetes.
23. CBD provides relief to those suffering from psoriasis.
24. Medical marijuana is successful in reducing pain associated with multiple sclerosis.
25. CBD reduces inflammation and slows the progression of inflammatory diseases.
Del. Parrott inexplicably believes that if Washington County is one of the Maryland counties chosen to grow medical marijuana, Western Maryland will inevitably descend into hell-on-earth – otherwise known as Colorado, one of four states that have legalized recreational marijuana. As a point of fact, Colorado is doing just fine; as my good friend Don Murphy recently was quoted as saying, "You forgot they have the hottest housing market in the country AND they won the Super Bowl. But who wants that?"
Except Parrott failed to support his ludicrous newspaper comments with those little things he constantly battles – facts. I would like to understand why Parrott feels the way he does? Has he personally collected data that proves when medicinal marijuana facilities take form in communities, a rapid increase of recreational use occurs among the population? Marijuana has not yet been legalized for recreational use in Maryland; although, it should be and when the time comes, I pledge to vehemently wage an epic battle against Parrot's inevitably shortsighted emotional manipulation campaign.
Perhaps Parrott isn't aware of the stringent regulations Maryland imposed on medicinal marijuana growers. According to Patrick Jameson, the Maryland Medical Cannabis Commission's executive director,
"Now that the commissioners have made their selections, the real work begins for these companies." We will implement a rigorous Stage Two background and financial due diligence process for these entities prior to issuing a license. A pre-approval is not a license. I truly look forward to facilitating this nascent state-wide industry and working with local, city and county jurisdictions and with the principals of these organizations."
Finally – and this is where Parrott really makes me sick – the factually devoid, ultra-conservative Tea Party state delegate quizzically ponders, "What message does this send to our kids, what message does this send to the community?" I think it sends a very unfortunate message."
Yes, he actually went there.
What message does this send to our kids, Neil? It sends the message that science – yes, actual science – is winning the battle over your hollow, fundamentalist religious views. It sends the message that no matter how hard you try to attach a negative stigma to marijuana and its medicinal effects, millions of people worldwide have experienced the benefits from a plant that grows naturally from God's earth. It sends the message that logic is winning over politicians who pander to the extreme elements of their constituencies. It sends that message that pious, self-righteous religious fundamentalists like Neil Parrott are on the downswing in this country. It sends the message that ignorant politicians like Neil Parrott, politicians who desperately attempt to impose their shallow and outdated views on the rest of society, will soon become a thing of the past. It sends that message that Neil Parrott, whose campaign signs display – rather ironically – the phrase "less government"is willing to infringe on our personal liberties using the power of government that he so often condemns.
Think about this for a moment. This is the same Neil Parrott, who in 2005, wrote a letter to  the editor, published in The Herald-Mail's opinion section, pushing for a public policy that would essentially mandate anyone with HIV to be tattooed, by force of government, so as to be universally recognizable among the general public.
Here's an excerpt from Parrott's 2005 Herald-Mail letter to the editor,
It is time to take the threat of HIV seriously. A compassionate and serious solution must preserve the dignity of those infected while truly helping to prevent the spread of the disease in an effective way. One such solution is a tattoo for those who are infected. This mark could be inconspicuously placed, perhaps in a spot covered by a bathing suit, warning only those who might engage in intimate encounters with the infected person.

An effective way to enforce the consistency of the tattoo would be to provide medicine to the infected individual only after they have received the HIV tattoo. The tattoo in no way is a solution on its own. The real solution is for sex to be esteemed more highly, so that it is only practiced within marriage. Abstinence-only education sends a clear signal to students about what is expected, without mixing messages.

The HIV tattoo would, however, help to prevent the spread of infection by people who know that they are infected, but who choose not to curb their behavior, putting their partners at risk. It would be a 100 percent unmistakable sign allowing all parties involved to make an informed decision. These practical solutions treat this epidemic with the seriousness it deserves, while being compassionate to those infected, and to those who are at risk of unknowingly becoming infected one day.
Do you remember the other group of people who were forced with tattoos? Jews. Remember that the Jews were sent to Holocaust concentration camps during World War II. Tattooing was introduced at Auschwitz in the autumn of 1941. As thousands of Soviet prisoners of war (POWs) arrived at the camp, and thousands rapidly died there, the SS authorities began to tattoo the prisoners for identification purposes. At Auschwitz II (Birkenau), the SS staff introduced the practice of tattooing in March 1942 to keep up with the identification of large numbers of prisoners who arrived, sickened, and died quickly. By this time, the majority of registered prisoners in the Auschwitz complex were Jews.
How do we explain to our children that a sitting Maryland state delegate – Neil Parrott – in 2005 advocated – in a public newspaper – the use of a Nazi-era tactic to identify Americans with HIV? I have no idea how I would explain that to my 9 and 12-year-old? I guess I would begin by explaining that some people are extreme statists, and they wish to use government to take away our civil liberties. To date, Neil Parrott still has not retracted his Nazi-era proposal. If this doesn't scare the hell out of you, then I don't know what will.
What's more wild about Parrott's goofy claims is Washington County's all- Republican five-member commissioner board support harvesting medical marijuana in Washington County as an economic stimulator. County Commissioner LeRoy Myers, a former three-term Republican state delegate who voted in favor of HB 881 in 2014, is quoted by Lovelace, exclaiming, "it was a great day for Washington County," with respect to the possibility that two medicinal marijuana growers could be selected to grow cannabis in Washington County.
Next year in 2017, Neil Parrott will announce that he will seek the District 2 state senate seat currently held by Republican Andrew Serafini. When that time comes, I hereby pledge to lead the opposition to Neil Parrott. It is my view that Parrott, who shares a membership in the same political party to which I am registered, is one of the most anti-liberty state delegates in Maryland. Parrott's aggressive statism and infringing social conservatism are rabid, and out of control.
I speak and write as a libertarian Republican – someone who, above all else, values individual liberty. It is liberty that is inherent and fundamental to our nation's DNA – an inalienable set of freedoms that allow us to make decisions absent of government force and intervention.
Once again I ask, how do we explain Neil Parrott to our children? That's surely an unenviable task that no parent should have to endure.
Ryan Miner is the Editor in Chief, Founder, Senior Political Reporter and Publisher of A Miner Detail. He is the host of A Miner Detail Podcast.