By Ryan Miner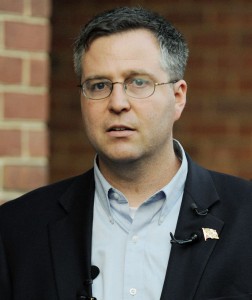 In an email blast stranger than the PuppyMonkeyBaby Super Bowl commercial, Anti-liberty Neil Parrott (District 2A) writes Woody Spong, the former acting Washington County commissioner who resigned in disgrace on Jan. 29 soon after Gov. Larry Hogan urged the Senate Executive Nominations Committee to reject Spong's appointment, "will be missed."
Check out Parrott's email blast here.
Here are Parrott's words written verbatim:
5. Thank you Commissioner Spong

Last Friday I was officially informed of Commissioner Vincent "Woody" Spong's resignation.  I would like to thank him for his sincere and intentional service to the people of our county.  He was well-researched on the issues of government and public policy, was very responsive to the public, and was a voice for fiscal restraint and common sense.  Woody Spong will be missed, and I would like to wish him well on the next chapter of his career.
Yes, Delegate Parrott, Woody Spong's sexist remarks to Donna Brightman and his racist Facebook postings sure will be missed in Washington County? WARNING: Facetiousness alert!
How does Parrott possibly defend Spong? Did you ever see Parrott publicly refuting Spong's behavior? No, because Spong and Parrott built a strong relationship. Parrott was counting on Spong to do his dirty work, especially with the Washington County Board of Education. Did you ever see Neil Parrott show any signs of support for an Academic Hub project? No, you did, however, witness Parrott's key supporters rush to Facebook groups to blame, without a single shred of fact, Dr. Wilcox and his staff for wasting taxpayer dollars.
Is Parrott politically tone deaf?
Actually, Parrott isn't. He's playing to his audience. He's pandering to the radical Donald Trump, lowest common denominator extremist cabal rooted in Washington County politics, hoping they remember him come the time when he challenges Andy Serafini for the District 2 Senate seat in 2018. This same faction was incredulous when they found out that Mr. Spong would no longer lead their fact-adverse crusade against the Washington County Board of Education.
Parrott says Woody Spong was a voice for common sense. I guess common sense extends to sharing a racist social media meme. I guess Parrot's version of common sense means that it's okay to make sexist comments in front of the Board of Education president – after all, if it's a Democrat, no big deal, according to Parrott. I guess common sense is when the governor, who also happens to be a member of your own political party, outright rejects a nominee and says, "go back and do it over again, and this time, do it right," in so many words.
Maybe Parrott's common sense equates to suggesting a mandatory tattoo for those infected with HIV.
Common sense must be in the eye of the beholder. But then again, when Neil Parrott speaks about his major accomplishments in Annapolis, a deafening silence invariably overtakes the room.
Really, Neil Parrott?
Ryan Miner is the Editor in Chief, Founder, Senior Political Reporter and Publisher of A Miner Detail. He is the host of A Miner Detail Podcast.