By Ryan Miner 
Frederick County Councilman Kirby Delauter on Facebook wrote that his Council colleague Bud Otis "threatened him and his family" if Delauter refused to vote how Otis wanted him to.
Delauter made the accusation against Otis under The Frederick News-Post story I posted in the Western Maryland Politics Facebook group about the Council president attending and speaking at the Our Revolution – Western Maryland "First Annual Picnic for Progress" last Sunday at Rosedale Park in Frederick.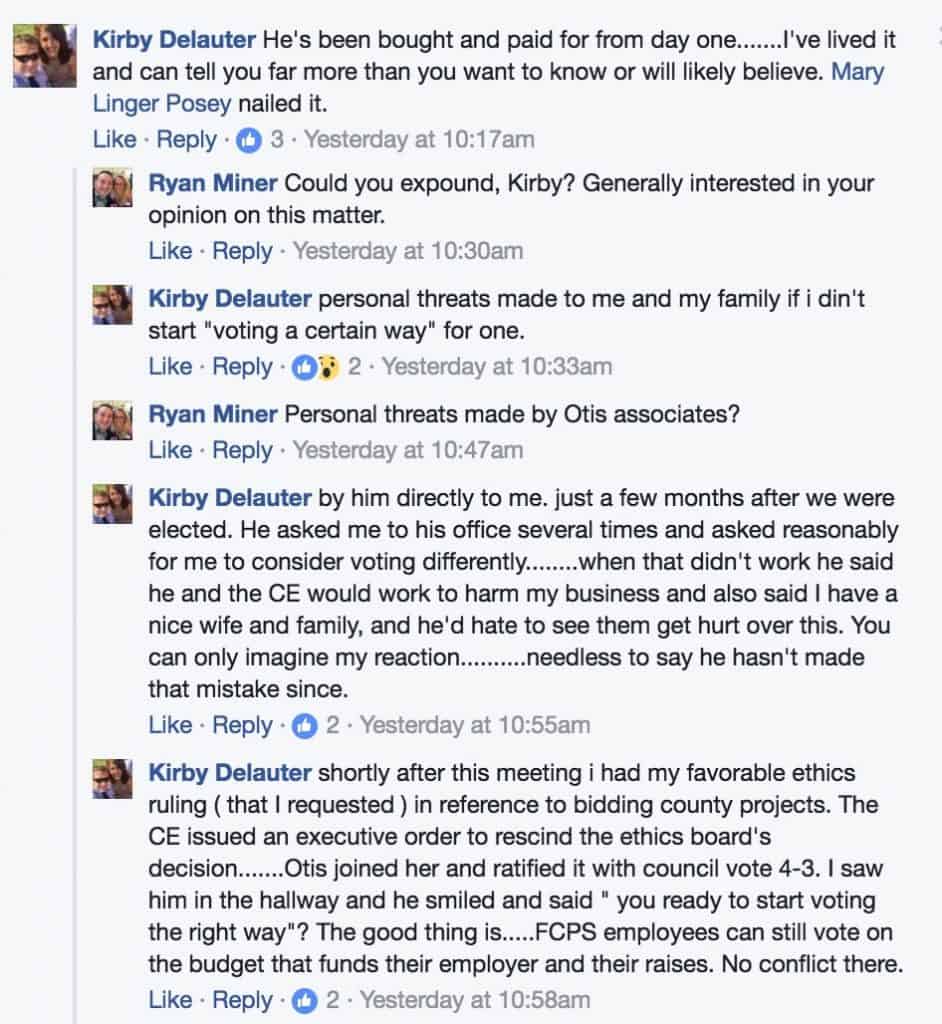 When reached for comment today, Otis emphatically denied Delauter's accusation, saying, "Never happened. Never."
Otis said Delauter was referring to an incident in which Delauter asked the County's ethics committee for a ruling on doing business with Frederick County. According to Otis, Frederick County Executive Jan Gardner issued a stay on the order.
Otis that Delauter may have interpreted the County Executive's and Otis' actions as a threat.
Otis declared that "he did not feel that a member sitting on the Council should be bidding on contracts for County work." He said, "we [the Council] did take care of that, and you can't do that."
Otis went on to say that Delauter's "business depends on County business" and that it is "unfortunate" because he believes that no Councilman should be bidding on County contracts, which "a large part of the contracts have to do with roads and buildings that he does.
"He should not be sitting there knowing what the budgets are on each of those items. It's not fair to his competitors," Otis said.
I pressed Otis on the accusation that he threatened Delauter, asking him to expound on why he Delauter may have taken Otis' actions as a threat.
Otis said he does not believe that Council members should be involved in "personal attacks" and "if you have something to say to me, come out and say it."
Otis pressed on: "If a member of the Council or a constituent has something they don't like about me," Otis said he makes himself available to talk. Otis said that "he'll talk to anybody" and that Delauter is presenting only "partial facts."
Otis said that he has "nothing personal against any of the Council members" and is interested in governing and "getting things done."
Delauter, a Republican, represents Frederick County in District 5. He recently announced that he is running for County Executive.