Herald-Mail Media was first to report that Washington County Commissioner Jeff Cline filed an ethics complaint against three county officials, including Commissioners LeRoy Myers and Wayne Keefer as well as the recently-appointed county administrator, Rob Slocum.
Cline's ethics complaint apparently stems from the meeting that Myers, Keefer, Slocum, and Washington County's Environmental Director, Julie Pipple, had with officials from Lanco-Pennland, a marketing dairy milk cooperative that operates a plant on Wafordsburg Road, just north of Hancock.
Commissioner Myers – the president of Myers Building Systems, Inc., a general contracting company located in Clear Spring, Md. – previously held a contract with Lanco-Pennland, but Myers told Herald-Mail Media that his work with the Hancock plant ended last year.
However, one anonymous source who emailed A Miner Detail on Friday evening said that "if a commissioner has a potential conflict with a company or business, he or she should recuse himself or herself."
The source who emailed me claimed there were a series of meetings that have taken place between Lanco-Pennland officials and Myers.
"Four commissioners apparently met at the administration building with Lanco officials and nobody ever told the press that the meetings were taking place."
The anonymous source also wrote that both Keefer and Baker received a personal loan from Myers, alleging that said loans were never disclosed on the two commissioners' latest County ethics disclosure forms.
I've requested comments on the alleged personal loan from both Keefer and Baker multiple times. My requests for comment have gone unanswered.
Commissioner Myers today forwarded me the following statement regarding speculation that he made a personal loan to Keefer and Baker:
I, my company, or any personal financial involvement I'm involved in would never make a personal or business loan to Baker or Keefer. I also would not give them money. Not sure where these lies come from, but totally untrue."
In an apparent leak to A Miner Detail, I received several documents of information claiming that Hancock Town Manager David Smith may have written a six-point summary that enumerates his personal account of apparent ethical violations allegedly committed by Commissioner Myers and others.
See the leaked document below: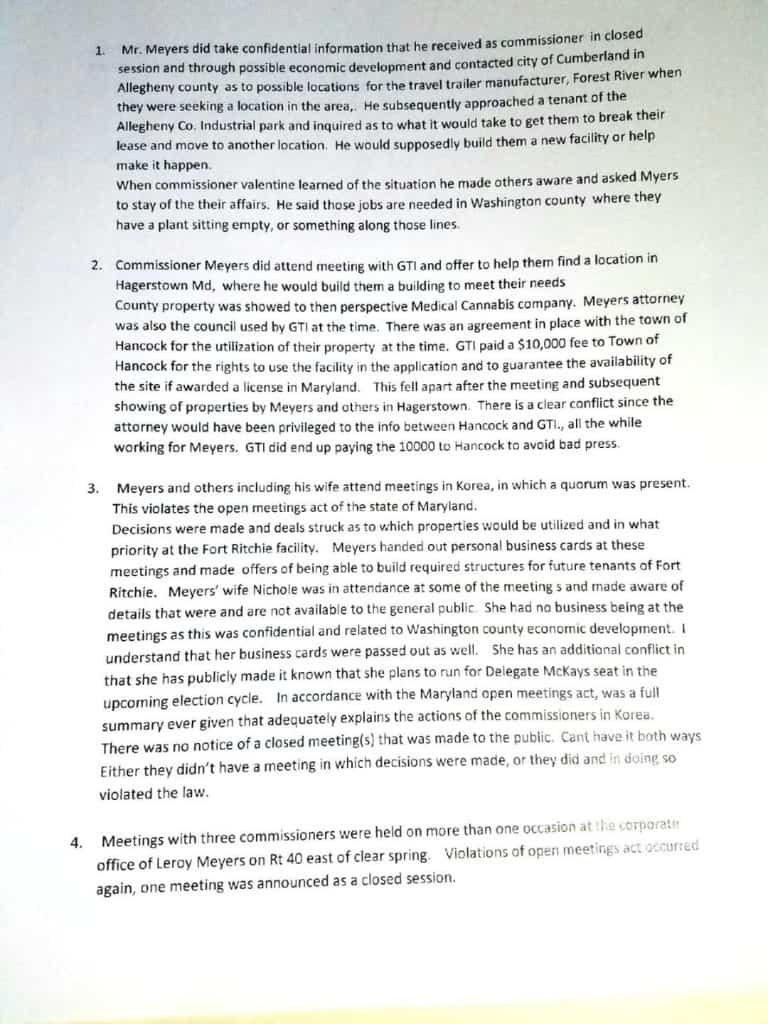 When reached for comment today, I asked Mr. Smith if he authored the leaked document that was forwarded to me.
"What's in that letter, the majority of it, I believe, is things I have first-hand knowledge of. Obviously, I don't have total first-hand knowledge of the stuff in Korea,"  Smith told me.
Smith went on to say that "the piece dealing with Cumberland – I mentioned Bill Valentine. I got that first-hand from him and followed up on the information."
I pressed Smith a second time to confirm whether or not the leaked document was written by him.
Smith said "as far as me swearing to as how it happened, it would be hearsay, but the part about Cumberland, that deal, that was a manufacturing company and that information was carried to Allegany County. It sounds like it may be. I'm not looking at it right now."
I asked Smith whether he can confirm any unethical or inappropriate behavior occurring at the county level.
"Yeah, there are certainly things that have happened in the past or may be happening now that at the very least – yeah, some of those things shouldn't be happening."
I then asked Smith if he has spoken with Commissioner Myers regarding his concerns.
Smith said, "I think I addressed the GTI issue at one point. That's the only one I've ever said anything to him about."
Finally, I asked Smith if has shared his concerns about possible ethical violations occurring in the County with the Hancock Town Council.
Smith responded, "I'm trying to think; it's been a while. That piece in Cumberland, I'd say yes."
In a brief phone interview today with Commissioner Myers, he told me that he is largely disconnected from his company's bidding process, leaving that responsibility to his vice president, Bryan Barnes.
Myers said that he has done work at Lanco previously and it was a competitive bid, emphasizing that he is no longer involved with the bidding process – with any job.
"Lanco came to us way back when and we were the most successful bidder. Then they came and started talking to the Town of Hancock about water and sewer," Myers said
Myers said his most recent meeting with Lanco was under the guise of his position as a commissioner, and he asked Wayne Keefer to join the same meeting because of Keefer's connection – it's his hometown – to the community. "The meeting lasted about an hour; they had some idea, they had some direction. They thanked us for our time and we left," Myers said.
"So I don't know where he's [Jeff Cline] coming from with that meeting being the ethics on that – because it doesn't make sense," Myers went on. "I really don't know where he's coming with that – only to get my name in the paper again and maybe a little bit of an attack on Rob."
I asked Myers if Cline spoke with him before filing the ethics complaint. Myers said Cline did not speak with him and that he learned of Cline's ethics complaint in an email from Deputy County Attorney Kirk Downey.
The ethics charge contends that Myers should not have been involved with any meeting with Lanco because Myers' company had previously done work for Lanco.
Washington County's five-member independent ethics panel will soon meet to consider Cline's complaint and issue a written opinion.