By Ryan Miner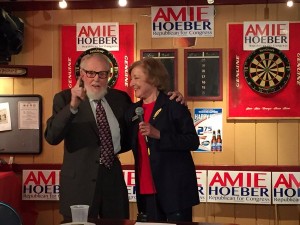 Last Wednesday, former Congressman Roscoe Bartlett spoke on Amie Hoeber's behalf at the Buckeystown Pub. In his brief remarks, Barlett stated, "Amie is a very credible candidate."
Soon after Bartlett finished speaking, (he actually needed to get home to feed his goat!) Hoeber spoke for nearly eleven minutes about her congressional bid.
I captured video of Hoeber's speech and it can be seen below:
https://www.youtube.com/watch?v=w703NAQlktA
About Ryan
Ryan Miner is Editor in Chief, Founder and Publisher of AMinerDetail.com. Miner is the sole reporter and columnist at AMinerDetail.com, covering Maryland news, politics, business, education, national, state and local government. Miner is the host of A Miner Detail Podcast.
Sign up for the Daily Briefing