Despite a soggy drizzle and the cool, brisk temperatures true to Western Maryland mountain towns in mid-October, David and June Trone and a hybrid ensemble of over 20 paid campaign staffers and volunteers ventured out Saturday morning and into the afternoon for the 51st annual Autumn Glory Festival parade.
The annual Autumn Glory Festival is a Garrett County bucket-list item – a five-day celebration of autumn that highlights the fall foliage, running each year from Wednesday until Sunday.
The festival, according to its website, includes two parades, concerts, band competitions, art exhibits, antique and craft shows and an opportunity to enjoy the outdoors in Maryland's westernmost county.
Garrett County falls within Maryland's 6th Congressional District. Trone, the 6th Congressional District's Democratic nominee, has spent millions of his own money so far over two separate congressional bids – one in the 8th Congressional District in 2016 and now, another in the 6th – in an effort to secure a seat in the U.S. House of Representatives.
The annual parade, which is routed through the picturesque town of Oakland, is often attended by incumbent politicians and political candidates who gladhand and backslap amid the thousands of attendees lining the parade's winding route.
Team Trone lined North 3rd Street mid-Saturday morning, alongside the hundreds of other parade participants. Trone's campaign caravan was replete with copious signage, one black pickup truck and a red car hauling a trailer-like rig with an uncanny resemblance to a to a small fire engine.
Attached to the red rig was a patriotic-laden banner that read: "America's Congressman: DAVID TRONE."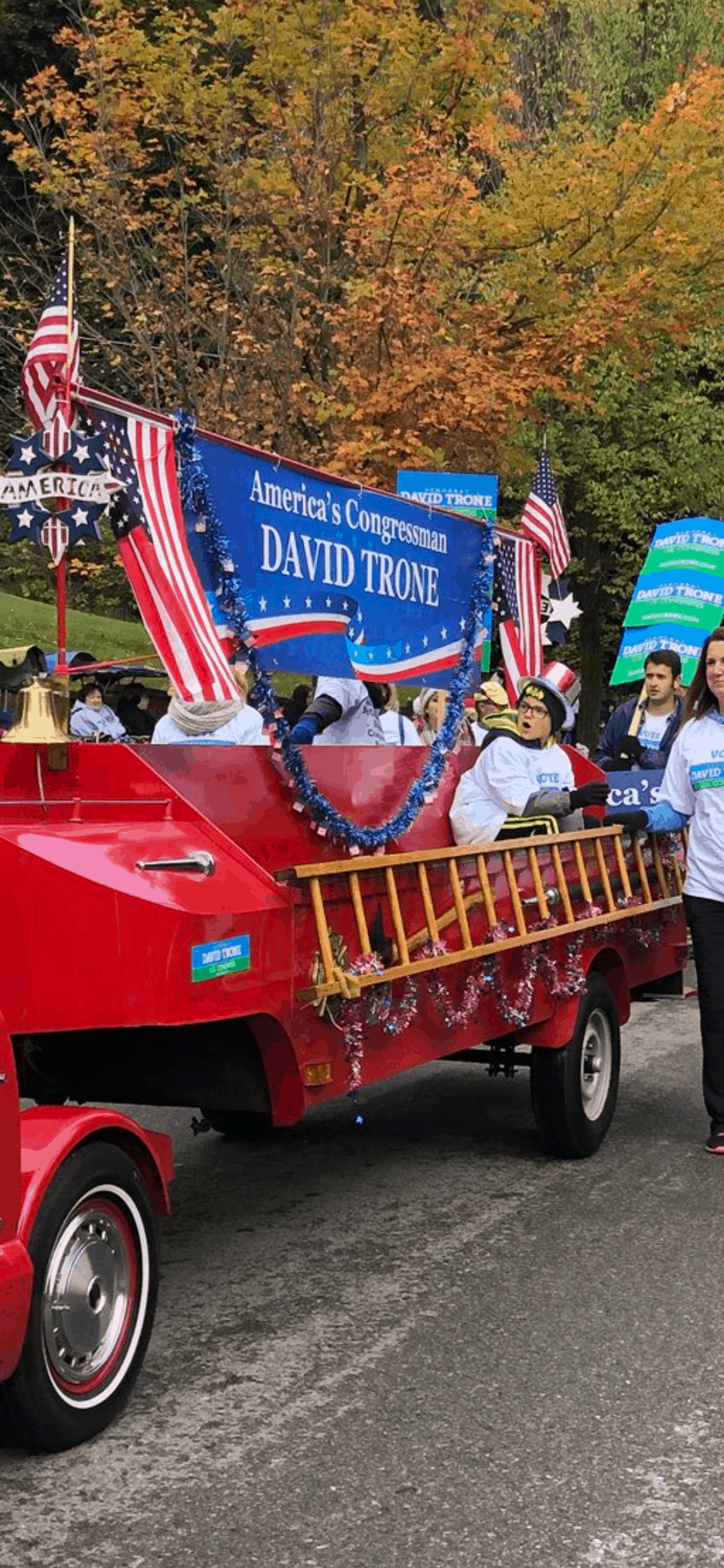 David Trone is a candidate for Congress and is un-elected to any public office.
One Garrett County Democratic Central Committee member who attended Saturday's parade referred to Trone's banner as "interesting," later telling A Miner Detail on Sunday, "I'm not really sure what it means. I didn't take it too seriously."
A prominent Democrat with strong ties to Maryland's Democratic congressional delegation caught a glimpse of Trone's twitter feed yesterday, which featured a picture of the banner in question.
The Democrat told A Miner Detail: "The display of arrogance is stunning" and they called out Trone staffer Justin Schall for likely suggesting the idea in the first place.
We had a great time marching in the Autumn Glory Parade in Garrett County with Mike Dreisbach! #teamtrone #autumnglory pic.twitter.com/ebiPaIwkPU

— David Trone (@davidjtrone) October 13, 2018
"That's all Justin Schall knows how to do – spend money in insanely inappropriate and over-the-top ways." Schall managed Rep. Anthony Brown's failed 2014 Maryland Democratic gubernatorial bid and was later hired by Harrison Hickman, Trone's pollster, to work on Trone's CD-6 race.
Trone's Republican opponent, Amie Hoeber, who also attended the parade, took notice almost immediately of Trone's banner and fired off a tweet, blasting Trone for "already calling himself a congressman."
David Trone is already calling himself a Congressman. Maybe he forgot the election is on Nov 6th! Just like he forgot the state he's running in! (About 1:39 in): https://t.co/ho86CtknwG https://t.co/G35c2ZfePg

— Amie for Maryland (@amieformaryland) October 13, 2018
Hoeber attended the parade alongside her husband, Mark Epstein, her campaign consultant, Paul Ellington, and a handful of volunteers. Like Trone, Hoeber walked the parade route, shaking hands with parade attendees while passing out her campaign literature.
In 2016, Hoeber, who beat out seven other Republicans for the 6th Congressional District Republican nominee, won Garrett County over Rep. John Delaney (D-Md.) by more than 7200 votes. Hoeber was defeated by Delaney in the November 2016 general election. Delaney is leaving Congress to run for president.
Hoeber and Trone both live in Potomac, just outside the boundaries of the 6th District
Trone campaign manager Jerid Kurtz, an Ohio native who worked alongside Justin Schall on Anthony Brown's failed 2014 gubernatorial bid, has not responded to A Miner Detail's text message yesterday evening when questioned about the banner
Kurtz did, however, respond to a subsequent text message from A Miner Detail concerning a one-time campaign donation David Trone made to Pennsylvania Republican state Sen. Scott Wagner, a candidate who is running for governor in Pennsylvania this year against incumbent Gov. Tom Wolf (D).
A campaign staffer to one of Trone's former Democratic opponents saw Trone and his entourage at Saturday's parade blasted the Democratic nominee today in a text message to A Miner Detail and knocked him over his condescending appearance.
"I take great offense to it. I think he presumed that his money will buy him the office. It's extremely disrespectful to call himself a congressman. He isn't doing himself any favors in western counties saying he will pick up where Delaney left off – because Delaney did nothing for us."
Last Thursday, the League of Women Voters held a Congressional District 6 candidate forum at Hagerstown Community College's Kepler Theater.
In an email obtained by A Miner Detail, Sarah Matthews, the co-president of the Frederick County League of Women Voters, wrote that Mr. Trone did not respond to the group's invitation to participate in the forum.
Dear Mr. Gluck, Mr. Caldwell, and Ms. Hoeber,

The Leagues of Women Voters of Frederick and Washington Counties and the Delta Alpha Sigma Theta Sorority are pleased you will be attending the Congressional 6th Forum sponsored by us on Oct. 11th at the Kepler Theater at Hagerstown Community College.  The Forum will start at 7:00 P.M. and end at 8:30. Addressing the elephant on the page, Mr. Trone was invited to attend this Forum at the same time as all candidates and has received multiple communications from us in many varied applications to attend, and even now we are still trying to get a response from him to attend. 
The November general election is set for Nov. 6.