A Miner Detail reported Saturday that a section of Nadia Hashimi's Wikipedia page was edited in a way to attack Hashimi's congressional campaign.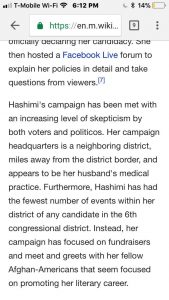 Hashimi, a pediatrician, is a first-time candidate running for the Democratic nomination in Maryland's 6th Congressional District.
Two of Hashimi's Democratic opponents – David Trone and state Sen. Roger Manno – took notice of the apparent campaign attack and issued separate statements condemning the "dirty tricks" and saying the actions "will not be tolerated."
Manno released the following statement on Saturday:
I was dismayed to hear of the recent nasty politics against Dr. Nadia Hashimi, a fellow candidate in Maryland's 6th congressional district race. I've been on the receiving end of similar ugly tricks, and can attest to their ineffectiveness in inspiring the kind of issued-based debate that we need in American politics. Dr. Hashimi is undeserving of these shameful attacks, and I'm hopeful that we keep this race about issues.
Trone followed suit and issued his own condemnation today:
The recent personal attack on Dr. Nadia Hashimi has no place in our politics, in Maryland's 6thDistrict or anywhere else. While the incendiary language was removed from her Wikipedia page, the people responsible for posting it should understand that their disgusting, disruptive and disrespectful actions will not be tolerated.
As previously reported, A Miner Detail contacted Hashimi campaign manager Arzo Wardak for comment.
Wardak did not provide A Miner Detail with a written statement but did say that Hashimi is running a campaign based on issues that are most important to Marylanders and residents of the 6th Congressional District.
The negative blub targeting Hashimi's campaign was removed from her Wikipedia page by Saturday morning.
Hashimi, who lives in Potomac, is locked in a crowded primary with state Del. Aruna Miller (D-Darnestown), state Sen. Roger Manno (D-Silver Spring), businessman David Trone, retired Army officer Andrew Duck and Christopher Hearsey.