Negative campaigning is virtually absent in this year's Sixth Congressional District Democratic contest, notwithstanding an occasional swipe at David Trone's wealth or the carried assumption that the wealthy business owner is essentially trying to buy a congressional seat.
Outside of candidates complaining about Trone and state Sen. Roger Manno (D-Silver Spring) living outside the 6th Congressional District's heavily gerrymandered boundaries, the Democratic candidates have shown measured reluctance in waging a dirty primary battle.
A Miner Detail discovered yesterday, however, that a section of Dr. Nadia Hashimi's Wikipedia page was adversely altered.
Hashimi, a pediatrician who lives in Potomac, is a Democratic candidate for the 6th Congressional District.
A Miner Detail captured an image of Hashimi's edited Wikipedia page.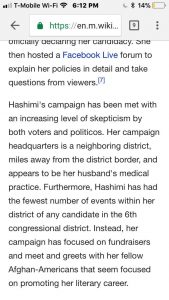 The Muslim Democratic Club of Montgomery County also took notice of Hashimi's page and subsequently released a statement condemning the swipe at Hashimi, calling the edits "Islamophobia" and "an attempt to discredit a remarkable author, mother, and doctor running for Congress."
Over the past year, there have been numerous attempts to defame Muslims choosing to run for office in Montgomery County. Some of these efforts have been overtly bigoted and racist, while other attempts have focused on eroding the confidence of voters in these candidates through painting them as illegitimate, incompetent or untruthful.

Make no mistake: this is Islamophobia, and in the age of Trump, our patience with the Democratic Establishment's silence with regards to Islamophobia is now at an end. This latest attempt to discredit a remarkable author, mother, and doctor running for Congress are smears that injur the very essence of our democracy. We condemn this Islamophobic behavior, and upon discovering the culprit(s), we will hold them politically accountable.
A Miner Detail contacted Hashimi campaign manager Arzo Wardak for comment yesterday evening.
Wardak did not provide A Miner Detail with a written statement but did say that Hashimi is running a campaign based on issues that are most important to Marylanders and residents of the 6th Congressional District.
As of Saturday morning, the negative blub targeting Hashimi's campaign was removed from her Wikipedia page.
Hashimi is locked in a crowded primary with state Del. Aruna Miller (D-Darnestown), state Sen. Roger Manno (D-Silver Spring), businessman David Trone, retired Army officer Andrew Duck and Christopher Hearsey.
Maryland voters will choose their Republican and Democratic candidates on June 26.