Rushern Baker is officially on television this gubernatorial cycle with an edgy campaign ad.
Mr. Baker's 30-second television commercial, "2000," addresses Baltimore City's murder epidemic.
"In the last eight years, over 2000 mostly young Black men have been killed in Baltimore," the ad begins. 
Baker narrates his ad.
"Because they're Black, nobody in power gives a damn."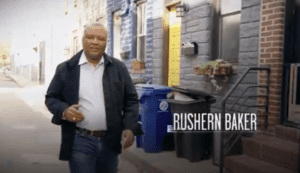 Enter Rushern Baker.
He walks with a purpose.
"I'm Rushern Baker," Rushern Baker proclaims.
"Sure glad he cleared that up because that crowd was about to buy some Amway products!"
(See: The American President.)
If elected Maryland governor, Baker says he'll "declare a crisis" and move his office to Baltimore."
Baker said he'd "fight like hell" to fix Baltimore's murder epidemic.
How Will Rushern Baker Address Baltimore's Crime Problems?
Mr. Baker pledges he'll do the following if elected governor:
Tackle the root causes of crime, "like poverty."
Fix vacant buildings.
Hire additional community police.
The ad finishes with Baker initiating a call-to-action.
"We're going to stop the slaughter of young Black men and turn Baltimore around."
End scene.
The ad is expected to air in the Baltimore television market throughout May. 
The People Behind Baker's Ad 
The Baker campaign hired Ralston Lapp Guinn Media to cut his television commercial. 
Ralson Lapp Guinn Media is a D.C.-based media consulting firm that cuts edgy ads for high-profile Democratic candidates.
They're good at what they do because they know how to tell a story on television.
Ralson Lapp Guinn Media
Who are the big whigs at Ralson Lapp Guinn Media?
These are the big-time D.C. political media gurus that POLITICO Playbook wishes happy birthday.
One mention in Playbook – you're D.C. famous.
You can read more about the firm's talent on its website.
Round II for Rushern Baker 
Welcome to Rushern Baker's mulligan for Maryland governor. 
Baker smartly chose former Montgomery County Councilwoman Nancy Navarro as his lieutenant governor running mate. 
A little bit of history first.
In 2018, it felt like Rushern Baker was the Maryland Democratic establishment's preferred candidate.
But then, something truly awful occurred in the middle of the primary election.
May 10 this year marks the fourth anniversary of former Baltimore County Executive Kevin Kamenetz's tragic and sudden death.
Kevin Kamenetz sadly passed away a little over a month before voters would go to the polls.
Former Montgomery County Councilwoman Valerie Ervin, Kamenetz's running mate, stepped in and led the top of the ticket.
Then the political calculus changed.
The Maryland Democratic primary electorate's shift to Ben Jealous was tangible.
The Democratic Party tried saving Mr. Baker's campaign.
But it was too late.
Mr. Jealous won the June Democratic primary. (Mr. Baker placed second.)
Maryland's general election was already over on June 26, 2018.
Larry Hogan overwhelmingly defeated Ben Jealous in November that year.
Hogan's campaign creatively defined Jealous before Jealous could catch his breath.
(Mr. Jealous has endorsed Wes Moore in the 2022 gubernatorial contest.)
The 2022 Maryland Democratic Gubernatorial Primary 
Some polling indicates Mr. Baker is running slightly behind Maryland Comptroller Peter Franchot.
There's a 10-person Democratic field in 2022.
Of the 10, only four of the Democratic candidates have a real shot at winning the primary:
Three months ago, the Baker campaign wasn't even in the conversation.
Something is different now.
There's some buzz.
Have you noticed a tangible shift in the Baker campaign's tone?
Mr. Baker's messaging has been on-point.
Of course, there's a reason why – but you figure it out.
What or who will awaken Rip Van Franchot from his deep slumber?
A rejuvenated Rushern Baker, perhaps?
The Rushern Baker Comprehensive Crime Prevention Strategy 
Mr. Baker has planned a busy first day if he's elected governor.
He'll declare a state of emergency.
Then it's "so long" to the Annapolis Governor's Mansion.
Baker is off to Baltimore to straighten things out over there.
Invest in Community Policing
What does this mean?
"Maryland State Police officers" would be assigned to neighborhoods throughout the city."
The same officers would "work collaboratively with local youth, families and business owners on sensible crime prevention strategies and responses."
Windshields to Driver's Seats
This catchy slogan is Mr. Baker's plan to address the "squeegee boys" in Baltimore City.
How does it work?
Maryland State Police officers would set up patrols in Baltimore retail and commercial centers throughout the city.
The "squeegee boys" are then provided "guaranteed jobs, health care benefits, state facilities, or infrastructure projects across the city."
There's a stipulation to Baker's plan, however.
If the "squeegee boys" have a high-school diploma or a GED, and if they "remain in good standing on the job for at least one year," they'll be offered free tuition, plus room and board at the University of System of Maryland (USM) institution of their choice."
State Republicans won't like this one bit, and they'll turn this particular policy sub-point into a culture war.
You wait and see.
Grants and loans to small businesses
These are grants and loans to invest in "security officers, safety cameras, and loss prevention technology," Baker proposes. 
The largest per-capita commitment to mental health in the nation 
Excellent, Mr. Baker.
Very, very good.
The former Prince George's County executive says a commitment to mental health would come from preventative care and diagnoses to prescribers, inpatient services, and ongoing therapy.
FYI: May is Mental Health Awareness Month.
Increased contributions to non-profit and community-based homeless services
This includes "investments in shelters, clothing, sanitary and hygiene products, and alcohol and drug addiction treatment."  
A generational commitment to safer schools
Baker would commit at least "one School Resource Officer per 200 students" in every Baltimore City school. 
Republicans would even get behind Baker on this policy proposal.
For More Information About Baker's Crime Plan 
For more information about the Baker campaign's plan for public safety in Baltimore and across the state, visit his website.