Represent Maryland – an all-volunteer grassroots organization working to get big money out of politics while rooting out corruption in state politics – said it made a mistake when it certified Republican state delegate candidate Nicole Alt-Myers as one of its "Small Money Certified" candidates.
The nonpartisan organization's work includes an all-volunteer "Small Money Commission," which certifies candidates running for public office who meet its small money criteria. Maryland candidates who wish to be "Small Money Certified" apply on the group's website and must submit at least one campaign finance report to the Maryland State Board of Elections.
To be certified, candidates must pledge not to collude with SuperPACs or ask a SuperPAC to work against their opponent(s). The organization also asks its certified candidates to share its pledge on their "websites, social media pages and email channels."
The organization states that "candidates should strive to raise at least 80% of the total number of contributions received from individuals and at least 60% of the total number received from individuals. Candidate should not receive more than 25% of their individual donations from outside the state of Maryland."
"Small Money Certified" candidates should not accept campaign contributions from the following funding sources:
For-profit corporations/Corporate PACS
Developers/Real Estate Firms
Lobbyist and Lobbying Firms
Out-of-state PACS
The organization lists on its website its full criteria for candidates applying to be "Small Money Certified."
Last week, Alt-Myers announced that she earned Represent Maryland's certification, posting to her public Facebook page that her "campaign is proud to be recognized among Represent Maryland's 'Small Money Certified' election committees."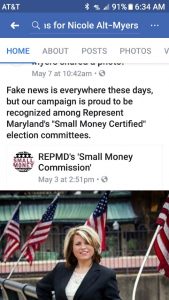 A day or so later, Alt-Myers' Facebook post announcing her "Small Money Certified" status was removed.
Before submitting her online application, Alt-Myers, a Republican candidate for the Maryland House of Delegates in District 1C, would have ostensibly read Represent Maryland's criteria to be certified as a small money candidate. Ensuring that she meet the organization's requirements, Alt-Myers, or a representative from her campaign, would have then reviewed her January 2018 campaign finance report she submitted to the Maryland State Board of Elections.
A Miner Detail contacted Represent Maryland's chair, Cristi Demnowicz, requesting more information about why Alt-Myers suddenly removed the post announcing her certification as a small money candidate. 
Demnowicz wrote A Miner Detail via email that "Certification was initially given to the Candidate erroneously, due to a simple oversight by one of our volunteer researchers, and was later retracted after an emailer pointed out the error." 
Alt-Myers' campaign finance report did not meet the organization's criteria because, namely, her campaign is being funded by local developers.
Alt-Myers received a $250.00 check from David Lyles Developers on December 21, 2017. David Lyles Developers is a construction management company located in Washington County, Maryland. 

Additionally, Alt-Myers' husband, embattled Washington County Commissioner LeRoy E. Myers Jr., is largely bankrolling her campaign. In 2017 LeRoy Myers loaned his wife's campaign $16,534.96. Alt-Myers' campaign is also being backed by other general contractors and builders, as indicated on her campaign finance report.
Alt-Myers, in the past, has not responded to A Miner Detail's requests for comment.
A former Cumberland City Councilwoman, Alt-Myers is locked in a three-way Republican primary with incumbent state Del. Mike McKay (R-Cumberland) and Hancock attorney Jordan Lysczek.
Maryland's primary is set for June 26.