A Miner Detail previously reported a lawsuit filed against Frederick County Sheriff Chuck Jenkins.
The U.S. District Court of Maryland issued a ruling in the case on March 25, 2021.
The civil charges were issued.
The judge dismissed some portions of the lawsuit, which is common.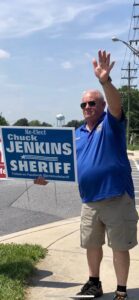 The Chuck Jenkins Lawsuit 
Count one: Gender-based discrimination
This count should proceed to trial against Mr. Jenkins in his elected role.
Other charges were dismissed against the deputies.
However, the District Court allowed the plaintiff to edit the suit to incorporate additional comments from the Frederick County Sheriff's Office.
Counts two, three, and four: Charges dropped
Why?
The qualified immunity legal standard – a legal doctrine that protects the government from liability.
Count 5: Family Medical Leave reprisal dismissed without prejudice
The plaintiff may update the complaint and further pursue charges.
Amanda Ensor
Now-retired Frederick County Sergeant Amanda Ensor's attorney filed a motion for more time to edit the original complaint. The motion was granted on April 23.
The motion shows that the plaintiff intends to edit her complaint in counts one and five.
All charges against Frederick County's government are set for trial.
A copy of the order is available here.
---
Eric Beasley is the Deputy Editor of A Miner Detail.
He can be reached at Eric@AMinerDetail.com.