Joe Vogel is running for the Maryland House of Delegates in District 17.
In September 2021, Mr. Vogel released a choreographed video ad announcing his candidacy.
His ad was featured in both English and Spanish. 
"I'm running for Delegate to bring the voices of Gaithersburg and Rockville to Annapolis and secure a better future for our community, starting today," Vogel said in a statement.
Legislative District 17 encompasses the cities of Gaithersburg and Rockville.
Democrat Cheryl Kagan represents District 17 in the Maryland Senate.
Democrats Kumar P. Barve, Julie Palakovich Carr, and James W. Gilchrist represent the district in the state House.
Why Isn't Jim Gilchrist Running For Re-Election? 
Maryland House Deputy Majority Whip Jim Gilchrist announced on Aug. 30, 2021, that he wasn't running for a fifth House term.
Was Mr. Gilchrist pushed out of the delegation by Cheryl Kagan?
Not technically – but Kagan's intent was clear.
Joe Vogel is running in District 17, and Jim Gilchrist is out.
Mr. Gilchrist told Maryland Matters said it was his decision to not seek re-election.
But was it, really?
"It was the most emotional decision. It took months," Gilchrist said.
And Mr. Gilchrist also spoke to Bethesda Beat about leaving the District 17 delegation.
"She did not endorse me four years ago, and I think it's pretty clear she wasn't going to do it again this time. … That was our political relationship right there.
The Power Cheryl Kagan Holds 
Kagan did endorse Gilchrist in 2018.
And she didn't work against him, either.
But you can bet Cheryl Kagan would have worked against Gilchrist this election.
Maryland has a few political axioms.
Don't fall on the wrong side of Cheryl Kagan – and you'll be fine!
Do you think Jim Gilchrist thought:
"I've had 16 solid years in Annapolis. I don't need this headache. I don't need my state senator cutting me off at the knees. Why the hell would I put myself through this? Thanks, District 17. I'm out."
On the flip side, Gilchrist earned the second-most number of votes in the 2018 District 17 general election, only a few hundred votes shy of Kumar Barve's number-one spot.
In 2018, Kagan was rumored to have been shortlisted for a Democratic gubernatorial ticket.
Kagan's name again routinely creeps into conversations amid political insiders as a potential lieutenant governor running mate in the 2022 gubernatorial cycle.
The District 17 state senator is a master at taking on establishment figures -a skill befitting a rough-and-tumble Democratic gubernatorial primary.
See Sen. Kagan's slaying of Maryland Comptroller Peter Franchot (D) in May 2021 over Franchot's apparent inaction on NextGen 911.
Jim Gilchrist's Public Service
Jim Gilchrist is an independent thinker.
He doesn't always march to the same cadence as the Montgomery County delegation.
For example, Gilchrist refused (thankfully) to sign an egregiously partisan letter, pushed by Montgomery County's state delegation, opposing Gov. Larry Hogan's (R) commonsense traffic mitigation P3 plan.
But a handful of Montgomery County partisans nearly squashed Mr. Hogan's P3 traffic relief plan.
Thanks to the National Capital Region Transportation Planning Board's rational actors, Mr. Hogan's traffic relief plan fights to live on another day.
And despite Montgomery County Executive Marc Elrich's best attempts, traffic mitigation could happen sooner rather than later.
The county is better off without rigid partisans like Elrich in political office.
Losing an experienced pragmatist like Gilchrist in Annapolis is tragic for District 17 and Montgomery County.
Joe Vogel Steps Up To Run 
Mr. Vogel's life story is touching.
His and his family's journey to the U.S. personifies a uniquely American narrative.
Mr. Vogel's website shares more about this family's history of escaping the Holocaust and their journey from Uruguay to the United States.
While Mr. Vogel's life story is compelling, District 17 voters should expect substance over narrative instead of flowery campaign videos heavy on the sentimental but light on experience and policy.
Experience matters now, especially after four inglorious years of Donald Trump in the White House.
Mr. Vogel argues his life experiences qualify him.
Great, but tell the voters more, Mr. Vogel.
Narratives do not equal experience.
The Campaign Trail 
Soon enough, Joe Vogel may stand before the politically engaged residents of Asbury Methodist Village – some of whom are the most challenging questioners in Montgomery County.
And one other tidbit.
Most middle-class voters won't fawn over someone's Ivy League pedigree.
But most voters don't care.
Voters should demand candidates articulate how their professional experience transfers beyond staffing politicians like Cory Booker and Hillary Clinton.
For Cheryl Kagan, it's Joe Vogel or No One 
Kagan shared her thoughts about Vogel with Bethesda Beat:
"Joe Vogel is a very talented, young, dynamic, bilingual progressive leader whose family immigrated here when he was 3, and that kind of life experience and everything he's done since then brings a perspective that we don't have yet in District 17 and frankly, not enough of from around the state."
It's true: Vogel is an impressive young man.
But due respect to Cheryl Kagan:
What is specific "perspective" missing so noticeably and severely in District 17 that Joe Vogel fills the gap?
Democrats in District 17 can make up their minds about whom to support in a contested primary.
Contested primaries are healthy for democracy.
Joe Vogel's Resume 
Mr. Vogel is a self-described "progressive political activist."
He volunteered at 15 for President Barack Obama's 2012 re-election campaign and later "aided" Cheryl Kagan's successful 2014 District 17 state Senate campaign.
Joe Vogel Worked For Hillary Clinton's 2016 Presidential Campaign 
Mr. Vogel's website touts his time as a campaign staffer for former Secretary of State Hillary Clinton's 2016 presidential campaign.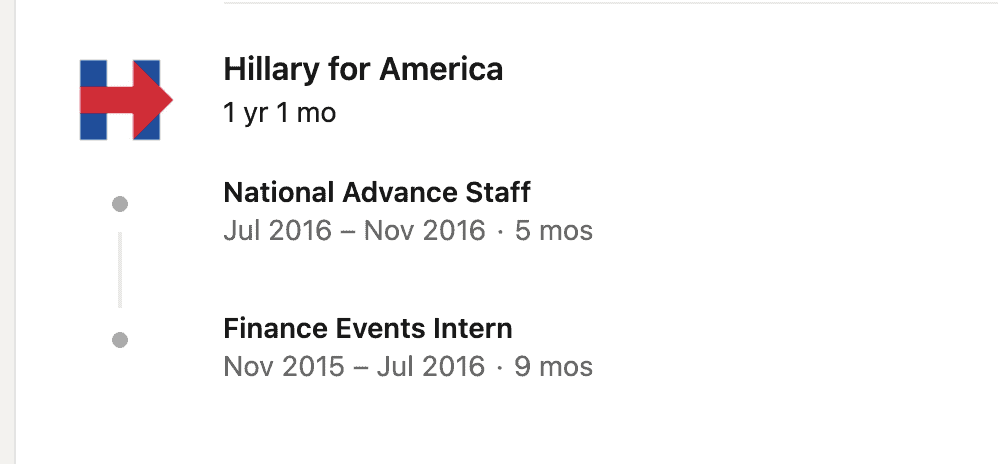 Joe Vogel's Contracting Work (2 months)
Mr. Vogel's Linkedin page lists his monthlong contracting work for March For Our Lives, the 2018 student-led Washington, D.C. demonstration supporting gun control legislation.
His Linkedin page also lists one month working as a contractor for NARAL Pro-Choice America.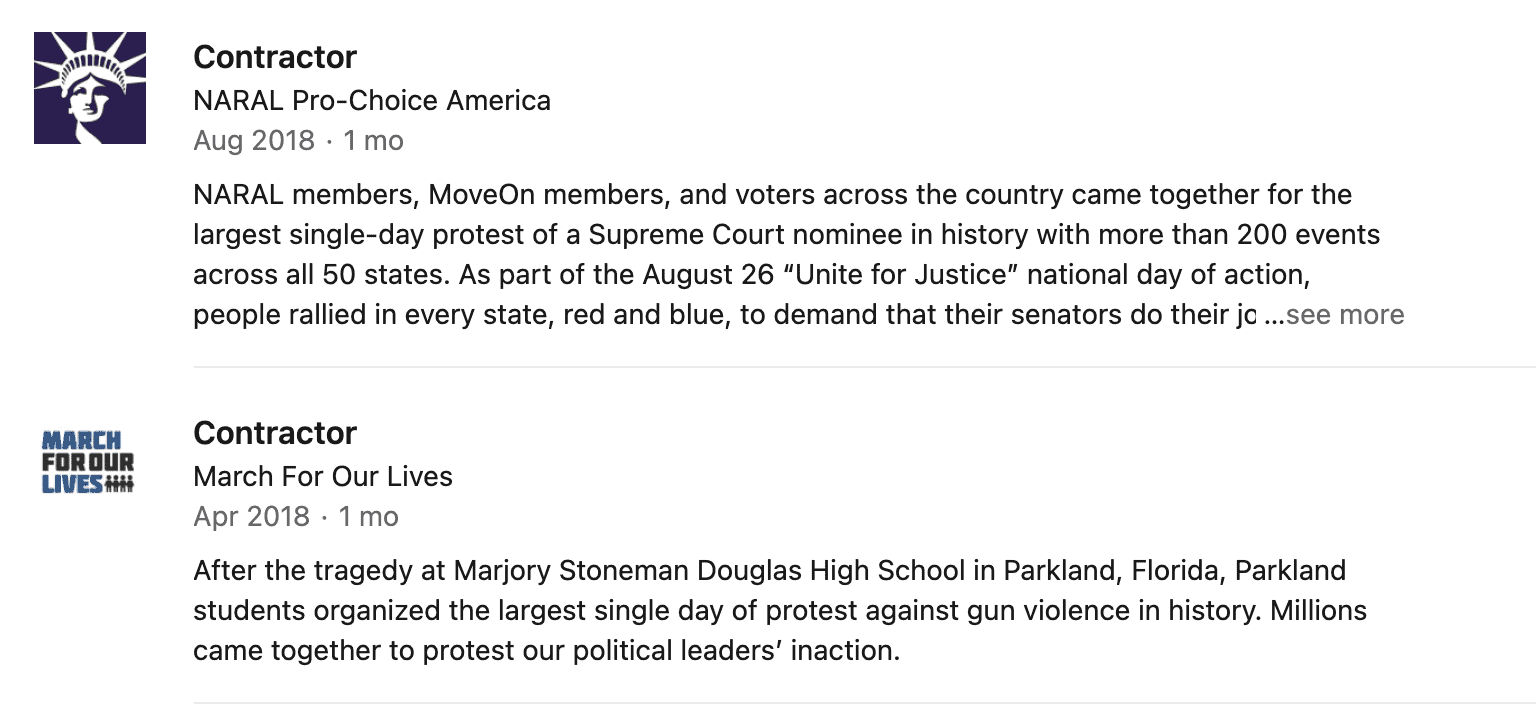 Joe Vogel Worked For Cory Booker & Joe Biden 
Mr. Vogel's Linkedin page shows that he spent nearly two years as a campaign staffer for U.S. Sen. Cory Booker (D-NJ).
His online resume shows him working for Joe Biden's successful 2020 presidential campaign.
Visit Joe Vogel's Linkedin page to view his other work experience.