Joe Vogel launched a sexist and ageist attack on April McClain Delaney.
McClain Delaney is the latest Maryland Democrat to join the crowded 6th Congressional District Democratic primary.
She brings with her more than three decades of transferable experience and public service.
While she emerges as a beacon of competence, experience, and integrity, McClain Delaney is inexplicably pitted against Joe Vogel — a 26-year-old first-term state delegate with more audacity than experience.
While April McClain Delaney's policy platform and professional background rightfully invite public scrutiny, seeing the discourse so quickly stoop to Vogel's sexist, low-brow jabs at her affluence and residential choices is disheartening.
Such tactics undermine the gravity of the electoral process and betray a troubling undercurrent in our political discourse.
This op-ed sheds light on April McClain Delaney's congressional candidacy and scrutinizes Mr. Vogel's unfair and sexist political attacks.
Joe Vogel Attacks April McClain Delaney
When April McClain Delaney officially launched her congressional campaign on Wednesday, Oct. 25,  Joe Vogel emailed his campaign email subscribers, attacking McClain Delaney:
"Friend,
A mega-millionaire just joined our Democratic primary race here in Maryland's 6th District and I wanted to share some thoughts.
The last thing we need is another mega-millionaire looking to buy a seat in Congress. If you're fired up to elect a new generation of leadership, please click here to contribute.
Congress is a disaster right now. Why? Because Republicans are so caught up fighting for the wealthy that they're willing to burn down the place to do it. I really don't think the solution to this is to just send another rich person who will keep fighting for the rich.
The working families I've met all across our District need someone who is going to be accountable to them. Someone who is going to wake up every morning in the District they represent, and fight like hell for them in the halls of Congress.
We don't need someone who lives outside the District, and who is going to be accountable only to their wealthy and powerful mega-mansion neighbors — or another advocate for the well-connected in Washington DC.
In the state legislature, I've proudly taken on tough fights against corporate special interests.
And now I'm running against a corporate mega-millionaire who wants to be one of the wealthiest Members of Congress.
We're going to win this, but only with your help.
As our newest opponent joins the race, can you click here to make a contribution to our campaign?
Let's show that this congressional seat isn't for sale.
Thanks,
Joe"
The Facts: April McClain Delaney & Joe Vogel
April McClain Delaney lives in Maryland's 8th Congressional District.
Maryland's recently redrawn congressional map places Mrs. McClain Delaney, who lives in Potomac, approximately 10 miles outside Maryland's 6th Congressional District.
The U.S. Constitution sets the qualifications for U.S. House members; states cannot impose additional requirements on candidates for federal office.
The Constitution's requirements for a member of the House of Representatives are found in Article I, Section 2.
Congressional candidates must be an "Inhabitant of that State." Still, they are no legal requirement to live within the drawn boundaries of the congressional District they seek to represent in Congress.
April McClain Delaney is married to former U.S. Rep. John K. Delaney (D), who represented Maryland's 6th Congressional District from 2013 to 2019.
Yes, the Delaneys are wealthy; the couple's wealth was earned from their time working exceptionally hard – a perfect depiction of the American Dream.
Joe Vogel, a political consultant, so we're told, has begged wealthy donors like the Delaneys (and like the Trone family) for campaign contributions when working for presidential candidates.
When Joe Vogel talks about spending time in Maryland's state legislature and "fighting against corporate special interests," he means he recently finished his first and only 90-day legislative session this April, having just been elected to the Maryland General Assembly in November 2022.
Joe Vogel claims to reside in a Gaithersburg, Maryland, apartment building – but when asked to verify his home address, his campaign claims "active security risks" and "previous threats" and withholds his public address.
Who Is Joe Vogel?
Have you heard of Joe Vogel?
He's a 26-year-old Maryland state delegate whose combined life experience barely qualifies him to run an IHOP, let alone represent 760,000 + people within a U.S. congressional district.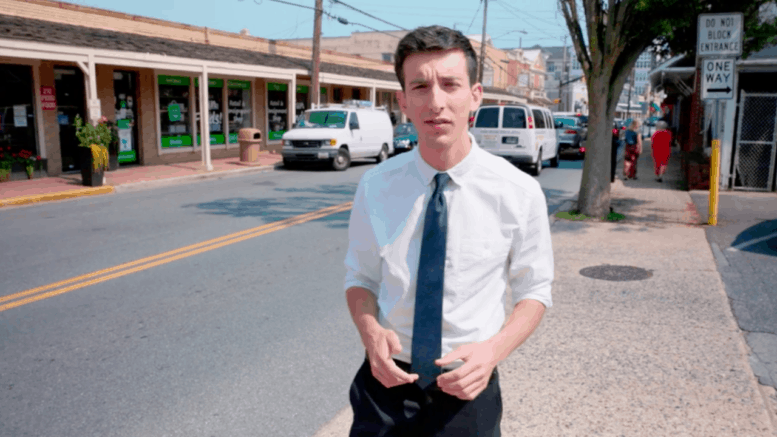 At the time of his congressional announcement, Mr. Vogel was only a few months into his new term as a freshman state delegate in the Maryland General Assembly.
Why does he believe he deserves a promotion after only a few months of work?
Imagine if Mr. Vogel worked in the private sector and asked for a promotion 100 days into a new job.
Joe Vogel Attacks April McClain Delaney 
Vogel's choice to label April McClain Delaney a "mega-millionaire" looking to "buy a seat in Congress" is a tactic that not only diminishes Mrs. McClain Delaney's achievements but also perpetuates the stereotype that women, especially those of affluence, are mere extensions of their husbands.
The fact that April McClain Delaney is married to former U.S. Rep. John Delaney, who ran for president in 2020, should not be a point of contention.
April McClain Delaney's professional credentials stand on their own.
The Broader Implications: Sexism in Modern Politics
In an era where we strive for gender equality and breaking glass ceilings, Vogel's rhetoric is a monumental step backward for women.
It's a reminder that even in 2023, women in politics must defend their qualifications and navigate a minefield of biases.
April McClain Delaney doesn't need a lecture from a 26-year-old self-described Gen Z'er whose only real job to date was tracking down lattes in New Hampshire's smallest towns for whatever failed presidential candidate hired him at the time.
The implications of Vogel's attacks on McClain Delaney are far-reaching, discouraging women from entering the political arena and perpetuating harmful stereotypes.
Of course, A Miner Detail op-ed isn't worth anything without directly referencing the greatest television series ever made, The Sopranos.
New York underboss and later boss Johnny Sack unironically showed millions of Sopranos fans what it means to truly champion women when he memorably sought to defend his wife's honor from Ralph Ciferatto's scurrilous verbal assaults.
In real life, Mr. Sacrimoni would have dead-eyed Mr. Vogel, telling him that his sexist attacks aimed at April McClain Delaney are "hurtful and destructive."
The Ageist Undertones: Youth vs. Experience
Joe Vogel's insinuation that Mrs. McClain Delaney, by virtue of wealth, would be "fighting for the rich" is a gross oversimplification.
Your father is wealthy, Mr. Vogel. After all, he's a lobbyist who helped you make some excellent D.C. political connections.
Mrs. McClain Delaney isn't Betty Draper, Mr. Vogel; she isn't, nor has she ever been, a mere accessory to her husband.
Your ageist undertones, Mr. Vogel, emphasizing your youth as a "new generation of leadership," further betray what we believe is your seemingly good intent to serve the 6th District.
While fresh perspectives are always welcome, they should not come at the expense of discrediting seasoned professionals, especially women – whom you, Mr. Vogel, claim to support – when the criticism is rooted in offensive gendered stereotypes.
A Personal Anecdote
Joe Vogel's critique of April McClain Delaney's candidacy in Maryland's 6th Congressional District Democratic primary evokes a recent painful memory.
Over a decade ago, my wife, Kimberly, paused her professional career to raise our children.
When she decided to return to the rough and tumble world of corporate management consulting, she was met with skepticism, often from younger, less experienced men who questioned her brief sabbatical and even belittled a profoundly personal choice to pause her professional career for our children.
This ageist and sexist scrutiny was heartbreaking, as she had to defend a decision made out of love and commitment.
Admittedly, there were many days when my Sicilian-Irish temper would get the best of me after hearing the utter sadness in my wife's voice when sharing her interviewing experiences.
But my wife, Kimberly, remained mission-focused and steadfastly stoic.
Mr. Vogel's focus on Mrs. McClain Delaney's wealth, of which he has no personal knowledge, paired with his emphasis on a "new generation of leadership," mirrors the biases my wife faced.
It suggests that Mrs. McClain Delaney's seasoned experience might be a liability, overshadowed by her personal life.
This parallel underscores a troubling societal trend: women, whether in corporate settings or politics, are often judged not just on their merits but on outdated stereotypes.
As we evaluate candidates like April McClain Delaney, it's crucial to prioritize qualifications over biases, ensuring a fair and progressive political landscape.
April McClain Delaney's Commitment to Diverse Causes
Vogel's assertion that Mrs. McClain Delaney would be "accountable only to her wealthy and powerful mega-mansion neighbors" is a baseless claim that borders on the absurd.
Her extensive board and council memberships, including the Meridian Women's Leadership Council and the Georgetown Law Center, underscore her commitment to diverse causes and communities.
These roles speak to her dedication to public service, understanding complex issues, and commitment to making a material difference.
April McClain Delaney in Congress 
There's no question that Mrs. McClain Delaney's professional experience could quickly transfer to several Congressional committees.
Given her background in broadcast and cable matters and her role overseeing domestic and international regulatory efforts at Orion Network Systems, Delaney would be a valuable asset to this committee.
The Energy and Commerce Committee has broad jurisdiction, including oversight of telecommunications and technology.
Mrs. McClain Delaney's vast experience with the National Telecommunications Information Administration (NTIA) and her role as the principal advisor to the president on communications and tech matters would make her a strong fit for this committee, which oversees non-defense federal scientific research and development.
With her legal background, especially her J.D. from the Georgetown University Law Center, she would be well-equipped to handle the legal and constitutional issues before this House committee.
Given her advocacy work at Common Sense Media, where she led efforts to protect kids online and advocated for government-funded research on media's impact on children's health, Mrs. McClain Delaney would be a valuable member of this committee, which oversees federal programs and initiatives dealing with education at all levels.
Her experience overseeing international regulatory efforts in approximately 20 countries and her role as one of the founding board members of the International Satellite Association would provide her with a unique perspective on international relations and diplomacy.
Subcommittees related to Privacy and Consumer Protection
Delaney's advocacy for greater online privacy protections from the industry and her work with Common Sense Media align well with subcommittees focused on consumer rights and digital privacy.
In addition to these primary committees, Delaney's diverse experience and involvement with various boards and councils would make her a valuable asset to several other committees and subcommittees.
Her ability to bridge the gap between the private sector, nonprofits, and government would be a significant advantage in any House committee she's appointed.
Joe Vogel Elected in 2022 to The Maryland General Assembly
So, how did Joe Vogel make his political bones?
In 2021, state Sen. Cheryl Kagan decided it was time for longtime District 17 state Del. Jim Gilchrist to retire.
So that was that.
Delegate Gilchrist did not run for re-election when Senator Kagan made it known that she wanted him gone.
Enter Joe Vogel.
Senator Kagan took the young Mr. Vogel by the hand and walked him about District 17 like a show pony, telling Democratic voters that Vogel would replace Mr. Gilchrist in the delegation.
And so, Vogel won in November 2022, replacing Gilchrist.
And there was nothing District 17 voters could do about it.
Kagan is a "made" politician – and we aren't.
And we had to sit still and take it.
It was among the insider politicians.
Conclusion: Elevating the Discourse
Maryland's 6th District deserves a race focused on the issues, not one mired in unfounded character assassinations.
It's high time we elevate the discourse and judge candidates on their merits, not their marital status or bank accounts.
April McClain Delaney's entry into the race should be celebrated for the depth of experience and diversity of thought she brings to the race.
Let's not allow it to be overshadowed by the same tired, sexist tropes that have no place in modern politics.
As voters and citizens, we must demand better from our candidates and hold them accountable for their words and actions.
Joe Vogel, please do better.