By Ryan Miner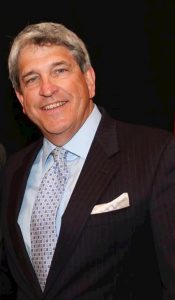 Amie Hoeber, the Republican nominee in Maryland's 6th Congressional District, has hired Paul Ellington, a seasoned Maryland Republican political operative with over 32 years of campaign and government experience, to run her congressional campaign.
Ellington, according to his LinkedIn page, is the "Principle and Founder" of State and Local Advisors, LLC, a Maryland-based campaign consulting firm.
Ellington's political experience is far-reaching. Ellington was hired by Secretary David Craig (Maryland Department of Planning) to manage his 2014 Republican gubernatorial campaign.
During Gov. Robert L. Ehrlich Jr.'s administration, Ellington served as chief of staff to Lt. Gov. Michael S. Steele. From December 1998 until January 2003, Ellington worked for the Maryland Republican Party as its executive director as well as serving as a councilman on the Bowie City Council.
Ellington served as the president of GOPAC, Inc., a training organization for elected officials in the District of Columbia, from January 2003 until January 2007. It is widely known that Ellington is considered to be one of the original brain trusts behind Change Maryland.
A campaign grassroots expert, Ellington has worked with Maryland clients at the local, state and federal level and has been involved with over 50 political campaigns since entering electoral politics over 30 years ago.
According to the Hoeber campaign, Ellington will be managing the daily operations of the campaign.
As a side note: I first met Paul in January 2013 when I was a volunteer with David Craig's gubernatorial campaign. Since that time, Paul and I have become close, personal friends. He is an expert in Maryland politics and grassroots campaigning. His knowledge of Republican politics is impressive. Moreover, Ellington is a truly decent person. This is an A+ hire.
Hoeber's former campaign manager, Laurin Groover, will remain an integral part of the campaign, staying on as the campaign scheduler.
In a previous article, I encouraged Hoeber to initiate a staffing shake-up; she clearly made a practical and wise decision by hiring Ellington.
By bringing on Ellington to manage her campaign, Hoeber has shown her desire to wage an indomitable race against Hillary Clinton's top Maryland surrogate, Rep. John Delaney.
Ellington lives in the 6th Congressional District in Montgomery County. He and his wife are parents to two children.
A tip of the hat to Hoeber for making a game-changing decision.
Ryan Miner is the Editor in Chief, Founder, Senior Political Reporter and Publisher of A Miner Detail. He is the host of A Miner Detail Podcast.