By Ryan Miner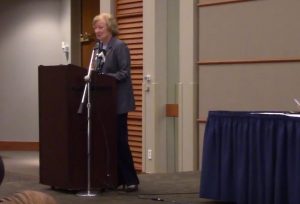 Amie Hoeber and John Delaney appeared Sunday morning – September 25 -before a group of about 150 people at the Rockville synagogue, B'Nai Israel. The forum, not technically a debate, allotted the Democratic congressional incumbent and his Republican opponent at least thirty minutes to make their pitch before the staunchly pro-Israel gathering. The forum was moderated by the award-winning political journalist and former president of the National Press Club, Jonathan Salant.
Audience members jotted down questions on index cards and handed them off to a forum helper. Questions ranged from domestic policy and local infrastructure to the candidates' positions on the Obama administration's controversial Iran deal.
Delaney, who voted for the Iran deal and still believes his vote was in the best interests of national security, received an icy reception from the audience. Conversely, Amie Hoeber, who strongly opposes the Iran deal, was warmly received by the audience and rewarded with multiple applauses throughout her forum appearance.
U.S. Senate candidates Del. Kathy Szeliga and Congressman Chris Van Hollen also appeared before the audience and spoke.
Below is the video of the two candidates speaking.
Ryan Miner is the Editor & Founder of A Miner Detail.