The late Maryland House Speaker Michael E. Busch was an exceptionally astute man with uncanny political instincts.
Busch must have instinctively known that there was no better raw partisan than Del. Eric Luedtke of Montgomery County to lead the Maryland House Democratic Caucus, a sometimes thankless job that requires an occasional heavy hand and laser-like discipline to keep the troops from veering away from the Annapolis Machine's inner sanctum.
The bishop of Annapolis partisan politics, Luedtke's job, in part, is managing the Democrat's Opus Dei, a gig with some prominent side perks.
Luedtke's partisan responsibilities are demanding. After all, it is Luedtke who is the Machine's top enforcer, the consigliere to the bosses, the top capo.
Maryland Democrats do on occasion step outside the family's circle, and it's Luedtke who fishes them back into the pond or puts them out to pasture.
God help them.
Comptroller Peter Franchot long ago decided not to be another cog in the Annapolis Machine. Spending 20 years in Annapolis as a state delegate from District 20, Franchot now marches to the beat of his own proverbial political drum, to the extreme displeasure of the partisan bosses.
When Franchot and company step outside the family and think for themselves, occasionally siding with Republicans – like Larry Hogan, for example – all hell breaks loose.
Franchot's advocacy on behalf of Maryland craft brewers called for punishment from the Machine bosses. His fight for air conditioning in Baltimore County Public Schools nearly shut down an Annapolis CVS pharmacy over a rush on Pepto-Bismol.
And pushing for Maryland public schools to begin after Labor Day nearly forced Franchot to hand over his wallet, keys and license and report to Hagerstown's Roxbury Correctional Institute.
And on Wednesday, the much-anticipated Board Public Works meeting gave Luedtke yet another opening to chastise Franchot.
The windup, the pitch: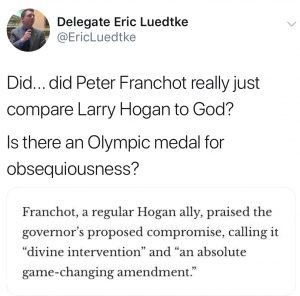 Luedtke's Thursday tweet quoted a WTOP article from Wednesday that was written by Maryland Matters' Josh Kurtz on the Board of Public Works 2-1 vote to move forward on Hogan's public-private partnership for highway expansion.
As previously reported, Franchot, who does side with Hogan on some issues and policy, was partly responsible for brokering a compromise amid the deal's proponents and opponents that ultimately shifted how the project would be phased, opening the possibility that Hogan's administration and Montgomery County officials will use the extra time to collaborate towards meaningful progress.
Siding with Hogan is grounds for expulsion from the Democratic Machine.
It's unclear whether Luedtke's tweet was intentionally hyperbolic or written in bad faith. He deserves the benefit of the doubt.
Peter Franchot would not and did not compare Larry Hogan to God; he used a bit of hyperbole and humor to remark on Hogan's ability to compromise on a controversial project, where compromise appeared a distant possibility before Wednesday's meeting began in earnest.
In May, Luedtke wasted no opportunity in telling a group of Maryland College Democrats that "Peter Franchot's values and priorities are not the values and priorities of the Democratic Party."
Franchot is an endless content factory for Luedtke. It's unlikely that the state's comptroller will cease to think independently or revert to having the Annapolis Machine hand him his talking points for the stump.
If you're lucky enough not to end up in Del. Luedtke's Twitter block folder, you'll have free tickets to his magic show.
Feedback/Question? ryan@aminerdetail.com
---
ICYMI: