By Eric Beasley
UPDATE: The complete body camera footage has been released. You can read our post about the incident here. 
Ryan and I have been messaging back and forth for the last hour or so, discussing whether or not we were going to post anything about this story. We have been trying to figure out how to strike a balance between information and incitement.
Given that, let me make one thing clear.
It is never acceptable to infringe on the private property rights of other citizens. It is not acceptable to destroy businesses or homes, loot and steal, or negatively impact someone else's life. If you have a legitimate complaint against the actions of Armed Agents of the Government, then you need to address those concerns with the Government. The next regular meeting of the elected Government body in charge happens September 28th at 7pm, at 1 East Franklin Street in Hagerstown. Every sessions has an opportunity for public comment. That is the place for you to air your grievances. Burning down a CVS does not make you a warrior for justice, it makes you an asshole.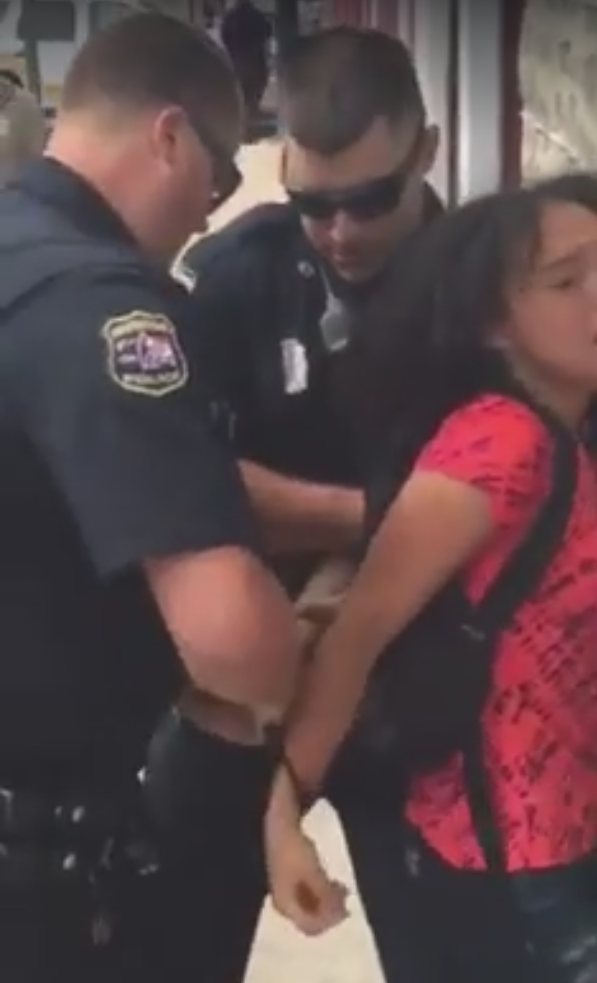 Yesterday, Ryan reported on an incident involving a young girl and the Hagerstown Police. Details were sketchy, as the posted video only showed the events once the young girl was placed in the back of a police cruiser. After some investigation, we have been able to locate more video of the actual incident.
In the video, a few things are apparent. First, the video starts with an officer pointing his taser at a bystander. The taser was not fired. The young girl struggles as the officers attempt to handcuff her. There is no indication as to why she is being handcuffed within the video. During the struggle, the officers propel the young girl into a brick wall. After being tossed against the wall, the young girl was successfully handcuffed.
Some unconfirmed Facebook musings, which I cannot confirm the validity of, have stated that this young girl was riding on her bike and was struck by a police vehicle.
This newly posted video appears to be the first part of the video posted last night, which we reported on here. 
A Miner Detail has reached out to the original poster of the video and to the Hagerstown Police Department for more information.
Eric is a former officer in the Republican Club of Frederick County and Frederick County Republican Central Committee between 2015 and 2018. Former guest host on WFMD and showrunner on WTHU. Avid gardener and food preserver. Graduated from Libertarianism to Anarchism as the corruption level in the state requires us to start over from scratch.