By Ryan Miner 
UPDATE: You can read our post about the second video uncovered here and you can read our post about the HPD released body camera footage here.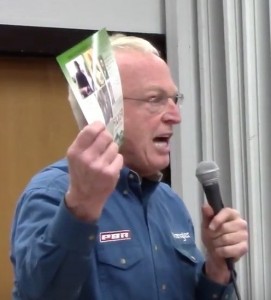 Robin Ficker, a perennial candidate for political office and a twice-suspended Montgomery County lawyer, took to Facebook last evening to accuse the Hagerstown Police of "brutalizing" a little girl.
Here's Ficker's post that includes what appears to be a recent video of Hagerstown City Police apprehending a subject, detaining said subject and making a subsequent arrest.
The video Ficker posted to his public Facebook page does not explicitly capture what he described as a preamble to the video:
"This little girl, 5 ft. 105 lbs, was brutalized by Hagerstown police after, she, on her bike, was hit by a car, but refused medical treatment. They slammed her against a wall, arrested her for refusing treatment, maced her 4 times in the police car while handcuffed, and took her to the police station instead of the hospital!"
I do not have any of the facts surrounding the police incident Ficker refers to in his Facebook posting. I've followed the dozens of social media comments from Hagerstown posters who, like me, want to learn more about this particular incident and ascertain all the facts before rushing to condemn the Hagerstown Police Department for nefarious police tactics.
However, knowing Robin Ficker as I do, taking his word that the incident did indeed occur as he described doesn't meet my burden of proof.
Like millions of Americans, I, too, have grown beyond frustrated – actually, I'm angry – when I watch videos via social media of routine police traffic stops gone horribly awry. You've seen the videos of unarmed minorities being shot by police without justification or cause. You've watched the same videos as I have and, like me, you've questioned the inexplicable tactics used by some police departments.
As many of you know, I'm a staunch civil libertarian; when any state actor oversteps his or her boundaries and forcibly encroaches on my constitutional liberties without reasonable suspicion or just cause, not only am I going to aggressively invoke my constitutional rights but most importantly, I'm going work to correct whatever injustice may have occurred.
In this incident, nonetheless, Ficker does not present all the facts, and the Hagerstown City Police have never given me any reason to doubt their policing tactics. None of us have a complete picture of the incident Ficker is promulgating. Taking Robin Ficker's word isn't enough to run roughshod over the Hagerstown City Police, impugning one of Maryland's best municipal police forces without having all the facts at our collective disposal.
What Eric and I do at A Miner Detail is thoroughly investigate the facts of any incident brought to our attention, and we find out the real story.
If any witness to this police incident wishes to share photographs or video of said incident, please email me at RyanRMiner@gmail.com or Eric at Sparticus33w@gmail.com. Contact me on my cell phone at 301-991-4220 if you have more information regarding this event.
I will be in contact with the Hagerstown Police Department for a statement.
Please remember that without the facts, this is nothing more than glorified Facebook hearsay.