By Ryan Miner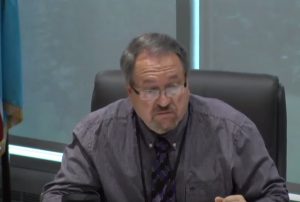 In a shocking email unearthed in a Maryland Public Information Request, ethically-challenged Mike Guessford trash talked and bullied fellow Board of Education member Jackie Fischer.
Last week on Election Day, Mike Guessford released a Facebook screed that implied that I was responsible for writing a false letter to Washington County teachers in which I endorsed Al Martin, Donna Brightman, Pieter Bickford and Wayne Ridenour.
Below is Guessford's Facebook post verbatim:
A teacher friend of mine just got a letter endorsing Al Martin, Donna Brightman, Peter Bickford and Wayne Ridenour. Is this dirty tricks politics? The person sending it to the school teachers with a same name died back in 2012. Is this the same church that this lady and Ryan Miner belongs to? Does this smell funny to you?"
To quickly address Mr. Guessford's accusations:
I take credit for my writing (I mean, I did create a media outlet that features my name).
I assume Mr. Guessford is referring to St. Joseph's Catholic Church; I haven't been a parishioner at St. Joseph's Catholic Church since 2003 – the same year I left Hagerstown and moved to Pittsburgh to attend Duquesne University. I occasionally attend Mass there with my grandparents and parents, but aside from that, rarely do we ever attend church at St. Joe's.
The only possible way Mike Guessford would have made a St. Joseph's connection is via Neil Becker, the president of the Washington County Teachers' Union and a St. Joseph's Catholic Church prisoner. Becker must have assisted Guessford and both surmised that I was somehow the culprit. That's it. Becker is an active member of St. Joseph's Catholic Church with a full roster of church attendees. Which, now, begs the question: was this incident a set-up? It sure seems that way. Becker is known for executing undercover dirty tricks and blaming others. Just ask union members.
Straight up, I didn't write the alleged letter. I had already written on A Miner Detail earlier this year that I supported Bickford, Brightman, Martin and Ridenour for the school board. I'm happy to show Guessford the analytics to our website that proves that more people read A Miner Detail on a daily basis than he could possibly understand.
Moving back to the topic of this blog article, on Thursday (and Friday) I filed a Maryland Public Information Request – and later amended said request – with Washington County Public Schools, requesting all of Guessford's Board emails sent from him to his Board of Education colleagues and the superintendent that went back one week in an effort to see if his accusations against me went any further.
Of course, Guessford, who should be more concerned at this point with paying back the money he owes the school system, tried – and failed – to play detective in tracing the roots of the email. Wasting staff time and money, the results of Guessford's taxpayer witch hunt found a fat nothing burger. Nice work, Scooby Doo-Guessford.
My MPIA request was quickly fulfilled; my request did not unspool or shed light any further light on the accusations implied by Guessford, but I did, however, discover Guessford absolutely berated Jackie Fischer in an unrelated email thread.
Read for yourself:
Mike Guessford verbally abused Jackie Fischer in Board of Education email thread by Ryan Miner on Scribd
Two weeks ago, Mike Guessford berated his Board of Education colleagues in public for perpetuating ongoing dysfunction that has consumed the Board of Education since his arrival.
Guessford may have had good intentions with his public call for civility and resolve, but his private actions, aimed his fellow Board of Education colleagues, suggests otherwise. Maybe Mr. Guessford should practice what he preaches.
Also, Mr. Guessford should just pay back the money he owes after an independent ethics panel found him guilty of multiple ethical violations. Pay back the money, Mr. Guessford. Just pay back the money that you owe the school system.