Washington County Commissioner Jeff Cline says he is holding a rally in protest of an ethics complaint that is now heading to the Washington County Ethics Commission alleging that he leaked "personnel and confidential and inaccurate information" to the press and other county employees.
Shortly after Herald-Mail Media released a story reporting that the County's Ethics Commission "was contacted Thursday" and asked to "set up a meeting" to review the findings of an "independent investigation" of leaks, Cline posted the update below to his personal Facebook page: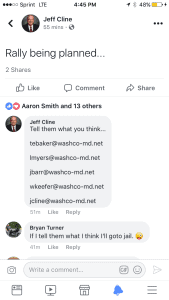 When reached for comment today, Cline said he wants to hold the protest rally sometime next week.
The report produced by an "independent investigation" that claims to have found Cline as the leaker is not available to the public.
Members of the Ethics panel will be provided "a portion of the commissioner's Oct. 3 announcement identifying Cline as the alleged source of leaked information," according to Herald-Mail Media.
Cline told A Miner Detail Thursday that he intends to fight back and called the ethics complaint "revenge politics."
About Ryan
Ryan Miner is Editor in Chief, Founder and Publisher of AMinerDetail.com. Miner is the sole reporter and columnist at AMinerDetail.com, covering Maryland news, politics, business, education, national, state and local government. Miner is the host of A Miner Detail Podcast.
Sign up for the Daily Briefing