By Ryan Miner 
Amie Hoeber's Republican congressional campaign fired off an email blast last evening that asks voters and supporters to sign a petition telling  US Attorney General Loretta Lynch to indict former Secretary of State Hillary Clinton.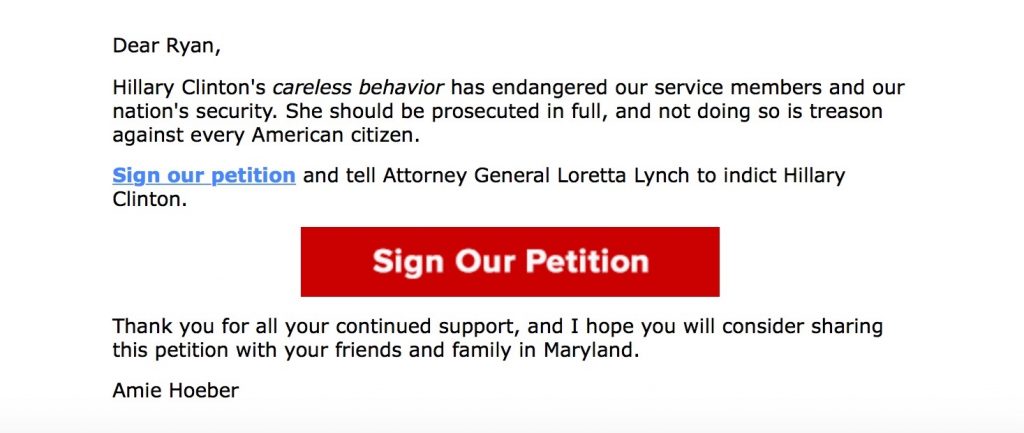 By clicking the "Sign Our Petition" link, you'll be forwarded to a website that looks like this: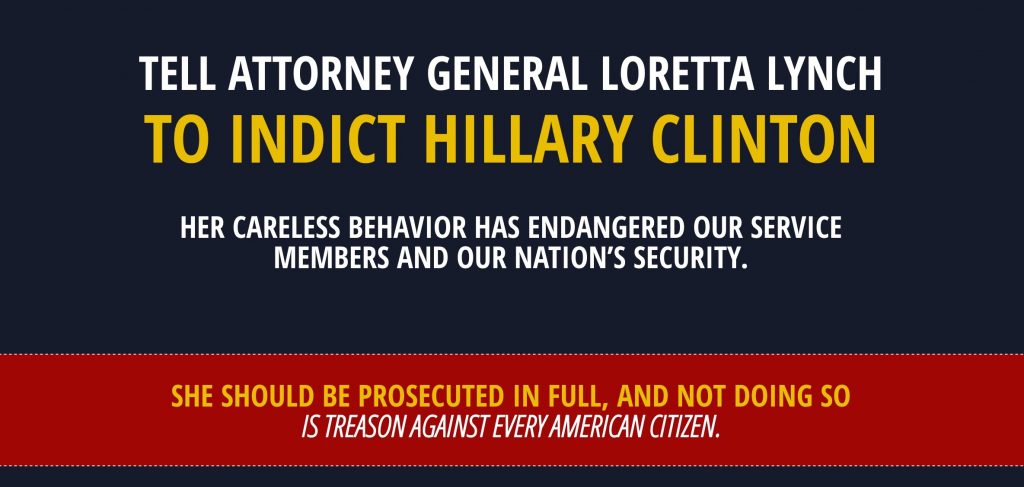 The petition template asks website visitors to input their first and last name, email address, and zip code.
Clinton's email scandal has caused her poll numbers to drop to the point of where she is tied nationally with the soon-to-be Republican nominee, Donald J. Trump. And it's unambiguously plausible that Hillary Clinton may have committed perjury when testifying – under oath – before a Congressional panel.
Clinton has insisted dozens of times that classified information did not traverse her private server at the time it was sent or received. She suggested that the government had classified some information after the fact, which would make it possible for the server to contain information that is now classified but wasn't at the time it was sent or received.
FBI Director James Comey announced earlier this month that he would not recommend bringing charges against Clinton in the case, and US Attorney General Loretta Lynch subsequently said that the Justice Department had closed the investigation.
It should be noted that Loretta Lynch and former President Bill Clinton met privately aboard an airplane for a "social conversation" while Mr. Clinton's wife, the presumptive Democratic presidential nominee, was under federal investigation. A few days later on July 5, the FBI director announced that while Clinton clearly made a mistake using a private server, he would not recommend charges against for the former secretary of state.
The facts of the case undoubtedly prove that Hillary Clinton cannot be trusted as president. But then again, neither can Donald Trump – for a multitude of reasons I will refrain from enumerating today.
However, I'm not sure the Clinton email scandal will score political points for Hoeber in Maryland's 6th Congressional District – an intentionally gerrymandered congressional district where Republicans are largely outnumbered by Democrats; Independents who live in the 6th may not trust Hillary Clinton, but they certainly aren't breaking for Donald Trump, a candidate they equally despise as much or more than Hillary herself.
Unless the Hoeber campaign is using the petition as a means to collect voter email addresses and contact information (that would be smart, and it's likely so), I don't see how said petition will assist Hoeber's chances against a popular incumbent Democrat – especially in Montgomery County.
Montgomery and swaths of Frederick Counties are a Democratic mainstay. Like Trump's millions of impenetrable, unwavering supporters  – many of whom live in Western Maryland – the fervent support for Hillary Clinton in Montgomery and portions of Frederick Counties likely outnumber Trump's supporters.
Although Trump's popularity is without question throughout Western Maryland and portions of Frederick County, Montgomery is likely to decide the election for Hoeber and Delaney. Hoeber cannot risk losing the Independents and crossover Democrats in Montgomery County.
Hoeber's curb appeal, however, is substantially more far-reaching than Delaney's own. Her national security experience alone embarrasses Delaney's insignificant congressional record on national security matters. Hoeber's campaign is almost entirely centered around issues that directly affect Maryland's 6th Congressional District. She isn't a hard partisan or someone who is attached with the fringes of the current Republican Party. She's a conservative/libertarian'ish pragmatist with real-world experience.
I'm proud to say that Hoeber is running an issues-based campaign and not one that dabbles in nonsequiturs or the tiresome dribble that has come to define this long and tiresome campaign cycle.
Hoeber is correctly perceived as a reasonable, pragmatic, right-of-center, and – most importantly – a credible and qualified challenger to take on Rep. John Delaney.
The "indict Hillary" movement is, in my humble opinion, too strongly tied to the radical Trump movement's obsession with all-things Hillary. That's not to say that Hillary Clinton isn't a horrible candidate for the presidency (she clearly is, and I won't be voting for either Hillary or Trump).
To me, this petition just doesn't fit Hoeber's campaign narrative.
A petition launched by a Republican within a solidly Democratic district with a popular Democratic incumbent, calling on AG Lunch to indict Hillary Clinton, and using strong language (e.g., "treason") may scare away some voters who would have shifted away from Delaney and voted for Hoeber.
It's no secret that John Delaney is Hillary Clinton's most reliable and intense surrogate in Maryland. Earlier this year, Delaney hosted a high-end cocktail party for Clinton at his Potomac home. The Montgomery-based congressman has often touted his ties to the Clinton campaign throughout this congressional campaign cycle.
Either way, if I were the Hoeber campaign, I would not have released the petition.
A petition that demands Hillary Clinton be prosecuted, in my opinion, will not help Hoeber win over any Democratic voters or Independents in Maryland's 6th Congressional District.
Maybe there is polling data that I have not been made privy to that suggests I am incorrect in my reasoning. Until I see such data, I'll stand by my opinion.
Ryan Miner is the Editor in Chief, Founder, Senior Political Reporter and Publisher of A Miner Detail. He is the host of A Miner Detail Podcast.