Incoming House freshmen Rep.-elect David Trone has named Capitol Hill veteran staffer Andy Flick as his chief of staff.
Flick, the Political Director at Serve America PAC who worked previously for Rep. Seth Moulton (D-MA) as his deputy chief of staff on Capitol Hill, is set to begin in the role when the 116th Congress opens next week.
A Capitol Hill veteran staffer, Flick served a stint as legislative director, senior legislative assistant and press secretary to Democrat Jim Costa of California from October 2011 to December 2014.
Flick also served the late Rep. Ike Skelton of Missouri in a legislative assistant and press role, according to his LinkedIn page.
Flick's Twitter page confirms his hiring.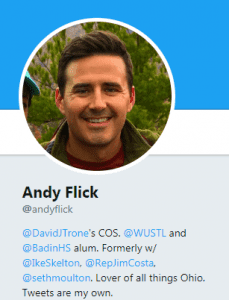 Trone, 62, a multimillionaire wine mogul from Potomac, won decisively in November over his Republican challenger and will succeed Rep. John K. Delaney in serving Maryland's 6th Congressional District.
John Delaney's Western Maryland district director, Sonny Holding, will also join Trone's congressional staff in January as district director, according to sources close to Trone.
This story will be updated.