The Delegation
District 15's Democratic delegation – state Sen. Brian Feldman (D) and Delegates Kathleen M. Dumais, David Fraser-Hidalgo and Aruna Miller – are gearing up for the 438th session of the Maryland General Assembly, convening Wednesday, Jan. 10.
Feldman, Dumais and Fraser-Hidalgo jointly filed together for re-election on Nov. 15. Miller is not seeking a third term but is instead running for Congress in the Sixth Congressional District.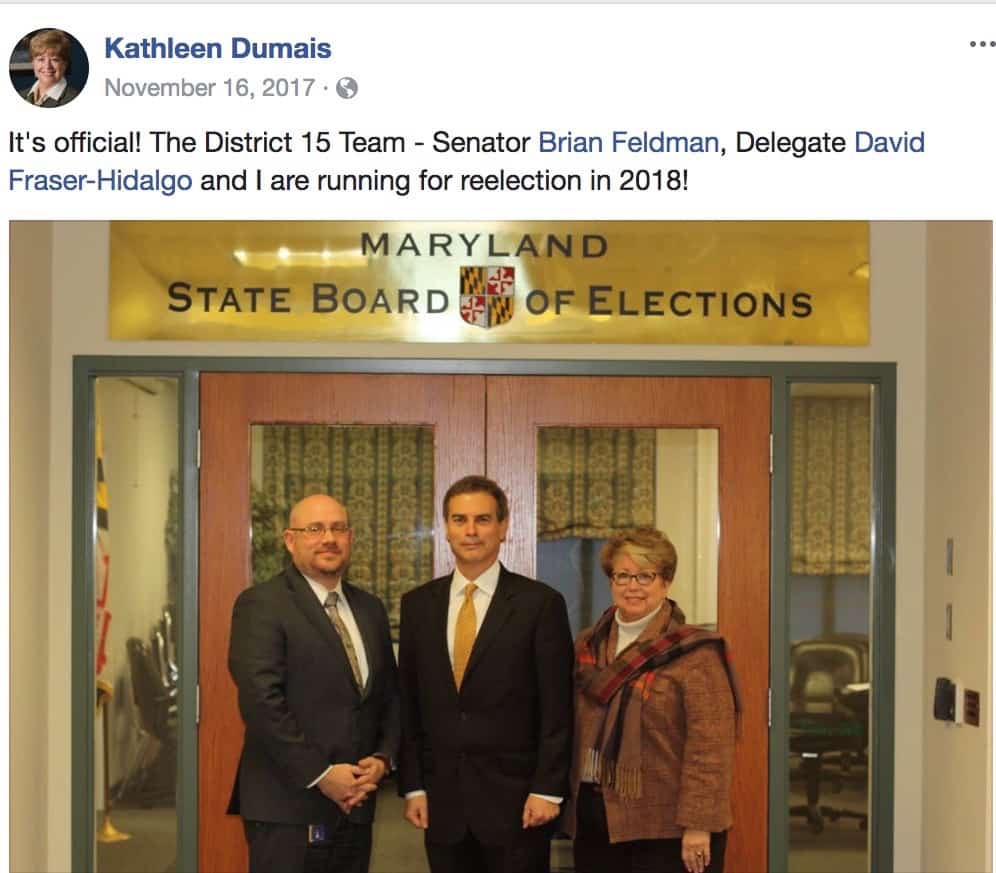 Lily Qi

Lily Qi's District 15 campaign is off to a promising start.
Qi, who serves as the Assistant Chief Administrative Officer for Economic and Workforce Development at Office of the County Executive for Montgomery County, kicked off her campaignon  Nov. 5 at the Potomac Community Center in front of a sizeable audience.
Montgomery County Executive Ike Leggett joined Qi at her campaign kickoff and offered her a "resounding endorsement," according to Qi's Facebook page.
Since her kickoff, Qi has been speaking at house parties hosted on her behalf as well as meeting community leaders and District 15 residents.
Qi's campaign is hosting a New Year's Reception with County Executive Ike Leggett on Saturday, Jan. 6th from 5-7 pm at the Pandora Seafood House in Rockville Town Center, according to an email blast released today by her campaign.
Kevin Mack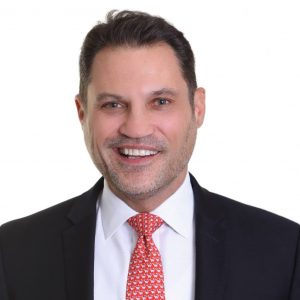 Kevin Mack was the first District 15 Democrat to file (Nov. 3) to run in the 2018 cycle.
Since filing, Mack has been steadily building his campaign apparatus, raising campaign funds, working his vast political network and building coalitions within the District 15 community.
Mack is currently serving as Rep. John Delaney's (D) District Director, a position he has held since 2014.
Andy Van Wye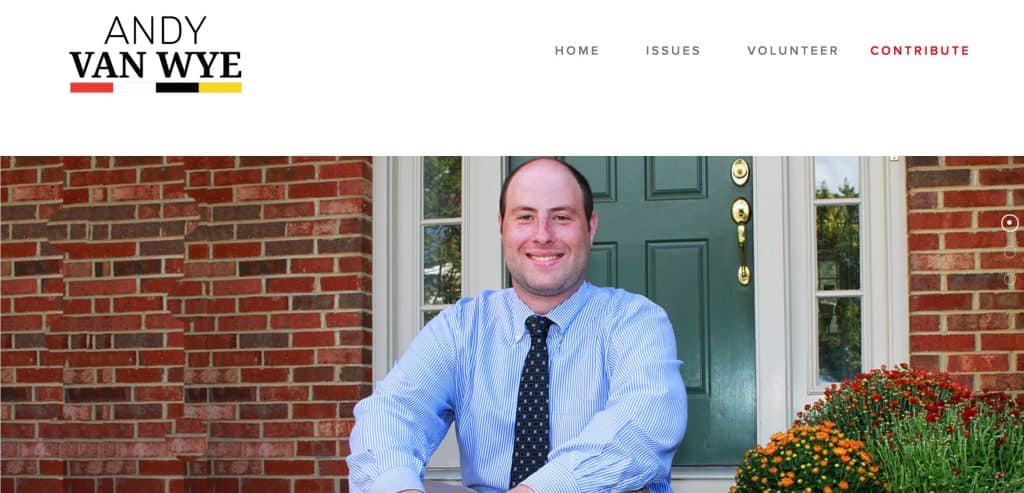 Wootton High School newspaper, Common Sense Newspaper, first reported on on Van Wye's entrance into the District 15 race on Nov. 20. A 2009 Wootton graduate himself, Van Wye was a former legislative reporter for CQ magazine until he decided to run for elected office.
Van Wye also interned for Sen. Chris Van Hollen (D-Md.), Minority Whip Steny Hoyer (D-Md.) and former Maryland Gov. Martin O'Malley, according to his website.
Speaking of Van Wye's website, he has released a comprehensive and detailed list of policy initiatives for which he supports.
Anis Ahmed
Anis Ahmed filed his candidacy for District 15 on Dec 11.
According to a flyer posted on Ahmed's personal Facebook page, the North Potomac resident is officially kicking off his campaign Sunday, Jan. 7 at the House of Kabob inside the Lake Forrest Mall.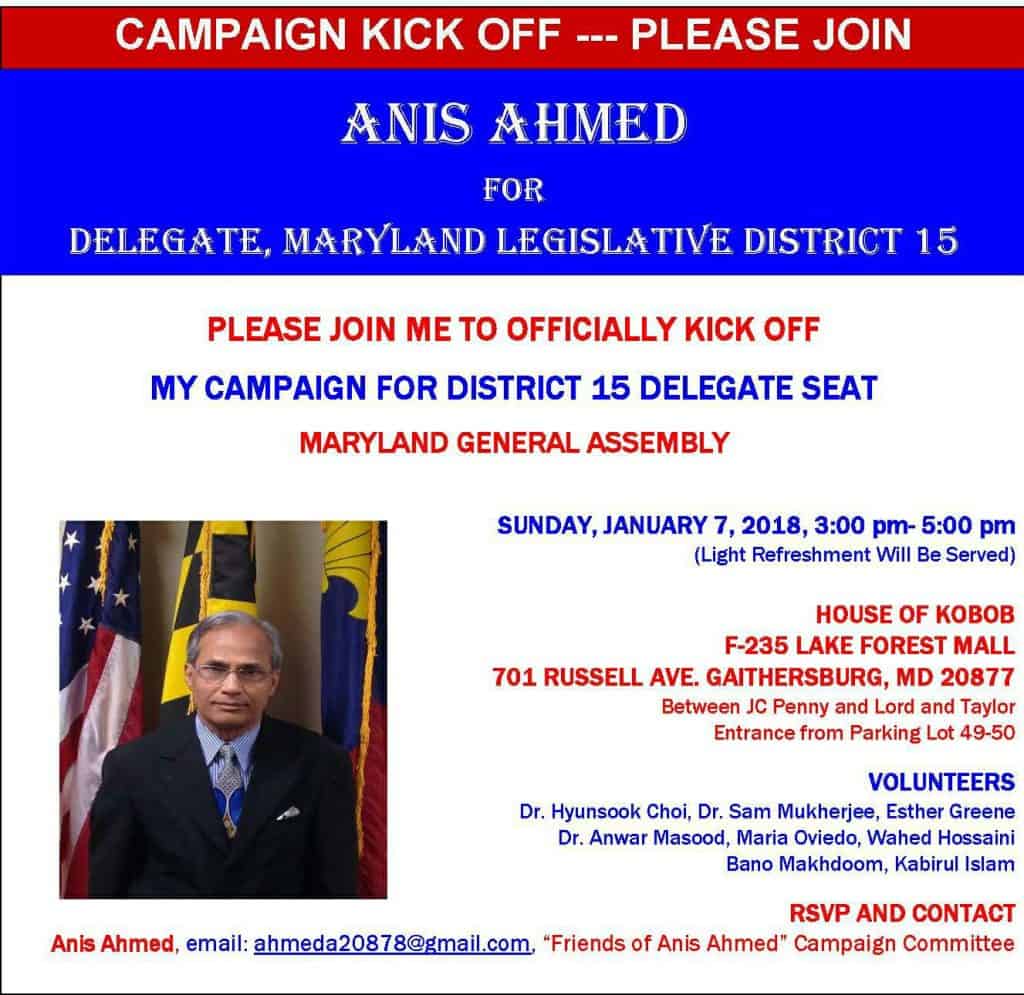 Seventh State's David Lublin wrote about Ahmed in March 2014:
Two non-slate candidates, Anis Ahmed and Kris Verma, are seeking seats in District 15. Ahmed received no votes when he sought the appointment to the delegate vacancy created by Brian Feldman's move to the Senate.
Tony Puca
Tony Puca had originally settled on primarying incumbent Montgomery County Councilman Craig L. Rice but later withdrew his District 2 candidacy on Dec. 27, filing instead for District 15 the same day.
Last year, Puca was gearing up for another run in the Sixth Congressional District but ultimately decided to run for Montgomery County Council. Puca had mounted an unsuccessful primary challenge against incumbent Rep. John Delaney (D) in 2016 but was soundly defeated by Delaney in the Democratic primary.
Puca was defeated last year by former District 8 congressional candidate Kathleen Matthews in the race to chair the Maryland Democratic Party.
On Dec. 28, Puca posted in the Maryland Politics Facebook group his reasons for dropping his bid for the Couty Council and explained why he opted to run for District 15 instead. The post was later deleted, however.
Hamza Khan
Democratic Party activist Hamza Khan is making a "special announcement" on Jan. 21 at the Potomac Community Center.
Several sources speculate that Khan will announce his bid for District 15.