A Board of Education race marked by smears and attacks
Dr. Sunil Dasgupta's Board of Education campaign on Friday removed a controversial endorsement from its Facebook page that maligned one of Dasgupta's chief rivals, Stephen Austin, drawing a strong public rebuke and, later, a retraction.
Dasgupta is one of 13 candidates this year seeking a nonpartisan, at-large seat on the Montgomery County Board of Education.
On Thursday, Dasgupta's campaign published to its Facebook page a two-paragraph endorsement from Rep. Jamie Raskin's (D-Md.) campaign manager, Paul B. Ellis.
Ellis' LinkedIn page lists that he "managed Congressman Raskin's successful 2018 re-election campaign" and organized with other U.S. House candidates around the country the same year, "flipping the U.S. House."
"I'm personally endorsing Sunil Dasgupta for MoCo Board of Education At Large," Ellis wrote, "because he has the experience, vision, and endorsement of our public educators to chart a path for quality public education's continuance post COVID."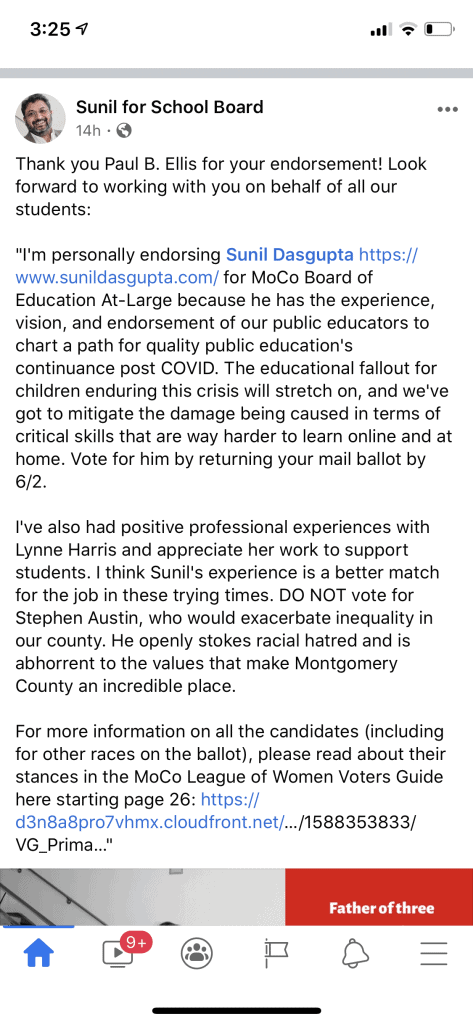 Ellis wrote that he's "had positive professional experiences with Lynne Harris – another at-large candidate running for Montgomery County Board of Education – but "Sunil's experience is a better match for the job in these trying times."
(Harris was recently endorsed by The Washington Post.)
"Do NOT vote for Stephen Austin," warned Ellis, who suggested, without evidence, that Austin would "exacerbate inequality in our county."
Ellis – again, without evidence – claimed Austin "openly stokes racial hatred and is abhorrent to the values that make Montgomery County an incredible place."
Dasgupta's Facebook post thanked Ellis for his endorsement.
"Look forward to working with you on behalf of all our students," Dasgupta wrote of Ellis.
Austin responds 
Austin is a finance professional with two children in Montgomery County Public Schools. He vows to "return accountability to parents and the community" as well as "close the achievement gap" while working toward "innovative budget solutions."
Austin fired back Friday morning.
"I hate that I have to keep writing about my opponents but this is beyond the pale," Austin wrote. He published his full response in the Montgomery County MD Neighbors for Local Schools Facebook group.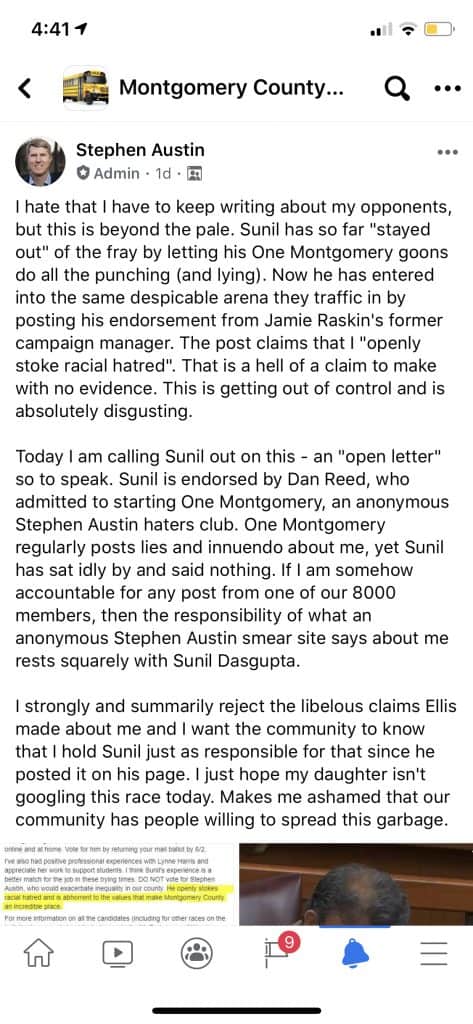 Austin founded his Facebook group last year to activate parents and community members in support of MCPS students attending neighborhood schools.
Over 8100 people have since joined the private group.
A proponent of the neighborhood schools concept, Austin has pushed back against the MCPS districtwide boundary analysis that was conducted by WXY Architecture + Urban Design, a position that has placed him squarely at odds with Dasgupta and Harris, both of whom support the boundary analysis.
Austin wrote that he holds Dasgupta "just as responsible for posting Ellis' endorsement to his campaign Facebook page.
"This is getting out of control, Austin lamented, "and is absolutely disgusting."
"Sunil has so far 'stayed out' of the fray by letting his One Montgomery goons do all the punching (and lying). He has entered into the same despicable arena they traffic in by posting his endorsement from Jamie Raskin's former campaign manager," Austin wrote.
One Montgomery is a progressive group listed as: "Montgomery County parents and community members committed to school equity as a means for creating a strong community."
The organization has used its social media pages to launch a barrage of misleading attacks against Austin.
Dasgupta did not respond Friday to A Miner Detail's morning and afternoon requests for comment; however, Dasgupta's campaign did remove Ellis' endorsement shortly after A Miner Detail inquired whether Dasgupta shares Ellis' view that "Austin is stoking racial hatred."
Ellis regrets statements and retracts comments aimed at Austin 
A Miner Detail emailed the Raskin campaign Friday requesting comment on whether Raskin himself shares Ellis' views on Mr. Austin.
Raskin did not respond, though Ellis emailed A Miner Detail his response Friday afternoon, sent from his Raskin campaign email account.
"As my friends know, I am a lifelong resident of Montgomery County and a proud graduate of MCPS," Ellis began. "I have strong feelings about the future of public education in our county."
Ellis is a 2014 graduate of Montgomery Blair High School and a 2018 graduate of The Ohio State University.
"I made statements about this year's Board of Education at-large race on my personal Facebook page that (sic) interfere with doing my job to strengthen and increase Democratic voter turnout on June 2nd."
Ellis then walked back his unsubstantiated attacks, writing, "I regret and retract those statements, which were mine and mine alone."
He encouraged voters to "take time to examine the platform, experience and activities of all the candidates running in the June 2nd primary election."
It is unclear who is responsible for updating Dasgupta's Facebook page and whether Dasgupta himself agrees with Ellis' unfounded attacks on Austin.
The powerful Montgomery County Education Association (MCEA) backs Dasgupta's campaign. He has also drawn support from left-leaning progressive activists in lower Montgomery County.
Dasgupta and Harris have refrained from calling on their key groups of supporters to tone down the almost daily attacks on Austin and his supporters, despite Mr. Austin's repeated calls to do so.
Ortman-Fouse and Leventhal lead social media tag-team crew of anti-Austin devotees 
Former Montgomery County Board of Education member Jill Ortman Fouse and former at-large Montgomery County Councilman George Leventhal (D-Takoma Park) have used their social media accounts almost daily in a tag-team effort to attack Austin over his positions – and they have indicted a plethora of Austin's supporters.
Outspoken and aggressive, Leventhal and Ortman-Fouse are prominent figures in the anti-Austin movement, targeting Austin in dozens of daily social media posts and even attacking him personally.
In 2018, Ortman Fouse waffled between running for re-election to the Board of Education or joining the crowded Montgomery County Council race. She opted to run for an at-large Council seat but was soundly defeated in the 33-person Democratic primary.
Leventhal was prohibited from seeking another at-large Council term in 2018 as a result of the new local term limits law that went into effect. He ran unsuccessfully for Montgomery County executive that year.
The attacks on Austin intensified when Somerset Mayor Jeffrey Slavin (D) sent a string of unsolicited emails to Austin's wife regarding Austin's Board of Education candidacy – an unconventional move that rattled the Austin family and caused them concern for their safety, Mr. Austin said.
Dasgupta, who teaches political science at the Universities of Shady Grove (USG), has responded on social media to Austin's direct criticisms over what he dubbs as Dasgupta's "fuzzy budget math."
Austin has issued a number of public requests for Dasgupta to debate him via Zoom. To date, Dasgupta has not responded to Austin's debate invitations.
The primary election is set for June 2.
---
Feedback/Questions? Ryan@AMinerDetail.com.
Ryan Miner is the Editor in Chief, Founder, Senior Political Reporter and Publisher of A Miner Detail. He is the host of A Miner Detail Podcast.