By Ryan Miner 
A Washington County teacher is under fire today over social media comments he made on Facebook.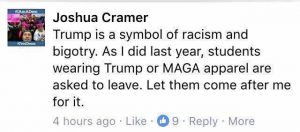 Joshua Cramer, a Smithsburg High School English teacher and vocal opponent of President Donald J. Trump, called Trump "a symbol of racism and bigotry. Cramer, who sits on the Frederick County Democratic Central Committee, said he asks students to leave if they wear clothing supportive of President Trump.
"As I did last year, students wearing Trump or MAGA apparel are asked to leave. Let them come after me for it," wrote Cramer in a Facebook thread.
One Washington County Public Schools' parent is calling Cramer's bluff.
Joel Jordan posted a Facebook post today calling on his Facebook friends to share a screen shot of Cramer's Facebook remarks. Jordan then asked his followers to contact the Washington County Board of Education and "speak with a supervisor."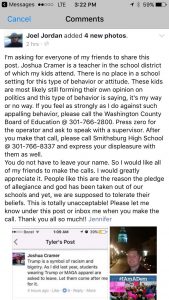 "You do not have to leave your name. So I would like all of my friends to make calls," wrote Jordan.
Cramer's original Facebook comments about Trump have apparently gone viral, having been shared 151 times as of 4:32 p.m. on Wednesday afternoon.
Cramer has not responded to A Miner Detail's request for comment.
In a subsequent post, Cramer offered context, writing: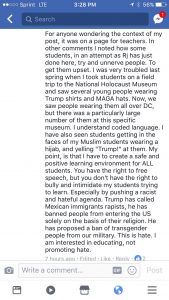 Ryan Miner is the Editor in Chief, Founder, Senior Political Reporter and Publisher of A Miner Detail. He is the host of A Miner Detail Podcast.