A Montgomery County Board of Education member announced yesterday that she is running for a Montgomery County Council at-large seat.
Rebecca Smondrowski, twice-elected to the Montgomery County Board of Education, ended the ongoing speculation about her future political intentions yesterday, telling Bethesda Beat's Bethany Rodgers that she is running for the Montgomery County Council.
"My experience on the Board of Education, at the state level and within my community, has prepared me to be a robust advocate and champion for the needs of all Montgomery County residents," Smondrowski told Bethesda Beat.
Smondrowski was first elected to the Board of Education's District 2 seat in 2012 and won reelection in 2016, winning 233,682 votes – the most combined votes of any candidate running for the Board of Education in the 2016 cycle.
When reached for comment today, Smondrowski told A Miner Detail:
Experience matters in a crowded field of candidates.

My experience as a Board of Education member for the last five years and the relationships I've built within our community has undoubtedly prepared and equipped me to be ready on day 1 to serve as your Councilwoman.

For the last several years, my passion has been working to find solutions to improve our public schools. I don't require on-the-job training; I'll be ready on my first day in office to tackle Montgomery County's most challenging transportation and infrastructure needs.

I look forward to working alongside my colleagues on the Council to bring jobs to our community while fostering economic growth throughout the entire County.

The citizens of Montgomery County have twice expressed their confidence in my abilities to serve our entire community, and I humbled by the amount of support and encouragement I've received to continue my public service as a member of our County Council.
According to Smondrowski's last campaign finance report from January 2017, she has $10,073.18 on hand. Smondrowski told A Miner Detail that she will not take public financing.
Smondrowksi's official campaign kickoff is slated for Wednesday, Nov. 29, at the Wine Harvest in Potomac, Md.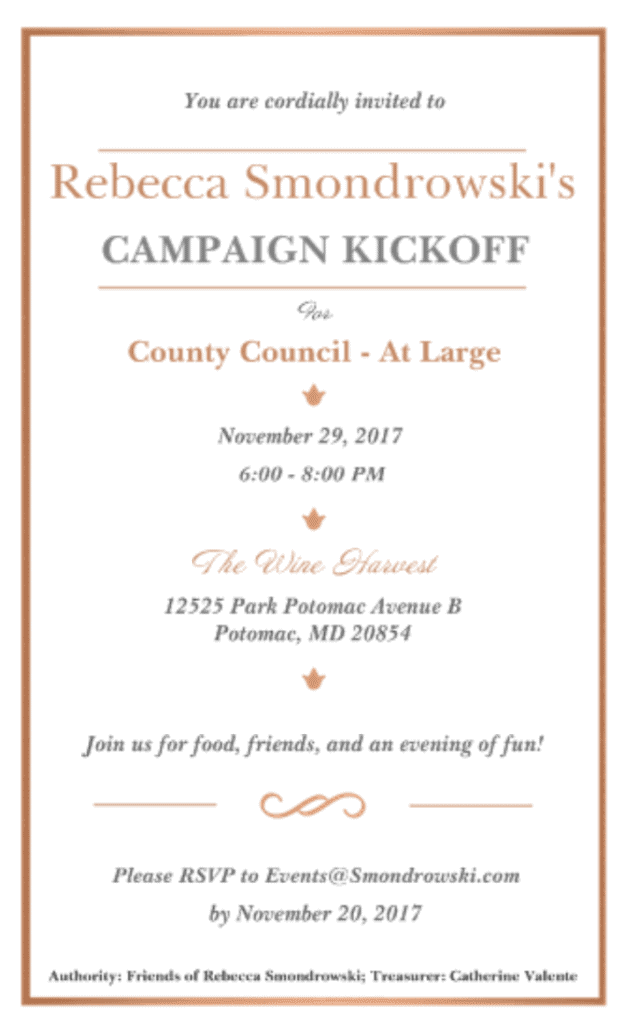 Smondrowski's bio is listed below:
Rebecca Smondrowski has served on the Montgomery County Board of Education for the last five years. She is the current chair of the Board's Committee on Special Populations and a member of the Policy Management Committee, as well as the Ex Officio to the County's Domestic Violence Coordinating Council.

Prior to joining the Board in 2012, Rebecca served as the legislative aide for Maryland State Senator Roger Manno and was an active local and county PTA leader. She has served on the Montgomery County Council of Parent-Teacher Associations (MCCPTA) Board of Directors, including positions as the Vice President for Legislation, Vice President for Programs, Chair of the Curriculum Committee, Quince Orchard Cluster Coordinator, and MCCPTA's representative to the Montgomery County Public Schools (MCPS) K-12 Mathematics Joint Task Force.

At the state level, Rebecca serves as a member of the Maryland Association of Boards of Education's (MABE) nominating committee, as well as the alternate for MABE's legislative committee. She is a member of the Maryland State Comptroller's Financial Literacy Education Advisory Board.

In her community, Rebecca has served as a Commissioner for the City of Gaithersburg Ethics Commission for many years. Moreover, she serves on the Board of Advisers for Future Link and is a member of the Board of Directors for the MCPS Educational Foundation.

Rebecca and her husband, Ken, have two children – Andrew, a recent MCPS graduate, and Sophia, who is a senior in Montgomery County Public Schools.
Ryan Miner is the Editor & Founder of A Miner Detail.